Interpreting the financials for non-accountants has had a magical effect on the career of Declan Doyle FCCA – and on facilities management company Noonan, where he is CFO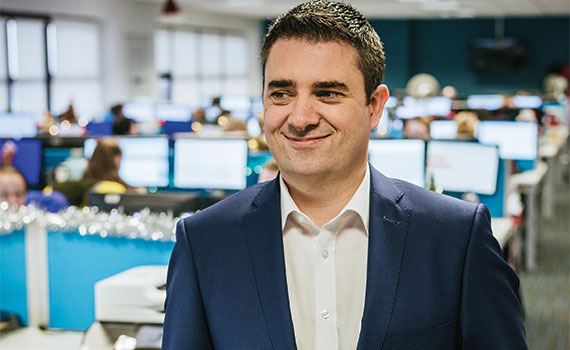 This article was first published in the February/March 2019 Ireland edition of Accounting and Business magazine.
When Declan Doyle started training as a theoretical physicist, the CFO role was nowhere on his career horizon. Fast forward 20 years and he finds himself at the financial helm of Noonan, Ireland's market leader in facility management services and a top 10 player in the UK market, with more than 15,000 staff and 2,500 clients.
So how did he end up in finance and accounting rather than theoretical physics? 'I always loved numbers and how they can help paint a picture,' he says. 'That's what attracted me first to theoretical physics.'
However, as he was working his way through college, he found that his exposure to the business world led to a change of mind. 'I got a part-time job in retail,' he explains. 'Through that I had an opportunity to see how numbers applied to business, and that really intrigued me. I saw accounting, and the ACCA designation specifically, as a great way to get my foot in the door in any industry. ACCA, in my opinion, was my international ticket.'
Doyle joined Noonan in 2005 as a financial controller, and from the get-go he had his eye on the big prize. 'At the interview they started speaking about a succession plan for the company, and that they expected to hire a CFO in three to five years,' he recalls. 'This grabbed my attention right away, so timing was everything.'
Giant leap
In 2008, UK-based private equity firm Alchemy backed a management buyout of Noonan for €90m, and Doyle made the leap from the company's financial controller to its CFO in one giant bound.
'I was working for the family on the sell side of the transaction before becoming part of the buyout team,' Doyle explains. But what secured him the top finance job, he says, was the ability not only to put the numbers together, but to be able to interpret them and communicate clearly what the challenges were in the company – and perhaps more importantly, what could be done about them. 'My understanding of what was behind the numbers was something that was important to the private equity investors,' he says.
Equally attractive was Doyle's straightforward and clear approach on how to move forward with a new vision and corporate brand. As the senior finance executive on the rebranding team for Noonan, part of his role was to maximise the equity value of the brand. He says: 'I was very passionate about the brand and the type of investments we needed to make in it, and make sure as we moved forward that people understood our focus would always be always be on the quality of service, exceeding client expectations, and developing our people.'
Cultural evolution
Move forward the company certainly did. Since the €90m management buyout in 2008, Noonan's revenue has more than tripled as the company made a series of acquisitions. As CFO, Doyle led the identification, execution and integration of the acquisition activity for the group while he was completing his MBA. Businesses purchased included Federal Security (€50m turnover), RPS (€15m turnover), Resource (€80m turnover), Shield (£20m turnover) and, most recently, Ultimate Security (£80m turnover) in 2017.
This spate of activity was followed by the acquisition of Noonan itself in September 2017 by the publicly listed South Africa-based services, trading and distribution group Bidvest for €175m.
A company that has progressed in a decade from being a family-owned business to a private equity asset and ultimately a division of a much larger foreign multinational would presumably undergo a sea-change in corporate culture. But Doyle describes it as a natural evolution. 'I think we've kept the the best aspects of being a family-owned business for 30 years,' he says. 'Through the life cycle with private equity, we professionalised the business; and the more acquisitions we did, the more structured and more process-focused we got.
'That's what made the integration with the South African conglomerate relatively straightforward. Through ten years of M&A ourselves, we'd already evolved into a corporate entity that would fit quite neatly and cleanly inside a larger plc.'
As to how the finance function at Noonan has evolved since his early days as CFO, Doyle explains that the twin forces of technology and the regulatory environment have had the biggest impact on his role and on the company as a whole. 'We wouldn't have been able to have grown the business by 500% over the past 13 years without a strong technology platform,' he points out.
For example, in 2011, Noonan implemented a data analytics tool that changed how the business was run. Doyle says: 'It was extremely valuable when shaping the strategy and design of the organisation as the system helped us to understand our client base better. The system enables us to slice and dice the performance of our business across multiple dimensions, making it easier and quicker to identify opportunities and challenges within the business.'
Unfortunately, the growing corpus of regulation tends to have the opposite effect, according to Doyle. 'There's more and more regulation coming in all the time, and it's really creating an administration burden on the business that kind of holds us back a bit,' he says. 'And not all the regulatory bodies we deal with have gone digital. It makes for a laborious manual process, so that's been unfortunate.'
Talent challenge
However, perhaps the biggest issue facing Doyle and the company today is finding the right people to keep growing the business. 'I think the number one challenge by quite a distance is talent acquisition and keeping hold of the talent that we do have,' he says. 'There is a lot of competition out there, and it's about building brand awareness and an understanding of the future that someone can have if they work for us.'
In the finance function, it's not about spreadsheet expertise any more, but about analysis, identification of solutions, and communication skills, he explains.
'It's totally transformed now. Finance professionals produce a report at the month-end, but they spend most of their time engaged with the business, looking at how our resources are being spent, what kinds of interventions need to be made and whether we are going to see a better set of results going forward.'
It also means handling a huge amount of data, he adds. 'In the past it was all about looking in the rear-view mirror, and publishing what happened last month. We still do that, but now at the same time we publish our updated view on where we're going to finish in the year, and that's the report we all read now as an organisation. It's far more forward-looking and analytical rather than just that old-fashioned number-crunching, for want of a better description.'
Doyle currently sits on the main board at Noonan, which is responsible for setting the strategic direction of the company. However, what really keeps him busy these days, he says, other than being the top finance executive, is keeping up with his eight-year-old and his six-year-old. 'It's those two that really keep me hopping,' he says with a smile.
Despite all the changes since Doyle became CFO, he says that Noonan remains a family business at its core. 'We still promote a family culture,' he says, 'a culture that promotes striking the balance between home and work. I think if you don't set those as your priorities, you're not going to be as effective in either your work or your home life.'
Ramona Dzinkowski, journalist
"I always loved numbers and how they can help paint a picture. That's what attracted me first to theoretical physics"