As the first female director-general of Ghana's Criminal Investigation Department, Maame Yaa Tiwaa Addo-Danquah FCCA is fighting gender stereotypes as well as crime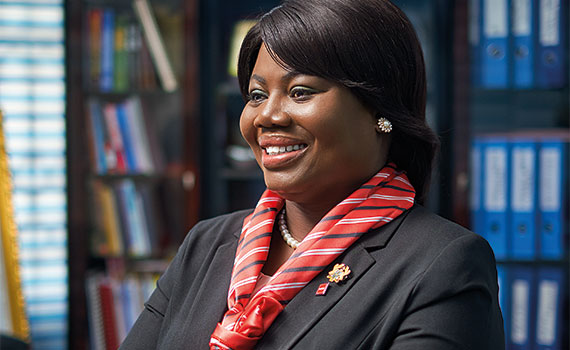 This article was first published in the February/March 2019 Africa edition of Accounting and Business magazine.
Almost every morning, as she made her way to school from her village in the Ashanti region of Ghana in the 1970s, the young Maame Yaa Tiwaa Addo-Danquah would see the same policewoman. 'She looked so beautiful in her uniform and I wanted to be just like her,' she says.
A few years later, an incident in her village reinforced her ambition to follow a career in the police service. 'Someone in my village was killed but no one was talking and we had no idea who was responsible,' she recalls. 'Before long a group of young men came to the village. It appeared that they drank a lot and spent a lot of time sitting around and talking to people. We thought they were drunkards but it turned out they were undercover police officers, and they learned who was behind the crime. I knew then what I wanted to do with my life.'
After years of hard work and study, Addo-Danquah achieved her ambition. Today she is a deputy commissioner of police in the Ghana Police Service and the director-general of its Criminal Investigation Department (CID) – the first woman to be appointed as substantive head of the department. She was also selected as the first commandant of the Ghana Police Command and Staff College, the highest training institution for police officers, which opened in 2013.
The bottom rung
Addo-Danquah says her accountancy qualification and experience have been critical in supporting her career. She joined the Ghana Police Service in 1990 after completing a business diploma. 'I started at the very bottom of the ladder, she says. 'I was a police constable and went out on patrol.' She was promoted to sergeant two years later, and after passing the level-two examinations of the Institute of Chartered Accountants in Ghana, was admitted to Ghana's police college. She graduated in 1999 as the best all-round cadet in her class of 46 men and two women.
After a number of years in several posts, including logistics and finance officer for the missing persons unit during a peace mission to Kosovo, she was encouraged by friends who were qualified accountants to study for the ACCA Qualification. 'I have an investigative mind,' she says. 'Auditing was my best subject when I was studying. I wanted to get to the highest level in my career, so I applied for a three-year study leave from the police service and went to the UK to study.'
She says studying for the ACCA Qualification shaped the way she works today. 'I enjoyed it very much and being in the UK changed my attitude, especially when it comes to timekeeping. I missed a train to an appointment and that taught me a lesson. My officers know that if I say that we are having a meeting at 8am, I really mean 8am. Everyone is always on time.'
ACCA's focus on managing people had a particularly strong impact on Addo-Danquah. 'That has really helped me a lot during my career. You cannot be an expert in everything, and this job is no different – there are so many different types of crime. But what you can do is manage well the people who are experts in different fields. The ACCA training really shaped my thinking – if something goes wrong, for example, we sit down and identify what happened, learn from it and move on.'
This eagerness to learn has been in evidence throughout her career. 'I like that ACCA doesn't leave you alone once you are qualified,' she says. 'You are encouraged to keep reading, and to keep learning through CPD. There is so much material available that helps with my work.'
Addo-Danquah returned to Ghana in 2008, at a time when the country was focusing on the rise in financial crime. 'There were a lot of challenges here around financial crime at that time,' she says. 'I wanted to understand public sector financing better, so I took a secondment to the Controller and Accountant General's Department. I stayed there for 10 months, getting to know about payroll, pensions, treasury and so on.' Once the secondment was completed, she was appointed to run the CID's commercial crime unit.
The speed at which technology is being exploited in financial crime is a major concern in Ghana, where a largely cash-based economy, significant informal sector and porous borders increase the risk exposure. According to the central bank, Ghana's banking sector reported fraud or attempted fraud worth more than 190 million Ghanaian cedi (US$39m) in 2017. Reported incidences of fraud increased by over 40% during the course of the same year.
Addo-Danquah's focus over the past 10 years has been to develop the infrastructure and skills in the CID to fight this growing category of crime. One of her first decisions was to develop a training programme for investigators. 'Most of the police officers and investigators at that time were only used to dealing with traditional crime,' she says. 'Ghana passed its anti-money laundering laws in 2008, but we still needed to work in a way that would lead to successful prosecutions and tracing of assets.' With the help of a friend who had also qualified with ACCA in the UK, she developed a training programme for both the police service and the financial sector.
She has also worked hard to put in place the necessary technological support. 'While I was studying I wrote a dissertation on the impact of crime on economic development, and I found it very difficult to get hold of the data I needed,' she says. 'That taught me that we need good systems to record what we do. And when I took over at the CID in January 2017, if you had asked me how many homicide cases we were working on, I would not have been able to tell you.'
With financial resources constrained, Addo-Danquah began looking for someone who could help develop a database. 'It turned out we had two software developers already working for us. One had just been offered a very good job at a bank but I persuaded him it would be more worthwhile to stay and develop a database for us at CID. We now have a very good database in place, which was developed entirely in-house. I can go straight to my laptop and tell you how many people we arrested last week, how many appeared in court and so on.'
The next step, she says, was to develop the analytical tools to make the most of this data. 'If we have the right tools we can work out where our resources, like police stations, are most needed, and report that back to government.'
A dedicated CID financial forensic unit was opened in 2017. Addo-Danquah's CID remit also includes homicide, drug law violations, human trafficking, armed robbery, commercial crime, Interpol, a criminal data services bureau, a central firearms registry and a forensic science lab.
12-hour days
It is a lot of work. 'I always start early, always before 7am,' she says. 'The hour-long journey to work is spent catching up on cases that have come in overnight. Every case comes through me – some are routine, but I want to look at anything that is unusual.' Monday to Wednesdays are usually taken up with meetings, and the working day rarely ends before 8pm. 'I don't like to leave anything on my desk – I clear everything before I leave. It's a very full day.'
As the first female head of CID, and one of just two women on the police service management board, she is aware that expectations are high. 'You don't have the luxury of failing in this position. You have to cope, and do what's expected of you. Women are not seen as traditional leaders in Ghana, and if I do well it creates opportunities for other women. If I don't, it will affect other women. My appointment has motivated the authorities to consider other women for leadership positions.' The police service has introduced a policy that at least 30% of its student intake should be female, in line with United Nations recommendations on gender equality.
Addo-Danquah knows that the police service in Ghana cannot afford to stand still. 'Crime is very dynamic. You put steps in place to prevent one crime, and people come up with something else. You have to always stay one step ahead. And now that everything is IT-enabled we have more challenges. Someone in the UK can commit a crime in Ghana and what happens then? How can you bring them to justice? And whose laws should apply?
'We can't stop 100% of crime – it will always happen. But we want to improve our ability to prosecute offenders. We want to successfully close more cases and reduce the number of cases that are under investigation. We want to have a police service where people who report crimes to us can have confidence that they will see justice.'
Funding is often tight, but Addo-Danquah credits her accountancy training with helping her to make sure that the resources she has are always well used. It is an important, responsible job – and one that she loves.
'What I have learned during my career,' she says, 'is that if you work hard and have the right attitude, and follow the rules and procedures, you will get where you want to be.'
Liz Fisher, journalist
"I started at the very bottom of the ladder. I was a police constable and went out on patrol"