For David Li FCCA, co-founder of AL Nasher (Guangdong) Import and Export Trading and Sino-Africa Investment, working on a different continent is deeply rewarding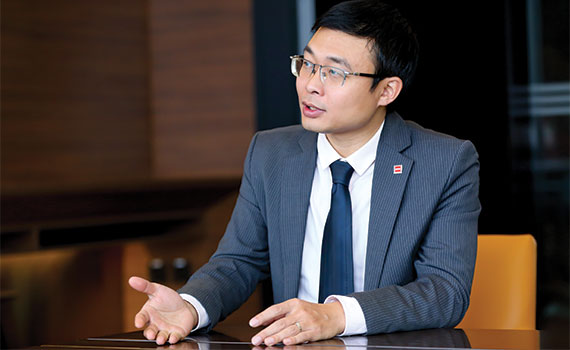 This article was first published in the April 2019 Africa edition of Accounting and Business magazine.
David Li FCCA is a well-known figure in ACCA Guangzhou, in China's Guangdong province. The founding president of the ACCA Guangzhou Toastmasters Club – the international organisation for promoting public speaking skills – he is a keen participant in ACCA events there. So it may come as a surprise to learn that the place he and his family currently call home is in fact in Addis Ababa.
Li's journey to the Ethiopian capital began in 2015 when he met his business partner at a networking event in Guangzhou. This was a moment that completely changed his career path – and his life.
'My partner has over 10 years' extensive experience in trading with Africa,' says Li. 'I was attracted by the African market, which was little explored back then.'
The pair set up two companies, which have offices in both Addis Ababa and Guangzhou. AL Nasher (Guangdong) Import and Export Trading Company links African customers to suppliers in China, while Sino-Africa Investment Company provides consultation on investment and project development. Li is finance controller of both.
The pair were among the first Chinese entrepreneurs to identify the business opportunities on offer. 'Africa is a populous continent and China is the world's factory,' says Li. 'There's a huge demand for Chinese goods, whether they are low-end or sophisticated. Construction materials, for example, are in great demand.'
One of the ways Li promotes trade between African countries and China is by organising events and expos. These have helped the partnership establish a presence in a number of countries, including Kenya, Nigeria and Senegal. One of the projects the consulting company has worked on was to promote the development of a commercial area in Abia State, Nigeria. Today, the state is benefiting from robust Chinese investment, including a US$2bn investment in the textile industry, and there are plans to build a US$1.5bn shoe factory.
Flexible and sensible
Though the market is vast and opportunities are plenty, it is not easy for a foreigner to navigate the African market. One has to be flexible and sensible to react quickly to changes and cope with cultural differences, as well as the challenge of seeing different administrations come to power relatively frequently in some countries.
'The policies formulated by the previous administration might not be kept by the next,' Li explains. 'For example, when applying for a work permit, you follow one set of procedures this year, but it might not be the same next year.'
Safety is also a primary concern, forcing Li's business interests to pull out of certain countries, as is the varying level of development across the continent. With infrastructure often limited outside major cities, communication can be challenging. 'The flow of information is not always smooth,' he says.
The flipside of this, however, is that development, when it comes, can be rapid. Li uses the example of the widespread ownership of internet-enabled mobile phones in Ethiopia, Nigeria and Kenya, where the personal computer stage has largely been skipped.
Natural choice
Li took his first steps to a career in finance by taking an associate's degree in accounting and finance at HELP University in Kuala Lumpur, Malaysia. He says it was an easy and quick choice to make. 'I am more sensitive to numbers and logic, so it was a natural choice for me to engage in finance and business planning,' he says.
His time in Malaysia also helped him to understand different cultures – a skill that is vital to his current role. 'My experience of studying abroad has helped me shore up my social skills in order to mingle with people from other backgrounds,' he says. 'Malaysia is a culturally diverse country, with Chinese, Malay and Indian people all living together. I'm used to an environment with great diversity and interacting with people from different backgrounds. This has made it easier for me to interact with African people.'
Management roles
On his return to China, Li worked for multinational companies Danone and PepsiCo, where he took on management roles including optimising workflow, controlling production costs, examining partnership opportunities, negotiating procurement prices and restructuring the sales system.
'Another key skill is to develop tolerance and be flexible in order to deal with unexpected situations,' he says. 'You cannot hold your expectations too high.'
Exposure to multinational companies also helped Li to learn how to deal with the cultural differences that are a factor in his work in Africa. These can, he says, prove challenging for Chinese investors, so it is vital financial professionals understand the local culture.
He acknowledges the tendency towards a more relaxed and less scheduled pace in parts of Africa. 'Some of my African friends have a healthy attitude, enjoying life and being relaxed; they tend to not rush,' he says.
The ACCA Qualification has helped Li in understanding the need to build trust with business partners.
'Professionals are well respected in Africa, and being an ACCA member has earned me wide respect and trust,' Li says. 'It has made doing business there easier for me.'
Despite being based largely in Ethiopia, Li continues to work closely with ACCA Guangzhou, in particular with the ACCA Guangzhou Toastmasters Club, a not-for-profit organisation that trains members in communication and leadership skills. He first became involved with the club when he was studying in Malaysia, and sees its focus on communicating information as a vital tool for ambitious finance professionals.
'Making public speeches is a way to spread ideas and messages,' he says. 'Finance professionals need to be able to talk confidently in front of an audience to present their ideas.'
Li also found time to be master of ceremonies at last year's ACCA China 30th anniversary member reception, a role he took particular pride in. 'To me, ACCA is not just a brand; it helps me get to know other people and establish connections,' Li says. 'I hope that senior members can contribute back to the community, to impart their knowledge and experience to the younger members to keep the connections alive.'
Be an all-rounder
Reflecting on his career so far, Li's advice to other finance professionals is to develop all-round skills to stay ahead.
'It's important to stay informed,' he says. 'Professionals need to have first-hand experience and know every link in the business cycle in order to fully understand how the business runs. This way, when problems occur, they instantly know what went wrong and how to propose a solution.'
The ability to multitask and be flexible is also vital. 'The right person should know a bit of everything,' he says. 'Language proficiency is an important skill, as well as the ability to take responsibility for a project and work independently.'
Besides excelling in technical skills, soft skills such as emotional intelligence are equally important.
'You need to know how to interact with other people and be able to maintain relations with others,' he adds. 'To be a competent finance professional, finance knowledge is only the foundation. More importantly, one needs to know how to better communicate with others.'
Elise Mak, journalist
"'Africa is a populous continent and China is the world's factory. There's a huge demand for Chinese goods'"