Andrew Elsby-Smith FCCA, group FD of vinyl flooring manufacturer Amtico International, reveals that success can be just as much of a challenge as crisis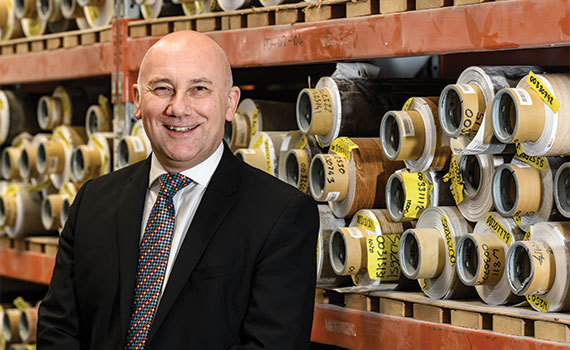 This article was first published in the April 2019 UK edition of Accounting and Business magazine.
You may not have heard of Amtico International but you have almost certainly had close contact with its products. As its group finance director and vice president of international operations Andrew Elsby-Smith puts it: 'If you've shopped in the UK, you've walked on an Amtico floor.'
Coventry-based Amtico International began life in 1964 as a joint venture between textiles manufacturer Courtaulds and flooring company American Biltrite, and invented luxury vinyl tiling (LVT); Courtaulds acquired the entire business five years later. Today, Amtico manufactures and sells LVT flooring to commercial and residential customers around the world. It looks remarkably similar to real wood, stone or ceramic tile, but has the hardwearing durability of vinyl.
'It's plastic, yes, but it's beautiful,' says Elsby-Smith. 'People are often amazed that it isn't real wood. But it's so much more resilient than the real thing.'
Vinyl flooring may have been seen as unfashionable in the past, but the sector is now growing strongly thanks to high demand from the retail and hospitality sectors and advances in design and technology that have made the products look all but indistinguishable from natural materials.
Growth-fuelled competition
Unsurprisingly given the strong growth in LVT demand – the sector has expanded by more than 60% since 2011 – Amtico has had to work hard to fight off competition from new entrants, particularly in South-East Asia. 'Until recently, we were the only people in the Western world who made it,' says Elsby-Smith. Its response to competition from Chinese manufacturers has been to add manufacturing capacity in the West.
In 2012, four years after he joined, the company was sold to Mannington Mills, one of the oldest and largest flooring manufacturers in the US. At the time, Amtico was owned by the private equity business AAC Capital, following a management buyout in 2006.
Elsby-Smith joined the company two years later after more than a decade with the ceramics manufacturer Wedgwood and a stint with a private equity-backed food distributor, Woodward. 'That was my ticket into Amtico,' he says. 'I didn't know anything about flooring or the construction sector but I had good private equity experience, which they needed after the buyout.'
But a few months after he joined, the company was sideswiped by the financial crisis. 'We are very dependent on the health of the construction sector, which is usually the first into a crisis and the last out,' says Elsby-Smith. The company restructured, took a tight control of its costs and weathered the storm.
World's longest job interview
With AAC Capital looking for an exit, the management team began seeking a buyer. While Mannington Mills was keen to acquire Amtico, it did not have the money to complete the deal 'so we agreed to help them raise it', Elsby-Smith says. He played a key role in the year-long process with notable success, which persuaded the US company to keep him close once the deal was complete. 'It was effectively the longest job interview in the world,' he quips.
While a good portion of the finance responsibility he previously held was inevitably transferred to the US, his other role as vice president of international operations – a marketing, sales and business development position – has more than filled the gaps and is centred around the Middle East, Australasia and Asia, where Amtico is pushing hard to grow its business.
'The sale to Mannington Mills was a big change for me,' he says. 'I went from being the CFO of a private equity business to being a divisional FD within a US family-owned business. But we've been fortunate: we have been given a lot of autonomy in running the business as we see fit.'
Amtico has gone from strength to strength since 2012 (turnover is now in the region of £185m a year), although that success has brought challenges of its own. 'Since we were bought by Mannington Mills, every year has been a record year for us,' he says, 'but we need to have control of our own manufacturing capability in order to differentiate ourselves from others. We desperately need a new factory in the UK, which would allow us to double our capacity here.'
While investing in new technology will also help Amtico increase its capacity, the fight to stay competitive is very much ongoing. 'This business is not about quick sales,' he says. 'You need to get in early with the constructor or architect and you won't see fruition for nine to 12 months, so you need to think carefully about where you place your chips on the board. But because we're not huge, we can be agile.'
It is a way of life, he points out, that will be familiar to any modern manufacturer. 'We are constantly looking at how to take a penny out, how to trim costs by 1%. You always have to find a better way, you always have to reinvent yourself. Manufacturing in this country isn't dead; we're doing well. It's a fantastic story to tell. And I love to tell it.'
Liz Fisher, journalist
"We are constantly looking at how to take a penny out, how to trim costs by 1%. It's a way of life. You always have to reinvent yourself"