For S M Omar Faruk ACCA, audit manager at Lloyds.Earle.Panicker, inspiring the next generation of accountancy professionals is equally as important as his day job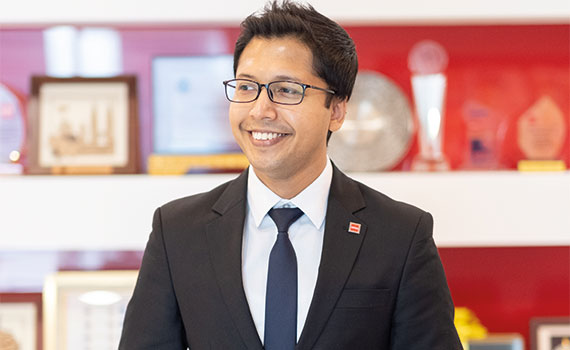 This article was first published in the April 2019 Malaysia edition of Accounting and Business magazine.
S M Omar Faruk has come a long way to achieve his dream of becoming a finance professional. Born in Bangladesh, today he works as an audit manager at Lloyds.Earle.Panicker in the heart of Kuala Lumpur, as well as moonlighting as an ACCA lecturer at Kings College Malaysia.
While he originally wanted to study engineering, he did not manage to secure a place at Bangladesh's top engineering college. He admits he was initially 'heartbroken' but his plans changed drastically when a cousin suggested that gaining the ACCA Qualification could pave the way to a global career. The idea was attractive but as his family were cash-strapped, Omar felt that the prospect of pursuing a career in accountancy was out of the question. However, his father felt differently after speaking with Omar's cousin, drawing down some of his pension fund to finance the tuition fees, much to Omar's surprise. He began studying part time in 2009, completing his CAT in 2010.
While studying he supported the family by tutoring secondary school pupils in maths and English, helping ACCA students prepare for exams and working for an ACCA tuition provider. This experience, along with an earlier stint as a private tutor to help with family living expenses, he says, helped to instil his love of teaching . 'I really love lecturing, interaction and sharing,' he says.
Omar suffered a setback, however, when, due to strikes and political unrest, the British Council cancelled two ACCA exam sessions in Bangladesh, in December 2012 and June 2013. At that point, Omar had just two papers in audit and finance left to sit. Several of his peers went to Malaysia to complete their training. Omar remained in Bangladesh with his dreams dashed until a friend who pursued the ACCA Qualification spoke with his father about the benefits of studying in Malaysia. Omar acknowledges that his father's sacrifice – withdrawing another sum from his retirement pot - enabled him to travel to Malaysia and enrol in FTMS College's ACCA programme.
The move to Malaysia was, he admits, daunting. 'This was the first time I had left the country and lived without my family,' he says. 'My parents' trust in me placed an even heavier responsibility on my shoulders.'
Tough times
His initial months in Malaysia were spent living hand-to-mouth, earning just enough money in low-wage jobs while studying. What little he had left over was sent to his parents in Bangladesh. His living quarters were noisy, sparse and cramped while the college campus offered a quiet refuge where he spent most of his time when he wasn't working. Although he passed the finance paper at the December 2013 sitting, Omar had to retake audit. 'That was the toughest time of my life,' he recalls. 'But I promised myself that I would not go back to Bangladesh empty handed. That wasn't an option.'
Things started looking up when Omar moved out of his 'hellish' flat and got an internship as an assistant accountant with a remittance firm. He retook his audit paper in June 2014 and passed. This led to his being taken on by a small practice as an audit associate before he joined Lloyds.Earle.Panicker as an audit senior in 2015.
Having gained his ACCA Qualification in 2014 and going on to achieve membership in 2017, Omar was determined to give back to the profession. He was particularly inspired after meeting Brian McEnery, the then ACCA president, at the ACCA Malaysia New Members Ceremony. There, McEnery described his difficult journey to qualification and Omar vowed to use his own story to inspire others.
Inspiring others
A first step was joining the ACCA Malaysia Young Members Network in 2018. This year, Omar will travel to Bangladesh, Indonesia, Nepal, Sri Lanka and other emerging economies to share his journey, in the hope of motivating and inspiring resilience and determination among ACCA students.
Omar is also ACCA lead lecturer for Level 3 papers at Kings College, which involves him teaching study techniques, organising mock exams and providing real-life examples to help his students understand the topics and their practical implications. 'I feel proud and happy when my students are successful in their exams,' he says. 'I also feel great joy in seeing them go on to become professional accountants.'
Unsurprisingly, Omar's goals also include supporting his parents in their old age. 'They sacrificed all of their happiness and gave up every bit of joy to ensure that their children succeeded,' he says, adding that he is saving hard in order to send them on the Hajj pilgrimage as well as to visit Malaysia to enjoy quality family time with Omar and their new daughter-in-law.
His plate might be overflowing with family, work, teaching and giving back to the profession, but Omar isn't letting it faze him. 'My dream is to really do as much as I can.'
Nazatul Izma Abdullah, journalist
"I promised myself that I would not go back to Bangladesh empty handed. That wasn't an option"