Pat O'Neill FCCA, director, strategic investments in the Strategic Investment Board, helps make challenging investment projects happen in the North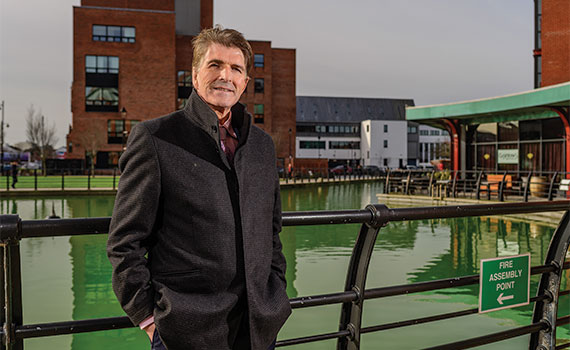 This article was first published in the April 2019 Ireland edition of Accounting and Business magazine.
Between the protracted saga of Brexit and the seeming paralysis around restoration of the Stormont Assembly, you could be forgiven for thinking Northern Ireland is a region in cold storage these days. It takes only a quick visit to Belfast to revise that notion entirely. The city centre bustles with life, and cranes hover above its historic harbour, competing to deliver a new generation of hotels and office buildings.
Northern Ireland may not have soared to any dizzying economic heights in recent decades, but neither did it crash and burn during the financial crisis. Few on either side of the North's political divide would dispute the vision for the region's economic future set down in the current draft Programme for Government strategy document – namely, 'a strong, competitive, regionally balanced economy'.
Politically, Northern Ireland may have to jump through a few hoops before its future path becomes clear, but behind the posturing and debate, a strong and proactive public sector is actively shaping its future and delivering on an ambitious programme of change and reform.
Planning, delivering and managing
It's an environment with a distinct and important role for the Strategic Investment Board (SIB), a body that describes its purpose as helping government to 'plan infrastructure, deliver major projects and manage assets'. Set up in 2003, SIB has, according to Pat O'Neill FCCA, its director for strategic investments, a relatively unusual structure: 'SIB is a part of the public sector, but its staff are not civil servants. It is a company limited by guarantee and is owned by the Executive Office. The board of SIB is accountable, through its chair, to Northern Ireland's first minister and its deputy first minister, who set its priorities.'
Central among these priorities is the Investment Strategy for Northern Ireland, a 10-year rolling plan that SIB creates in consultation with government bodies and which, O'Neill says, 'describes the public investment that government intends to deliver across all its departments'.
SIB also offers strategic assistance to government bodies on individual programmes and projects. 'We work in partnership with these bodies to accelerate project schedules and obtain better value for money for the taxpayer,' O'Neill says. 'We will typically get involved in projects that are difficult and complex, and have a significant requirement for additional skills and experience.' Assistance is the key word here, he stresses: 'SIB doesn't develop policy and only works at the invitation of the organisations it supports.'
There are many programmes SIB is involved in where the community impact is discreet yet profound. In 2012, O'Neill was seconded to the Education Authority as change director, with the goal of creating a new authority to oversee education provision in the region. In his five years in the role, he helped set up a new board and governance structure for what is now Northern Ireland's largest employer, with 37,000 staff, an annual revenue budget of £1.7bn and a capital budget of around £200m. He dissolved the previous system of education and library boards in what was the first major administrative overhaul of Northern Ireland's highly complex education sector in some 40 years. For O'Neill, the reconstitution of the system was a once-in-a-lifetime opportunity.
'We were dealing with an imbalanced situation in Northern Ireland, where some schools were progressing and others were not,' he explains. 'People wanted to do something to make that situation better for everyone.'
An important impetus for change was recognition that existing structures were hampering rather than helping progress. 'Older organisations tend to be set up with a focus on administrative functions,' he says. 'More modern organisations are designed to align toward the customer and the client. The goal for the Education Authority is to put the child at the centre of the decision-making process. That's the approach we have now put in place.'
The idea that better knowledge delivers better outcomes has, O'Neill says, been a guiding principle of his career. 'I've always sought to build my experience, skills and qualifications across various disciplines.' Hailing from Limerick, he enjoyed a successful background in engineering before joining the Department of Finance in Dublin in 2000 where he was instrumental in setting up a public private partnership (PPP) model that went on to deliver over €5bn worth of infrastructure projects, including motorways and schools, over 20 years.
ACCA entered the picture at this point, O'Neill says, as he realised he couldn't absorb financial knowledge to the level he needed without studying in the field. 'I chose ACCA because it was the most flexible. It allowed me to continue in the delivery of my role while learning.'
Moving to Belfast to join SIB in 2006, O'Neill continued to hone a skillset that sees him bring public and private sectors together for a common purpose.
'I like to think I use the skills and experience I've gained in my career to help stakeholders plan their investments, structure complex deals, manage performance and deliver value,' he says. 'My ambition, if this can be considered an ambition, would be to continue to do that, to the best benefit of SIB and the wider public sector.'
Northern Ireland may not have taken the deep recessionary hit the rest of Ireland has endured during the past decade, but there is little doubt the mantra of doing more for less has also been a driver of sustained change in the region. 'Much of the strategic structural reform that was required has now been delivered,' O'Neill says, reflecting on work in the public sector in particular over the last number of years. 'SIB has been supporting a number of these with an evidence-based, data-rich approach.'
Continual change
He stresses, however, that there is no escape from the momentum of non-stop change. 'The next stage of the journey is to recognise that reform will need to become continuous,' he explains. 'A changing age demographic, increased demand for services, and recognition that the budget allocations simply can't match those demands will be important drivers of this.'
It's an environment where he believes data and technology will play a pivotal role. 'We will see a greater reliance on the internet of things to simplify the process for those using services. We will also see a management of expectations exercise, where the service users will obtain just-in-time information, along with the choices available to them.'
In the shorter term, of course, the greater pressure on Northern Ireland arguably lies in the more familiar sphere of politics, and in particular decisions around the Northern Ireland Executive and Brexit.
'As is clear to everyone, Brexit is a big challenge and it will impact on all work aspects of the civil and public sectors,' he says. While it can appear that Northern Ireland's future is being shaped by forces around it, he says the region is also playing an active part in the narrative. O'Neill points to the Executive Office's creation of a new position of director general for international relations as strong evidence of a government responsive to a changing environment.
Investment approval through the region's investment strategy is covered until 2021 and O'Neill says the next iteration of the plan will be ready for consideration when the executive returns. In the meantime, the head of the civil service provides the approval that would otherwise come from the Executive Office.
Meanwhile, the bustling city of Belfast, like the rest of the resilient region, continues to take its modern shape on advice that comes in no small part from its development plans. There is no sense that a hard stop to that progress is being anticipated any time soon.
Donal Nugent, journalist
"I use my skills and experience to help stakeholders plan their investments, structure complex deals, manage performance and deliver value'"