In a region starved of capital markets, Kazakhstan is creating a fully functioning finance hub for the whole of Central Asia – with a skills and regulatory infrastructure to match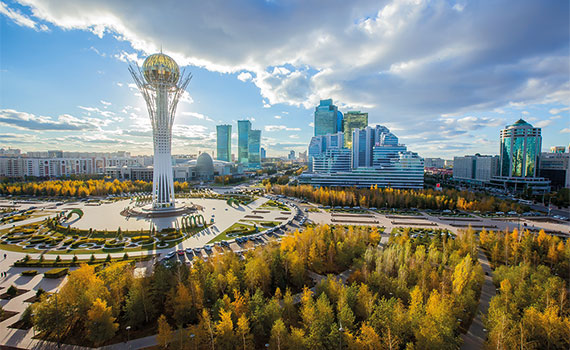 This article was first published in the May 2019 International edition of Accounting and Business magazine.
Aiming to be home to the largest and most innovative capital market in Central Asia, Kazakhstan seems to have set itself an eminently achievable goal given it already accounts for 60% of the region's GDP. The objective is also being underpinned by the establishment of a stock exchange, Astana International Exchange (AIX) (currently retaining its name despite the city being renamed Nur-Sultan in March), and support facilities at the Astana International Financial Centre (AIFC), a finance hub in the Kazakh capital.
Tim Bennett became chief executive of AIX a year ago, after six years as CEO of the Wellington-based New Zealand stock exchange. Progress in establishing the AIX has been rapid since.
'We are operational, both for trading and post-trade,' Bennett explains. 'We started building the exchange in January last year and listed our first equity issuer in November – that was Kazatomprom [the state-owned biggest uranium production company in the world]. We have a full regulatory infrastructure in place and an ecosystem of 13 Kazakh and three foreign brokers. So we are through the first phase of development.'
Kazakhstan occupies a strategically important geographic position, connecting Russia and China. Its government and the AIFC are keen to exploit that advantage, and the ownership structure of the AIX (which was set up by the AIFC) reflects this desire. Equity in AIX is shared between the Shanghai Stock Exchange; the China-Kazakh Production Capacity Cooperation Fund, part of the Belt and Road initiative, which is investing around US$2bn in projects in Kazakhstan; Nasdaq, the provider of the AIX trading engine; and Goldman Sachs, which is helping develop the listing pipeline through the privatisation programme and to build an effective capital market in the country.
'There is no functioning capital market in Central Asia,' explains Bennett. That, though, is beginning to change, following the success of the initial public offering (IPO) of Kazatomprom, which listed in London as well as on the AIX. It's just the beginning of the privatisation programme. 'Kazakhstan's sovereign wealth fund, Samruk-Kazyna, has a stake in all the national companies, as well as a large number of smaller businesses acquired as a result of the financial crisis,' Bennett continues. 'It has publicly identified nine companies that will be IPO'd over the next three years: Kazatomprom was the first; the next three will be stakes in Kazakhtelecom, Air Astana and KazMunaiGas – the largest company in Kazakhstan.'
Russian investment is expected, particularly in the mining sector, and some smaller Russian businesses could also list. Islamic finance is potentially important too. 'There is a growing sector of investors looking for sharia-compliant finance, and this is a country where most of the population are Muslims,' says Bennett. 'There has been no focus until now on this in Central Asia, and we know a lot of potential investors will be attracted – and only attracted – by this.'
Professionalisation
Kazakhstan recognised it had to make itself more attractive to global investors by strengthening its regulatory structure and professionalising its economy. Flotation proceeds will fund investment in the economy, especially in education and skills.
Yernur Rysmagambetov is chief of the AIFC Bureau for CPD, set up three years ago. 'The bureau will raise professional standards, with the objective of creating a pool of 5,000 local professionals, with internationally recognised qualifications,' he says. 'Our models are Luxembourg, Singapore and the UK.
'We have a partnership with ACCA and others, initially to create a local training centre and then to grow. This is not just for educational purposes: we also want to get people into work. We have trained a thousand local professionals so far. As of today we have more than 140 companies registered on our scheme – in two years we expect that to reach 500 companies, employing 5,000 people, operating in Nur-Sultan first and then Almaty.'
Rysmagambetov adds that many professionals, including judges and trainers, have been recruited from the UK. 'For the future we are now launching our new initiative, with new offices and new infrastructure. We are in discussion with institutions and university business schools around the world to create the Astana International Campus. ACCA was our first partner and the largest certificate provider. Its membership is very valuable and we are working with ACCA to increase the number of members and raise the standard of our own staff. We want to be the regional hub for professional standards – a centre of excellence, supporting Nur-Sultan as a financial services centre.'
Bennett believes Kazakhstan is on the cusp of change. 'This region has tremendous investment opportunities – it is one of the last untapped investment opportunities in the world,' he says. 'At the AIFC we have an infrastructure for outside investors to invest in the region. It's going to be an exciting couple of years ahead.'
Paul Gosling, journalist