Professor Arnold Schilder, retiring chair of the IAASB, reflects on his decade-long tenure and considers what the future may hold for audit and assurance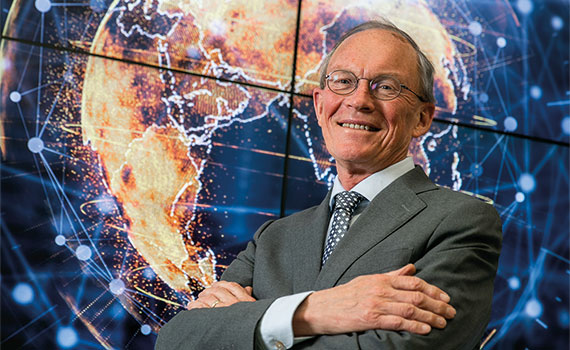 This article was first published in the May 2019 International edition of Accounting and Business magazine.
After 10 years at the helm of the International Auditing and Assurance Standards Board (IAASB), Professor Arnold Schilder is stepping down. It has been a decade of great change and upheaval for the audit profession, with the IAASB at the forefront of the movement to create and maintain a set of globally recognised, high quality standards that serve the many stakeholders in today's audits.
But it is also a time to look forward to the developments that will have an impact on the future of auditing and assurance: wider stakeholder interest, developments in emerging economies, shifting expectation gaps and the increasing use of technology will all continue to figure on the agenda for IAASB meetings in years to come.
Back in 2010, a year after Schilder had taken on the role of chairman at the IAASB, he told an ACCA Council meeting that the expectation gap was real, and that as auditors had to deal with many users and regulators, it was important to discover what those users and auditors expected and how those expectations changed over time. So, a decade on, how much has changed?
'We were always educated in awareness of the expectation gap, and that we need to make clear what auditors can do and what auditors cannot do,' Schilder says. 'That is one half, but the other half is that auditors have to deliver. There are reasonable expectations, but speaking to colleagues in the IAASB around the world some would say the gap has narrowed, while others would say it has stayed the same, or increased. So, the expectation gap is a dynamic concept, one that is changing all the time. How you deliver on that is the key question.'
Schilder, however, points to a number of initiatives implemented during his time in office that have gone some way to reducing that gap. 'We have developed new audit reports, including key audit matters, which are a complete step change from previous audit opinions,' Schilder explains. This has, in turn, created more transparency around the audit process while helping to explain what is expected of an audit. This transparency is also helped by reports on audit quality from individual regulators, which can be critical but also positive.'
But Schilder also observes that advances in technology have contributed to a widening expectation gap – now that whole data populations can be interrogated, there should be far better testing methods. At the same time, stakeholder pressure has required the auditing of non-financial information, which can be open to far wider interpretation, presenting greater difficulties in validation.
Distinguished service
Schilder joined the auditing profession in 1972 when he enrolled with a predecessor firm of PwC in the Netherlands. From 1998 he was a board member of the Dutch Central Bank, where he served until 2008, before taking up his current position at the IAASB the following year. During his time at PwC he earned a PhD in business economics with a thesis on auditor independence, a distinction that would have stood him in good stead as he took on the IAASB role.
The achievements over the past 10 years are probably too many to list, but Schilder points to a number of areas where he believes there has been significant progress during his time with the board.
The first is the work on auditing estimates. The revised ISA 540, Auditing Accounting Estimates and Related Disclosures, is, Schilder says, a very important contribution to auditing. 'It goes to the heart of every audit, so strengthening it was a major move,' he explains. The revisions ensure that the standard continues to keep pace with changing markets and fosters a more independent, challenging and sceptical auditor mindset. 'The standard is asking auditors to always ask what lies behind the assumptions.'
It is this scepticism that is constantly reinforced throughout the work of the IAASB, and indeed national regulators around the world. This sits alongside another area of progress, the suite of proposed quality management standards, which were released in February 2019. These standards will change the way professional accountancy firms are expected to manage quality – for audits, reviews and other assurance and related services. 'The fundamental change here is it shifts from a backward-looking quality control system to a more preventative, proactive approach so that auditors are sure they will have done the right thing,' he explains.
The final area is non-financial reporting, with the release of a consultation paper in February 2019 on emerging forms of external reporting (EER) assurance. EER encapsulates many different forms of reporting, including integrated reporting, sustainability reporting and other reporting by entities about environmental, social and governance matters. 'It is about exploring new ways and linking concepts, but it is also a major area of development for reporting, driven by a fundamental interest in the global environment,' Schilder says.
A further key area where audit is rapidly evolving, and will continue to do so into the future, is the use of technology in the audit process. 'I am very impressed with all the possibilities that new technology allows auditors to apply to the process, but the question is, how will this impact auditing standards?' Schilder asks. Already, the IAASB's technology group is assisting with the revision of some auditing standards, but feedback suggests that the issue is not so much that the standards are broken, as that they were written at a time of less rapid technological progress.
'We are now in the initial phase of a project addressing the audit of the future. But auditors will always be required to help reduce uncertainty about financial reporting with their expertise and judgment. Society is relying on the auditors to deliver, and the challenge has not decreased,' Schilder says.
There is, however, one big question that Schilder does not yet know the answer to. It is a philosophical question, but nonetheless one that needs to be asked as auditors are required to delve into more financial and non-financial areas. 'How much is enough?' he asks. 'The interactions between the many stakeholders means we need everyone round the table. Public interest has moved forward so much in the last 10 years.'
And Schilder has no doubt that it will continue to do so into the future.
Philip Smith, journalist
"The audit expectation gap is changing all the time. How you deliver on that is the question"