As Malaysia goes up a gear in its digital transformation journey, finance professionals need to be future-ready, as Dr Ng Boon Beng and Thillai Raj T Ramanathan explain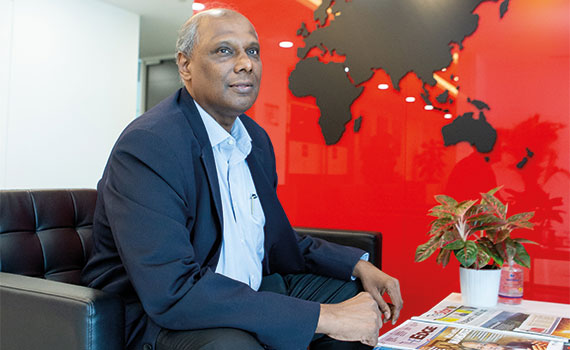 This article was first published in the May 2019 Malaysia edition of Accounting and Business magazine.
Technology and digital adoption is changing today's business landscape – creating opportunities for early adopters in every industry, including accounting and finance professionals. Malaysian companies and organisations are, however, still lagging behind in the adoption of digital technologies such as artificial intelligence (AI), big data, cloud computing and cybersecurity.
'When it comes to digital technology implementation, companies in Malaysia are often looking for proven business models,' says Oracle Malaysia CFO and ACCA ExpertLink panel member Dr Ng Boon Beng. 'Malaysia has never been an originator of new technology; we are an adopter and implementer. Very often, our businesses are dragged and pulled into technology, and now digital deployment, because of the necessity to stay connected to the world of commerce and business.'
Cognisant that it cannot remain a laggard when it comes to technology and in an effort to accelerate the pace of the country's digital transformation – especially in the manufacturing and related services sectors – last October the Malaysian government launched Industry4WRD, a national policy on Industry 4.0 (or the fourth industrial revolution). Among others, Industry4WRD sets out the specific enablers that determine the strategies, policies and action plans, including upskilling and producing future talent, regulatory framework, and funding incentives.
Under the 2019 Budget, RM210m has been allocated
over three years from 2019 to support the transition and migration to Industry 4.0. The government also announced that RM2bn will be allocated under the Business Loan Guarantee Scheme; this will provide guarantees of up to 70% to incentivise SMEs to invest in automation and modernisation.
Thillai Raj T Ramanathan, chief technology officer at MIMOS –a national applied research and development (R&D) centre that focuses on technologies relating to Industry 4.0 – says that the pace of digital transformation varies among industries. 'The manufacturing sector is moving very fast into automation and the Internet of Things, which is driven by rising labour costs. China, for example, has moved from labour-intensive industries to those that are more and more reliant on automation and AI, so we need to compete based on that,' he says.
Technology chasm
But the same cannot be said of the finance sector. Despite having moved towards cashless and online transactions, the sector's embrace of digital technologies isn't as quick as that of the manufacturing sector, Thillai says. 'We seem to be quite complacent and if we don't do anything about it we may be left behind,' he says. 'Singapore, for example, has a lot of sandboxes where they can try out new technologies. We have these, too, but they are not being used because there is no encouragement or willingness to move forward. There seems to be a kind of technology chasm and this can be attributed to the organisation's own mindset, the lack of resources or skills, and cost. If the issues of cost and resources are not resolved, this technology gap will always be there, and we will always be depending on foreign workers and cheap labour,' he says.
Even within the area of finance and accounting Thillai feels that the adoption of digital technologies is still sluggish. Much of his role on ACCA ExpertLink is focused on evangelising the advantages of new technologies to members of the accounting and finance profession through talks and workshops. The profession, he says, needs to take the first step in embracing technology, and that involves understanding it.
'Many of these technologies are quite straightforward and are actually cost-effective,' he notes. 'But although there may be some automation, the profession is not yet using technology or collecting large amounts of data to make decisions. We are still seeing decision-making that is emotionally driven rather than data-driven.'
But there are exceptions, as in the case of Oracle, a global digital technology innovator that's helping its customers to go beyond developing their digital potential by using end-to-end digital solutions to grow and compete. Elaborating on the digital transformation journey within the organisation's finance department, Ng says that even before the digital business model was launched, Oracle's entire business flow processes were redesigned to fit into the new digital business model to reduce human intervention to a minimum.
'This includes redesigning customer interface and the need to explain to customers about the product features and technicalities. Every detail is presented in 3D and the purchasing processes on documentation, form filling and payment are reduced to a minimum,' Ng says, adding that the click-through processes allow customers to manage their own buying decisions according to their own timing.
Once an Oracle purchase is confirmed, the transaction will be automatically tracked by both the customer and seller until its final delivery and completion. In the digital economy, the finance department becomes the process monitoring centre, tracking orders from their origination to conclusion. The manual tasks – from account setup, data entry, order confirmation, issuance of invoice and statement to the final cash collection – are all embedded in the digital processes.
'The role of the finance function has drastically shifted to perform review and manage business processes,' Ng says. 'Finance also performs ad-hoc checks and queries on a transaction's integrity, scrutinising results displayed on a digital dashboard and perform the necessary business analytics using AI or business intelligence tools.'
Ng adds that the finance role in the digital era is increasingly significant, especially in relation to advising management on various operational activities and results that can be achieved through strategic, tactical and operational implementation.
The organisation's digital transformation journey has meant that finance professionals have come to accept that they either have to move with the flow created by new digital business models or they may find themselves without a role, he says.
At Oracle Malaysia, most finance professionals were, Ng says, happy to learn new skills and to equip themselves with new knowledge and perspectives on how a digital business is run. 'Many finance professionals who have learned much and developed expertise in digital technology, AI and business intelligence are now using their combined knowledge in the digital arena to serve as consultants in the fintech, telco and healthcare businesses,' he says.
Ideal ambassadors
In the same vein, Thillai feels that finance and accounting professionals who have embraced digital technologies are ideal ambassadors and should share their experiences. 'The larger accounting firms that have adopted technologies such as big data and cybersecurity need to talk about that experience, the success factors and what worked and what didn't,' he says. 'For example, did it help the firm improve productivity, obtain more accurate data or bring down costs?' The sharing of successes and pitfalls among ACCA members would, he adds, be invaluable for the profession as a whole.
Thillai and Ng acknowledge that an organisation's digital transformation will have an impact on its talent management efforts. 'The finance function is assembled to serve business needs. On its own, it has no standalone purpose in an organisation,' Ng says. 'So, as the business model changes, the finance function will have to be repositioned to serve the new business operation, and therefore, talent development and management programmes will have to be realigned with the business operation.'
He adds that, under the digital model, the finance department will require finance professionals to be both business and digital technology savvy. 'Finance professionals cannot operate purely from the back-office as the controlling function,' he says. 'They need to interact with business colleagues and respond to any change in business indicators, and advise the management team accordingly.'
Thillai adds that apart from understanding fundamental accounting and finance skills, knowledge in data science is a key attribute. 'The way you handle data, the way data comes in and gets cleansed, analysed and displayed – that whole cycle needs to be clear,' he says. 'Once the data is cleansed and the terms are harmonised then you need to do some encryption and finally display it to make a decision. This whole science is important.'
Finance and accounting professionals also need to be inquisitive and understand how to do things better. 'Being innovative and having critical thinking skills are also important,' he adds.
Here, Ng believes, ACCA has a key role to play as a thought leader in all arenas of digital businesses, and this should be reflected in its syllabus, examinations and its membership qualifying training. There are, he acknowledges, major challenges in preparing the talent pipeline for the digital age. 'There is a talent gap because a lot of the university programmes tend to be maybe five or 10 years old. With IT changing every year, how do the students then pick up new stuff?' he asks, adding that universities should have more industrial attachment programmes for undergraduates.
'That way, the students will then be exposed to what is going on in industry.'
Sreerema Banoo, journalist
"We are still seeing decision-making that is emotionally driven rather than data-driven"