Owen Quinn FCCA, CFO of arvoia, explains how the Kerry-based tech startup's goal of putting all on-demand travel options into consumers' hands is taking off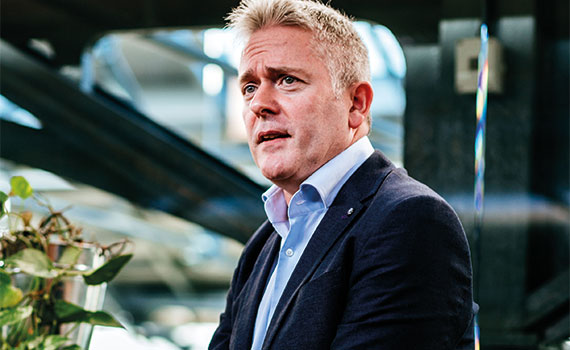 This article was first published in the May 2019 Ireland edition of Accounting and Business magazine.
Disruption is the go-to word for technology startups as they picture their would-be impact on the world. While the boast is all too often deployed with scant regard for plausibility, it really does seem to ring true in the transport and mobility sector.
In just a few years, a brash new generation of tech companies – among them Uber, Hailo (rebranded as mytaxi in 2017) and Taxify (rebranded as Bolt this year) – has had a major impact on how millions of people get around every day, and there is every indication that the revolution, particularly in terms of the shared economy, is only beginning. While the experience has often been unsettling for establishment players, given the chance to make life easier through a tap of their smartphones, consumers have embraced the new reality with far more enthusiasm.
Kerry-based startup arvoia (originally founded as Mobacar in 2014, the company rebranded in early 2019) brings an ambitious Irish player into this highly competitive space. Unlike the better-known brands, the company operates firmly in the business-to-business realm, and has made the car rental sector the starting point for what it believes will be a transformational approach to mobility access. It's a sign of the times that artificial intelligence (AI) is front and centre in its offer. Encouragingly for the industry's incumbents, the company's strategy is to give them the next-generation platform they need to embrace disruption and provide new business models focused on a better customer experience.
On-demand future
'The future of mobility is uncertain, and no one knows what the sector will end up looking like,' says Owen Quinn FCCA, the company's chief financial officer. 'What is clear is that we are moving towards a personal mobility landscape where on-demand systems will integrate all forms of public transport and give consumers a seamless end-to-end experience. What arvoia has done is to identify and solve the problems that were hampering the car rental industry from participating in this fast-changing environment.'
The company's AI technology plugs into the existing services of car rental companies, airlines and online travel agencies, and allows customers booking trips to get a personalised offer around their transport options, rather than a price-based list of car rentals.
'Until now, every offering from a car rental brand or broker has been price-ranked, leaving it to the consumer to sort through the lists,' explains Quinn. 'People quickly get fed up with this experience and look somewhere else, only to find the same approach there. Our technology starts with the premise that no two customers are the same, and will offer the most relevant rather than cheapest product to them.'
What that particular offer will be depends very much on individual details but, Quinn says, it could be anything from economy or luxury car hire to a scooter or a bike. He offers the example of a businessperson making a day-trip to London to explain how it works: 'The usual experience is to be upsold something you don't want. However, arvoia recognises that, if you're there for just a few hours, a car may not be the right choice. Options such as transfer or shared transfer could be a lot more efficient.'
The benefits to companies that give customers these intelligent offers are, he says, significant. 'The shift to mobile and customisable rentals is coming in tandem with a lucrative and fast-growing market. A more intelligent approach will deliver increase revenues, conversions and margins.'
The buzz around arvoia suggests its message is gaining traction. The company was recently ranked number eight in the Deloitte Technology Fast 50 Ireland, named one of the country's hottest business startups by Tech 5, and listed as one of the top 25 artificial intelligence companies in Europe by CIO Applications Europe.
Since joining the company in 2015, Quinn has made the CFO role central to its rapid development, securing all-important investor funding and building strong, mutually beneficial relationships with its first clients, among them the UK-based travel solutions provider Travelport and Middle Eastern airline Gulf Air. One of his first successes was to secure a major investment deal with the international car rental company Auto Europe and venture capital firm Delta Partners. That investment allowed arvoia to increase its headcount in data science and software development to build its mobility platform.
Quinn's role in negotiating contracts has been equally important and his previous experience as CFO of consumer foods company Nature's Best has come to the fore here. He says there are more similarities between the two sectors than might at first be obvious. He explains: 'In FMCGs, your clients are typically major international businesses, and in a B2B tech company you will also be dealing mainly with large, multinational companies. The structure of the contracts you sign in both cases are also quite similar. You are looking to protect your cashflow, make sure you are making money on the agreement and ensure your intellectual property is secure. In essence, both are about designing contracts that work for you as well as your trading partner.'
More broadly, he sees the role of CFO in a startup business as proactively providing support for the chief executive and the broader leadership team. 'Being a strategic business partner often means getting out of your comfort zone and taking the lead on business projects,' he says. 'You have to see yourself as fully engaged with the other business functions so they achieve their objectives.'
Quinn uses cloud solutions for invoicing and expense receipts to help in that process. 'In a startup, it's important to focus resources on strategic challenges rather than administration. We utilise automation to the full to do that.'
For those drawn to making their own leap from a more established business to a startup, Quinn's advice is to do your due diligence and recognise 'there are no safe bets' in the startup world. 'It's about meeting the team of the company and the investors, and understanding what the purpose of the company is and their vision,' he says. 'If you buy into it, and the culture works for you, if there's a fit on both sides, then that's a good basis to make a decision.'
Beginning his career as a trainee accountant in the clothing business Double Crest, Quinn says he knew from the start that it was the world of the corporate rather than that of the accountancy practice that interested him. He rose quickly through the ranks to the position of financial controller but found a qualification was needed for his next step. 'I chose ACCA because it had that strong business and strategic focus, and also the flexibility to allow me to work while I studied.' His acumen is reflected in his coming first in the 2002 final exam sitting in Ireland in advanced taxation, second in strategic business planning and development, and second in business information management.
His first C-level role came with Nature's Best soon after, and he steered the Drogheda-based company adroitly through a period of turnaround, growth, development and – against the backdrop of the recession – survival and recovery. 'After a period of strong growth, our challenge was to remain profitable through a few very difficult years,' he recalls. 'We were responsible for 300 jobs and were determined we weren't going to fail. We cut costs and invested in innovation, marketing and sales. By 2011, things started to improve. Soon after that, our headcount was back to pre-recession levels.'
Connecting communities
The entry of arvoia into the mobility field comes at an opportune time. The global car rental business, worth an estimated €53bn in 2016, is expected to more than double in value by 2022, on the back of an ever expanding tourism industry and growing demand in Asia. Important as this market is, it is just part of the overall story the company believes will develop and which it can be part of.
The shared economy may represent the biggest opportunity of all. Quinn says that, from the beginning, the company's technology has been developed with this in mind. He points to the evolving 'connected communities' in cities around the world, as progressive planners seek to bring sustainability and coherence to sprawling transport offerings.
The company's first foray into this area is not in a global metropolis, however, but much closer to home. In 2018, it was awarded a contract with Clare County Council to develop a software solution for ride-sharing in the county. The aim is to ensure as many routes and out-of-the-way addresses as possible are linked up and served by some mode of transport.
'The end goal is ease of access to mobility in areas that are currently transport deserts,' Quinn says. 'It will help address the issues and challenges of rural isolation, allowing parents to get their kids to creches, people to get to work, and the elderly to access vital local services.'
There are many more elements to such a programme than software, but Quinn is confident that once the offering is perfected, it will be easily replicable across Ireland and beyond, making a major contribution to a significant social problem.
So could arvoia one day rival Uber in the public mind? 'We believe in the partnership approach,' Quinn reiterates. 'In the case of cities, the municipalities that own the transport within their regions will decide who has access to them. Our goal is to power the app that delivers that. So as a consumer, you may not be seeing arvoia upfront, but you will certainly be having a better experience because of us.'
Donal Nugent, journalist
"We are moving towards a personal mobility landscape where on-demand systems will integrate all forms of public transport"