Richard Sun, a veteran leader with PwC in Hong Kong, explains why it's an exciting time to work in the Special Administrative Region's finance sector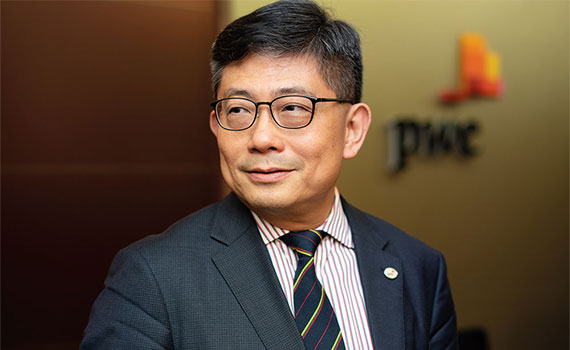 This article was first published in the May 2019 China edition of Accounting and Business magazine.
When it comes to understanding mainland China's developing capital market, few are better placed than PwC's Richard Sun. As leader of the firm's institutional group (assurance) in Hong Kong and Macau, lead director of PwC China, Hong Kong, Taiwan and Singapore and the PwC AsiaPac Governance Board, not to mention a member of the PwC Global Board, he has observed developments first hand.
It's an exciting time for the finance sector, Sun says, as more and more Chinese companies enter Hong Kong to do business. Key to this is, he notes, Shanghai and Shenzhen Stock Connect, which allows mainland and Hong Kong investors to trade stocks in both locations. A change in the rules in April 2018 allows pre-profit companies (most often in the biotech space) to go public in Hong Kong. Already, a handful have launched initial public offerings (IPOs).
Still, Sun says, it takes time to decide the benchmark for the stock market performance of a company. 'Hong Kong will continue to provide a platform for Chinese companies to go public and obtain funding,' he says. 'That has helped the financial market to grow over the last decade.'
Sun has spent his entire career – over three decades – with PwC in Hong Kong, and is proud of the key role the special administrative region (SAR) plays. 'Accountancy is an important profession for Hong Kong because the city is famous for being a financial centre,' he says. 'It's great to be a part of the financial sector here.'
When he first considered a career, though, Sun wanted little to do with numbers. 'Originally I wanted to be a doctor,' he recalls. 'I wanted to study medicine but my public exam results were not good enough so I thought about what my other options could be. The Hong Kong Polytechnic (at the time) was famous for its professional accountancy courses and offers good job prospects. That's why I picked accountancy.' (It's no coincidence that his daughter is now an accountant and his son is studying accounting and finance in the UK.)
More opportunities
After graduating from the professional diploma programme in accountancy in 1984, Sun joined PwC. In 1996 he became a partner in the firm's audit division, a position that offered him more freedom. 'I started to have more opportunities to talk to my clients to understand their concerns and explain to them the accounting requirements and auditing procedures,' he says. 'It's all about communication.'
At that time, most of Sun's clients were manufacturing, trading and retail companies. After eight years, he moved to the capital market service group. 'That's when I developed my expertise in the capital markets,' he recalls. 'I talked with investment bankers and also got involved in work concerning IPOs.'
He became capital market service group leader in 2006, opening the door to increasing recognition of his expertise when he served on the listing committee of Hong Kong Exchanges and Clearing from 2009 to 2014. In 2011, he became leader of PwC's China South and Hong Kong entrepreneurial group, a role that saw him become closely involved with mainland China's privately owned enterprises (POEs) seeking IPOs in the SAR.
Not all companies qualify for an IPO, Sun points out. 'Companies have to have a desirable product with an established market and a quality management team in order to be considered,' he says.
Sun recalls one of the most gratifying experiences, when a client asked him to become an independent non-executive director in order to more easily tap into his valuable advice. Though flattered, Sun naturally turned the offer down.
'I explained to the chairwoman that she had to wait until I retire; I cannot be her auditor and non-executive director at the same time,' he says. 'But I think it's great that a client values your advice. To be able to achieve that, you have to communicate well.'
In 2016, Sun left the division to lead PwC's assurance institutional group for Hong Kong and Macau, where he works with blue-chip heavyweights, including the New World Group and Lenovo. This involved a change of pace and working environment.
'With entrepreneurial clients, it's more personal; you always have the opportunity to talk to the owners,' he says. 'Whenever they have a question, they call you in the middle of the night or during dinner. With institutional clients, it's much more formal.'
Sun's deep familiarity with the accountancy profession and the capital markets of Hong Kong and China led to his role on PwC's Global Board as a representative of the China market. Sun was also elected the Governance Board's lead director of PwC China, Hong Kong, Taiwan and Singapore five years ago and is now in his second term.
To Sun, knowledge enhancement and networking are not limited to his day job. He has been closely involved with ACCA Hong Kong throughout his career, serving as an executive committee member since 1995 and becoming chairman in 2001 at a crucial point for the organisation.
'We needed to maintain our position and image for the Hong Kong brand,' he recalls. 'We organised seminars and CFO summits, and covered many hot topics, sharing our views with CFOs and our members.'
Backbone of the economy
Key to developing ACCA's brand in Hong Kong was embracing the SAR's small and medium-sized enterprises (SMEs). 'They are the backbone of the economy, but they lack support and experience, so it is vital that they benefit from professional advice,' he says. 'Our support for SMEs will continue. We will help with sustainability: for example, how they can be environmentally friendly and their social responsibility.'
Following his term as chairman of ACCA Hong Kong, Sun became a director of the Estate Agents Authority – which regulates almost 20,000 property agents – and a member of its disciplinary committee as well as finance and strategic development committees.
'We needed to review the rules for licence application and ensure the public know their rights,' he explains. 'I was able to utilise my professional knowledge to provide advice on how this non-governmental body can improve.'
Sun also served the Hong Kong Applied Science and Technology Research Institute, chairing its audit committee for six years. 'I had to ensure the Science Park-headquartered institute operated well. The institute did research and worked with industries in Hong Kong to help them develop their own products,' he says.
In 2012, he stepped down from that role and took up a post as director for the Science Park and to chair its audit committee, which was tasked with attracting high-level research companies to Hong Kong. 'Hong Kong is a financial hub, but we need to diversify our strengths and develop into an innovation and technology centre,' Sun says.
Sun's public service efforts do not end there: the Hong Kong Polytechnic University alma mater is a governing committee member of its foundation fund. Then, in 2012, he was appointed a justice of the peace by the Hong Kong government.
'I want to give back to society,' he says. 'Finance professionals are a privileged group and it's good to utilise our expertise to benefit Hong Kong as a whole. It's also enjoyable to work with other board members and you also get to know something outside your career – something new and interesting.'
Chermaine Lee, journalist
"Hong Kong is a financial hub, but we need to diversify our strengths and develop into an innovation and technology centre"