ACCA president Robert Stenhouse celebrates the relationship between SMPs and SMEs, and applauds that so many modern practitioners love their jobs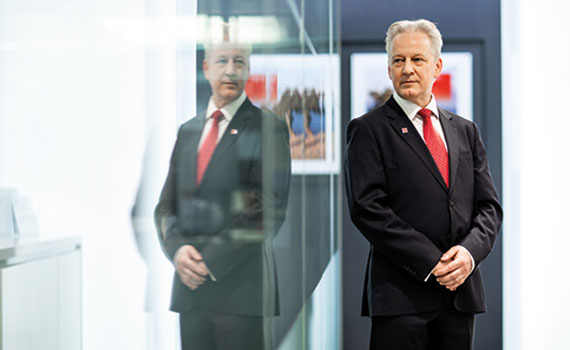 This article was first published in the June 2019 International edition of Accounting and Business magazine.
Small and medium-sized enterprises (SMEs) are the lifeblood of global economies, with the World Trade Report 2016 estimating that they make up 90% of the business population.
The work accountants do to support and encourage the growth of SMEs is a vital component of both parties' success. The links between an SME and their small or medium-sized practitioner (SMP) are strong and mutually supportive – the business relationship is built on trust and understanding.
When I meet members who are advisers to SMEs, what I hear time and again is how much they enjoy their work. I also hear about the challenges and the opportunities ahead – from skills development to the need to embrace new technology. The latter is transforming SMPs and SMEs alike.
Handling such a transformation is the central premise of a recent ACCA report The passionate practitioner: developing the digitalised small and medium practice. It examines how digitalisation is changing the SME and accountancy communities, and how accounting technology for the SME sector is providing significant opportunities for accountants to remodel their practices and offer increased, relevant services.
The report explores what lies ahead, setting out the required business case and how to implement change. Both practical and thought-provoking, its sensible advice and guidance comes at a time when many SMEs and SMPs have to embrace digital for commercial and compliance reasons, with tax authorities now increasingly online.
Change can sometimes be daunting, however, and that's why the report includes inspiring interviews with early adopters of technology and leading practitioners, who discuss the various stages of their journey to digitalisation.
These accountants have taken steps that mean they are now reaping the benefits. From their insights and the lessons they've learned, the report includes a roadmap that guides those embarking on their own journey.
What also comes out loud and clear in The passionate practitioner is the enthusiasm the interviewees have for their own and their clients' businesses.
As the report says: 'One word has come up a lot in these discussions: "love". Digital accountants have told us that they love the digital technology that can make their lives easier; they love the like-minded clients they work with; they love accountancy itself; they love their jobs – and their lives.'
It's not often these days that we hear that people love their work, so it's truly inspirational to read these words. I hope you love your work too.
Robert Stenhouse is ACCA president and a director, national accounting and audit, at Deloitte in the UK.