With much of the world facing intense water scarcity by 2030, businesses as well as governments must act to prevent resource conflict throttling emerging economies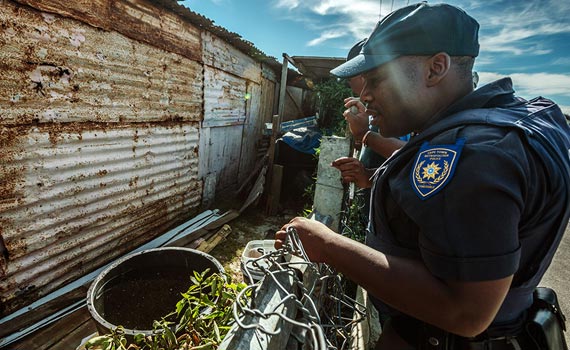 This article was first published in the June 2019 International edition of Accounting and Business magazine.
Visitors flying into South Africa's Cape Town International airport get a spectacular view of Table Mountain. They also get an unmissable eyeful of water warnings, with imposing advertising hoardings urging visitors and locals alike to restrict their water usage. Use too much of it, and you will lose all of it, the posters proclaim.
It's all part of the city government's campaign to fight a chronic water shortage. Last year, it reached crisis point as reservoirs emptied and the local population faced the very real prospect of hitting Day Zero – the point when the city's taps would run dry.
Even though the arrival of Day Zero has now been pushed back in Cape Town – as a result of good rainfall levels and the efforts made by individuals and businesses to limit their water requirements – there are still restrictions in place. Since 1 March 2019, daily water consumption for all individuals has been restricted to a maximum of 105 litres. Businesses no longer have to cut their pre-drought consumption levels by 40%, but are still strongly encouraged to continue implementing water efficiency measures.
With reservoirs now back up to 46% of their capacity, the city is in a better position than a year ago, but by no means in the clear. Forecasters predict a dry winter in southern Africa, which will put the system under renewed pressure.
Water competition
While much of Africa would consider Cape Town's water situation as anything but a crisis – bordering, indeed, on surfeit – the city's predicament nevertheless highlights how businesses, farmers and individuals can all end up competing for a crucial natural resource.
Clean water and sanitation are one of the 17 United Nations Sustainable Development Goals (SDGs). Goal 6 declares: 'Clean accessible water for all is an essential part of the world we want to live in and there is sufficient fresh water on the planet to achieve this. However, due to bad economics or poor infrastructure, millions of people including children die every year from diseases associated with inadequate water supply, sanitation and hygiene.'
Although the UN's focus on water has helped highlight the crisis, the challenge is only going to get more difficult. The Organisation for Economic Co-operation and Development (OECD) projects that, if water demand continues to grow at current rates, it will rise by 55% globally by 2050. Demand growth will mainly come from manufacturing (400%), electricity (140%) and domestic use (130%) in emerging economies. Add in competition from agriculture to feed growing populations and a 40% supply gap by 2030 seems very possible.
Against this backdrop, water crises are recognised as a major global risk. According to the latest Global Risks Report from the World Economic Forum (WEF), such crises are ranked ninth in terms of likelihood (behind extreme weather, cyber attacks and large-scale involuntary migration) but fourth in terms of impact (behind weapons of mass destruction, climate change mitigation/adaptation failure and extreme weather events).
'The societal shock of running out of water could lead in sharply differing directions,' the WEF report declares. 'It could exacerbate divisions. Conflict might erupt over access to whatever water was still available, or wealthier residents might start to import private supplies. But a water shock could also galvanise communities in the face of a shared existential challenge. Either way, damage would be done.'
The WEF adds that hygiene would suffer, adding to the strain on healthcare systems. And governments blamed for the failure might be tempted to scapegoat weaker communities, such as those in informal dwellings with unofficial connections to the water system. The migration of populations to escape regions of water scarcity will only exacerbate the problem.
The report concludes that getting governance and planning right would reduce the risk of Day Zero arriving: public information campaigns and basic maintenance of existing infrastructure, as well as regulations limiting water usage by households, businesses and government, could all play a part.
Disclose and conserve
So how can finance professionals most effectively contribute to securing the water ecosystem? Preparing the disclosures in financial and integrated corporate annual reports on business use and wastage of water is one obvious area.
According to the 2018 status report of the Task Force on Climate-related Financial Disclosures (TCFD), following up on the recommendations made in 2017, there is still plenty of work to do. TCFD chair Michael Bloomberg says: 'While many companies report on environmental issues, most have yet to specifically provide the market with consistent information on the financial implications of climate change for their businesses.'
The TCFD report highlights how some global companies are disclosing their water usage and wastage, alongside other climate-change metrics such as greenhouse gas emissions. It measures how far they follow the reporting standards produced by the Global Reporting Initiative. For water, the relevant standard is GRI 303, Water and Effluents, which sets out standards for disclosure on interactions with water as a shared resource, the management of water discharge-related impacts, water withdrawal (the volume extracted from surface and underground sources), water discharge (the volume of waste and effluent water released) and water consumption (the volume not returned to the water source).
According to the PwC report Exploring the data: SDG reporting challenge 2018, 27% of the companies surveyed have freshwater consumption reduction as a disclosed quantitative key performance indicator (KPI); a further 29% include targets; and 19% link their KPIs to societal value.
However, a GRI survey of investors about their perceptions of water disclosures found that water disclosures are much less developed than emissions disclosures. 'Ten out of the 15 interviews mention the importance of disclosing the local context in the discussion of the interaction of a company with water resources,' points out the GRI report, Mapping Reporting Practice to an Investor Perspective. 'Investors stressed that companies need to adopt a different approach in reporting on water compared to emissions, as water is much more location-dependent. Companies with operations in water-stressed locations need to be more prudent in their assessments because their impact is potentially more significant and the business itself more sensitive to changes in the operating environment.'
Alan McGill, sustainability and climate change partner at PwC, points out that the cost of collecting and acting on water-related data is small compared to the overall costs of a company's reporting and governance functions. Armed with such information, the organisation becomes more resilient and sustainable in its own right.
'All organisations and the accounting profession as a whole need to engage with water management, to help companies improve operationally, to strengthen their governance processes,' he says. 'Companies can look at how they can reduce their reliance on conventional water supplies, minimise their waste water discharges and engage with local communities in better ways to solve common problems. They also need to understand the risks in their supply chains and integrate these risks into the wider sustainability agenda. Accountants have great skills in measuring business assets, and it is no different for this particular asset.
'It might cost money to understand these risks, but if you don't then you will not have a business.'
Philip Smith, journalist
"A 40% water supply gap by 2030 seems very possible given growth in demand from manufacturing, agriculture, energy and domestic use in emerging economies"