With the biggest ever Africa Cup of Nations about to kick off, Kayode Yusuf FCCA considers the tournament - and how football on the continent can up its financial game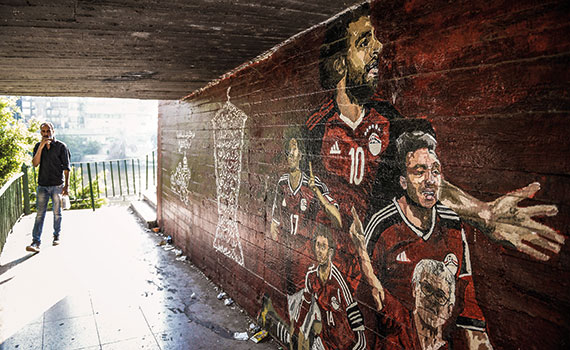 Street art in Afcon 2019's host Egypt depicting players of the national football team, seven times Afcon winners and among the big favourites to triumph again this summer.
This article was first published in the June 2019 Africa edition of Accounting and Business magazine.
The biggest stars of African football will converge on Egypt this month for the start of the 32nd Africa Cup of Nations, which runs from 21 June to 19 July. Afcon, as it's fondly called, is the continent's most prestigious and widely anticipated football tournament.
The month-long soccer feast will feature global superstars such as Mohamed Salah of Egypt, Sadio Mané of Senegal, and a host of others. Many ply their trade in some of the most competitive and lucrative leagues in the world. Salah, for example, the current African footballer of the year, plays for Liverpool FC in the UK (as does Mané), one of the top 10 teams in Europe by enterprise value – US$1.9bn in 2018, according to KPMG analysis.
Hosting rights
Last year, the original host nation Cameroon was stripped of its 2019 hosting rights after the Confederation of African Football (CAF), the controlling body, became concerned at the slow pace of preparations. At that point, the 50,000-capacity Japoma stadium in Douala – reported anticipated construction cost US$143m – was still unfinished, as was the 60,000-capacity Paul Biya stadium in Yaoundé, the capital city, which had been earmarked for the opening and closing ceremonies. Egypt and South Africa stepped up to bid as new hosts, and CAF went with Egypt.
It is not the first time that a potential host country has faltered before the finish line, so Cameroon's loss of hosting rights did not come as a complete surprise to analysts. In 1996 Kenya withdrew as host nation due to financial difficulties, and Libya also pulled out of hosting the 2013 tournament as a result of the armed conflict raging in the country.
Poor organisation is not the only potential handicap for African football associations. Transparency and accountability can also be a problem. According to a report by Transparency International, between 2011 and 2014 Fifa (itself no stranger to corruption) distributed a minimum of US$2.05m to each of its 209 member football associations, yet most did not make financial reports showing expenditures publicly available – the only African country to do so was Egypt.
Many fans agree that the Egyptians are worthy hosts. Egypt has a rich football tradition and is home to prestigious clubs such as Al Ahly and Zamalek. Egypt also holds the enviable record of having won Afcon seven times, including its 2006 victory as tournament host. Egypt will use six stadiums during Afcon 2019 in five different cities: Alexandria, Ismailia, Port Said, Suez and the capital Cairo.
The tournament is expected to boost Egypt's tourism sector. According to the website Trading Economics, tourism in Egypt has surged, with revenue doubling to US$7.6bn in 2017 from US$3.8bn in 2016. Hosting the tournament is expected to have a multiplier effect on Egypt's GDP, which currently stands at US$250bn, according to the IMF.
The Afcon match draws took place in April in the shadows of the great pyramids. The opener will be Egypt v Zimbabwe, and other much anticipated games include Morocco v Ivory Coast, and the defending champions Cameroon v Ghana.
While Cameroon may have experienced project management and security challenges, Egypt has its own issues to contend with. The country has experienced terror threats, and crowd control is another potential problem: fans were only allowed back into the stadiums in 2018 following a three-year ban in the wake of a Cairo stadium stampede that left 22 dead, while a previous three-year ban was imposed following a riot at a stadium in Port Said that killed 73.
Expansion
For the first time, Afcon will have 24 teams – up from 16 at the 2017 tournament in Gabon. This year is also the first time Afcon takes place in June and July rather than the usual January slot, a change aimed at avoiding disputes with European clubs over releasing players mid-season. The official sponsor of the expanded 2019 tournament is Total, the French multinational oil and gas company. Africa accounts for 30% of Total's energy production, and the company's roots in the continent go back more than 80 years.
CAF has also signed a four-year sponsorship deal with Visa, the global payment platform. Visa will be the exclusive payment service provider at Afcon 2019 and 2021, and the preferred payment option for tickets.
'Through this partnership with CAF, Visa will be able to connect further with its customers and leverage CAF as an innovative marketing platform,' says CAF president Ahmad Ahmad. 'Africa is now more connected than ever before, and Visa's payment network will play a vital role in reaching and rewarding fans across the region. I'm certain that together we will take African football to the next level.'
Big rewards
Aside from the prestige and bragging rights associated with winning Afcon, the financial incentives are huge. The eight-year sponsorship deal between Total and CAF is reportedly worth about US$250m. The winning team in the 31st Africa Cup of Nations 2017 in Gabon received US$4m, up from the US$1.5m pocketed by 2015 champions Ivory Coast, while the winner of this year's tournament will win prize money of US$4.5m.
Money is a major factor in world football and African football is no exception, but African football associations have repeatedly suffered as a result of financial constraints. For example, unable to land government funding after local companies dropped their support due to unfavourable economic circumstances, the Football Association of Malawi pulled out of the Afcon 2019 qualifiers. Meanwhile the cash-strapped Zimbabwe Football Association was carrying debt of US$8m by the end of 2017, according to Baker Tilly, the auditor.
A Harvard Kennedy School paper in 2017 estimated that all Africa's football clubs combined have a turnover below US$400m (Europe's top 10 clubs all make more individually). Financial data is almost entirely inaccessible for many African clubs, making it impossible to assess the full economic value of the game on the continent.
CAF's audited financial statements for the year ended 30 June 2017 shows disposable income of US$24.2m. After deducting expenses and finance costs, the total comprehensive income is just US$892,000. By contrast, the English Football Association had a turnover of £376m (US$490m) in the year ended 31 July 2018.
To solve its funding problems, Africa must do better by replicating some of the more successful models across the world. According to the 2018 annual review of football finance report by Deloitte, the 'big five' European leagues grew their collective revenue by €1.3bn (US$1.45bn) in 2016/17, a 9% hike, primarily as a result of increased broadcasting rights income. According to the report, further growth is anticipated from the sale of the English Premiership international broadcasting rights to Africa. Africans clearly have an enormous interest in football, and the continent has huge potential for monetising many aspects of the sport. It is equally clear that African football associations need to organise themselves better and put less reliance on government funding.
Kayode Yusuf FCCA is a finance professional.
"Africa's football clubs have a combined annual turnover of less than US$400m while Europe's top 10 clubs all make more individually"