By spending just one hour a day for a month you can revolutionise your organisation's online presence and digital marketing performance, says Tim Butler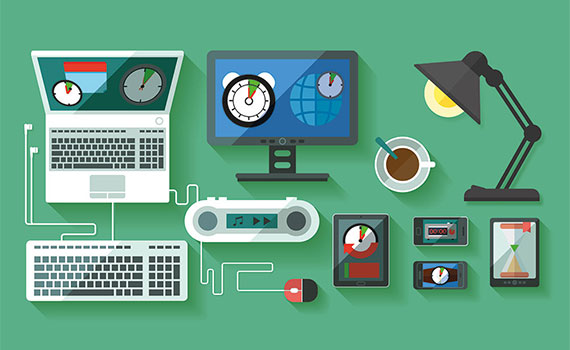 This article was first published in the June 2019 China edition of Accounting and Business magazine.
To find an hour in an already jam-packed day can seem like a big ask, but devoting just 60 minutes a day towards changing your digital marketing performance could transform your business. The key to making the most of your hour is to create a strategic digital marketing plan.
Week 1: planning and data
The first week is all about defining the plan for the next month and beyond. First, consider how your digital marketing objectives align with your overall business goals. What will be set as the return-on-investment target? These could include:
improved conversion rates
greater market share
increased website visits
increased brand awareness.
Whilst the measurability success may differ from business to business, every plan should consider the steps a customer goes through on their customer journey:
awareness – how a customer will become aware of your brand, company, products or service
acquisition – why they will feel compelled to visit your website
conversion – how easily will they be able to make a purchase or register their interest once on your website.
Different pages of your website should appeal to a different stage of a customer's journey. One way of measuring the effectiveness of a page is by conversion goals: these are outcomes you expect for a website page. The overall goal for an accountancy firm may be to ultimately obtain more clients. However, on a single page level it could be to build the trust of a potential client or obtain their details in exchange for a free useful guide or video. Remember, every single micro-conversion goal builds trust and reassurance.
Analytic tools such as Google Analytics allow you to monitor how many people are visiting your website, when they visit and how they are arriving there. It will also offer insight into which of your website's pages perform best in terms of attracting traffic and engaging the user.
Action
Each day set aside an hour to build your plan. In the first day align your digital marketing objectives with your overall business goals; over the next three days address each stage and, on the final day, ensure that Google Analytics is set up to capture all of the relevant goals you have defined.
Week 2: usability
Increasingly people are visiting websites to research solutions to a problem and to investigate possible products or services. They're often at the start of their buying journey and are looking to define requirements, consider alternatives and evaluate options. Your job is to make their experience a reassuring, enjoyable and hopefully fruitful one.
Consider the usability of your website and the way in which a visitor will navigate around it. Content should be presented in a clear and concise way, with the placement of important items in appropriate areas. Try to review your website from a visitor's point of view:
Does the navigation flow seamlessly?
Does your contact form work?
Is your phone number clickable?
Is your website responsive and optimised for both mobile and desktop devices?
What is your conversion flow?
If the usability of your website is good but people don't convert, it is because you are not presenting enough value to them. If you want someone to give you their email address, then you have to show that they will receive value from this action.
Action
Work through the website on a desktop computer, laptop and mobile phone to make sure it is easy to navigate and interact with. Spend the last two days of the week making the improvements identified in the first three days.
Week 3: content development
Your website's content needs to be evaluated on a regular basis. Be ruthless when asking yourself these questions:
Is the content still accurate?
Is there anything missing?
Is it useful and does it help my visitors' understanding?
Consider the questions your audience are seeking answers to when they visit your website. Once you've researched what your audience is looking for, use this information to help you target the right key words. Start by reviewing what you're already offering them:
Are you focusing on the right keywords?
Are the branch terms, jargon and brand names your prospective buyers use to search the same ones your website is optimised for?
Keyword research and analysis can help answer these questions. Ideally, come up with the top 40 most popular keywords and phrases that have high search volumes.
Make sure you vary the length of the content you write. Multiple small, succinct social posts are great for building brand awareness, whereas a blog/insights section on your company's website that regularly publishes longer articles on key challenges faced in your industry helps increase your organic ranking.
Action
First identify the keywords and titles of the content you are going to write, then get writing.
Week 4: driving traffic
Having planned, reviewed and written the content, it's time to drive traffic to your website. Google Ads is an online advertising platform with a number of features to enhance your campaigns, such as ad scheduling, location targeting and ad extensions. Track if someone has clicked on your ad and use the data to ascertain your cost per acquisition to see if your campaigns are profitable.
Your social media strategy is next. Use the information gathered already about your target audience to make informed decisions about the platforms to engage with and the type of posts they would like to see.
Link building is the process of acquiring inbound links that point to your business's website from other websites. So if your company writes an industry blog featured in an online platform or receives a favourable review posted on another website, make sure the post links back to your website.
Action
Days one and five this week should be focused on your Google Ads account. The reason you go back to it at the end of the week is because it will need optimisation, regularly. On day two you should work on your social media targeting, day three writing and scheduling messages and on day four, as these messages are going out, you can start following the people with whom you want to engage.
Review, adapt and repeat
Now you have started to see positive results, continuous reviewing of your data and the gentle adaptation of your strategy will hone your digital marketing skills and lead to even better results.
Tim Butler is founder of Innovation Visual, a digital marketing consultancy specialising in digital effectiveness.
"If your company receives a favourable review posted on another website, make sure the post links back to your website"