All over the Middle East and South Asia, the vast potential of tourism is being tapped – not least to relocate the tax base in oil-dependent nations and to help struggling economies grow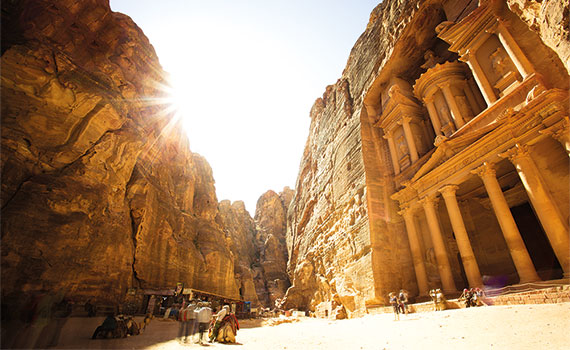 This article was first published in the June 2019 International edition of Accounting and Business magazine.
Wall-to-wall sunshine, a rich cultural history and massive investment in tourism have put the Middle East on the world tourist map. In 2018, Dubai was the fourth most visited city in the world with 16.6 million visitors, outdone only by Bangkok, London and Paris.
Across the Middle East, tourism is seen as one of the most viable tax-raising alternatives for oil-producing nations as those revenues start to decline. The United Arab Emirates, for example, is aiming to reduce the hydrocarbon sector's share of GDP from its current 30% to 20% by 2021, predominantly by boosting income from tourism. And it is prepared to invest to make that happen. Cultural initiatives such as the 2017 opening of the Louvre Abu Dhabi art gallery, which cost an estimated US$1bn to build, as well as the World Expo to be held in Dubai in 2020, are expected to expand UAE tourist numbers to 45 million a year by 2021.
Saudi Arabia also has ambitious plans to transform itself into a major international luxury tourist destination as part of its Vision 2030 plan to shift away from oil dependency. Projects include the creation of a 'Riviera of the Middle East' with 2,500 hotel rooms at the Amaala resort on the country's Red Sea coast, and the US$5bn construction of the Qiddiya entertainment resort near Riyadh, which will be more than twice the size of Disney World in Orlando, Florida.
The Middle East has seen a huge rise in tourist numbers over the past 30 years. International visitors to Saudi Arabia, for example, jumped from 3.3 million in 1995 to 16.1 million in 2017, according to the World Bank. New airline routes and the relaxation of visa rules in some countries over the past few years have helped drive up visitor numbers, particularly from China and Russia.
Dubai is the region's tourism blueprint. 'The government has done a great job of positioning Dubai, and a remarkable job is being done to market the city as a destination,' says Paul Simmons, CFO for Middle East and Africa at Marriott International. While the focus in the early stages of Dubai's transition to a tourism destination was on the top end of the market, more recently it has looked to widen its appeal. 'There used to be a strong focus on hotels in the luxury and upper-upscale space in this market,' Simmons says, 'but we're now seeing increased demand for hotels in the mid-market segment to create a balance in terms of accommodation type and to bring in people from different price segments.'
But there are significant hurdles, not least the region's growing dependence on foreign labour as the tourism sector develops, and greater vulnerability to the peaks and troughs of the world economy (including, ironically, the oil price).
Security fears
Security, too, is a major concern across the region. There was, for example, an 8% fall in visitor numbers in the year after the Arab Spring uprisings in 2011. And the risk is by no means confined to the Middle East, as the terrorist attacks in Sri Lanka earlier this year have shown.
Tourism has been an important element in the rebuilding of Sri Lanka's economy since a ferocious civil war lasting more than a quarter of a century came to an end in 2009. The 650,000 visitors to the island in 2010 soared to 2.3 million in 2018, according to the Sri Lanka Tourism Development Authority. Before the bombings, the number had been expected to reach four million in 2020: total revenue from tourism in 2018 was US$4.2bn (almost 5% of annual GDP), making the sector Sri Lanka's third largest and fastest-growing source of foreign currency.
The recent terrorist attacks, which targeted luxury tourist hotels as well as churches, were not therefore only a national tragedy but a potentially serious blow to the tourism sector. However, after terrorist attacks on tourists in Tunisia in 2015 and in Egypt in 2013, which led to a sharp fall in overseas visitors in the short term, the evidence suggests that the sector can recover in the medium term.
Pakistan has had its own security issues but has recently enjoyed strong growth in visitor numbers. Tourism's potential could help the country through its economic crisis. According to the World Travel and Tourism Council, tourism contributes US$6.5bn a year to the economy, or almost 3% of GDP, and the figure is expected to rise to US$12bn within 10 years. According to the Pakistan Tourism Development Corporation, international tourist numbers reached 1.75 million in 2017, but this figure is dwarfed by Pakistan's 38 million domestic tourists; in India and Pakistan, 88% and 92% of tourism revenue respectively comes from domestic travellers.
Wahaj Janjua, assistant FD at the Marriott Hotel in Islamabad, believes that Pakistan has 'a unique competitive edge' in tourism because of its blend of natural treasures (it has eight of the world's 20 tallest mountains), its rich mix of cultures, art and cuisines, and its hospitable population. 'Our Arabian Sea coastline has beaches that will give the world's best beach destinations a run for their money, if developed rightly,' he says. 'But there is much more potential to be realised.'
Customer focus
He admits that the challenges are numerous. 'The hospitality industry operates under administratively exhaustive licences and tax regimes,' he says. 'The key phrase for the government to operate under, in my opinion, should be "user-friendly". For example, it takes us several months to acquire a state bank approval to refund a foreign client their money because of the stringent standard operating procedures put in place by the State Bank of Pakistan. If you have paid hundreds or thousands of dollars in advance and had a splendid stay in Pakistan, but then had an aftersales experience like that, would you feel like coming back? My answer would be no.'
Security remains a major issue in Pakistan, too, he says, or to be more accurate, the international perception of the security situation in Pakistan. 'While things have improved greatly, the country remains on a high security alert [for many countries], with a travel advisory for international travellers. The government must re-establish Pakistan's image as a safe place and have these travel advisories removed.' He does say, though, that the government's recent decision to relax the No Objection Certificate regime for foreign travellers to several tourist destinations in Pakistan is 'a leap forward'.
A similar initiative introduced in India 2014 – a visa-on-arrival system for foreign travellers – has paid dividends. Foreign tourist arrivals in India reached 10 million in 2017, 14% up on the previous year, and foreign exchange earnings from tourism rose by more than 15% over the same period, to US$27.3bn. Tourism now makes up 9% of India's GDP, with the potential for much more – the number of hotel rooms per capita in the country is still relatively low compared with other destinations.
Across the Middle East and South Asia, it is clear that a successful tourism sector will depend on the coordinated work of many people, from governments and private investors to the finance professionals who manage costs, protect against volatility, and look ahead for opportunities.
Liz Fisher, journalist