Women professionals in the Gulf should not hesitate to apply for senior finance positions, delegates at ACCA's women in finance and tech conference heard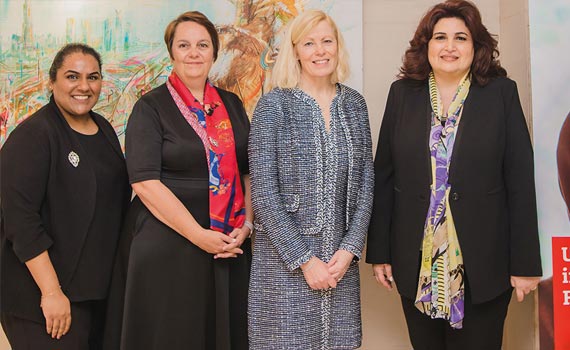 This article was first published in the June 2019 International edition of Accounting and Business magazine.
Women in the Gulf region need to put themselves forward and show the skills they can bring to organisations if they want to be considered for more senior positions, according to participants at a recent ACCA-hosted conference.
Entitled 'Driving a Collective Vision: Women in Finance and Tech', the event was held in March at the Dubai International Financial Centre's Capital Club, and was attended by leading finance and technology professionals in the region.
In a video message played to the conference, ACCA chief executive Helen Brand said that ACCA already has significant female representation – it stands at 47% and is set to grow further, given that 57% of current ACCA students are women. 'Everything we're hearing from them tells us they have ambitions to rise to the most senior positions,' she pointed out.
That's certainly good news, but Cynthia Corby, Women in Finance chair and Middle East construction leader at Deloitte, said that female finance professionals are still not advancing in their careers as fast as they could. One reason for this is that many female financial graduates think they need additional qualifications to get into senior positions when they are already in fact sufficiently qualified.
Learning on the job
'We don't need to have 100% of the skillset before we apply for a job – 70% might do,' Corby said. 'Our male counterparts view it that way. It's about putting our name in the hat and making sure we put ourselves forward for those roles.'
Self-confidence was also identified by Sharon Thorne, deputy CEO and managing partner, global and strategy, at Deloitte UK, as one of the big issues holding women back. 'Men tend to go for it, while women won't put themselves forward because they're thinking they can't do that,' she said. 'They tend to be overly self-critical compared to their male colleagues.'
In the Middle East, women make up 48% of the population and more than half of university students in some countries, but are dramatically underrepresented in the workplace, said Fazeela Gopalani, head of education at ACCA Middle East, citing World Bank data.
In the United Arab Emirates (UAE), for example, women account for just 12% of the workforce, and in Saudi Arabia 16%, compared with 46% in the US. 'We've got a leaking pipeline,' Gopalani said, 'because women are studying but they're not joining the workforce.'
Blow your trumpet
The panellists agreed that women had to recognise the value that they add to the workplace and to communicate their achievements.
'Once a woman realises the advantage of being in the workforce, it's incredibly empowering,' said Mirna Sleiman, CEO of digital crowdsourcing platform Fintech Galaxy. 'There is a high level of respect for women in the Arab world that could take them places.'
Financial independence should also be a career motive, given the freedom of choice it allows, said Nadine Mezher, co-founder and CMO of automated investment platform Sarwa. Only 20% of Dubai-based Sarwa's investment database are female, which is 'extremely low', Mezher said.
These problems persist despite gender equality action by organisations in the region. For example, in the UAE, Dubai Financial Market (DFM) has launched eBoard to connect listed companies with UAE nationals looking for board memberships. The online platform enables men and women to submit their nominations directly to DFM-listed companies.
Maryam Mohamed Fekri, executive vice president and COO at DFM, said only 4% of board members at DFM's 67 listed companies are women. It's an improvement on 2016's 2%. Rules published in 2016 by the UAE's Securities and Commodities Authority state that at least 20% of candidates for a company's board seats should be women. 'We have said we want women on every single board,' Fekri pointed out.
Eleni Kitra, Facebook's global sales head for financial services and automotive, Middle East and North Africa, said her company tries to get the best out of every joiner, not only in terms of gender diversity but also different kinds of diversities. 'We don't see each other based on what we wear,' she said. 'We deliver what we need to deliver.'
Trending
According to Ahmed Ibrahim, business development and corporate relations officer at the University of Manchester Middle East Centre, more women are choosing an entrepreneurial career path, setting up their own businesses and climbing the corporate ladder.
Figures from the Federation of UAE Chambers of Commerce and Industry have been promising, showing a 20% rise in the number of registered businesswomen in 2018.
'More than 50,000 trade licences were issued to women entrepreneurs in the UAE last year, and Emirati businesswomen hold 28,000 commercial licences, representing investments of US$8.2bn,' said Deloitte's Corby. 'Although women are underrepresented on boards, it's encouraging that they are starting to open businesses.'
According to Anthony Hobeika, CEO of MENA Research Partners, there is a large economic opportunity to be exploited by including more women in the workforce. 'Women can be the new oil of the Gulf region,' he said. 'The consumer market will expand as more females enter the labour force.' He said that expanding women's participation in the workforce can add at least US$116bn to the region's non-oil gross domestic product over the next decade.
In Saudi Arabia alone, the 2017 decree allowing women to drive is forecast to add US$90bn to national annual economic output by 2030, said Hobeika, citing Bloomberg Economics. 'We have seen 20 years' worth of change in a few years,' he added. 'Fortunately, women are at the centre of this economic turnaround in the region. We cannot achieve sustainable development by 2030 if women's inclusion is not happening in business, finance and other sectors.'
Heba Hashem, journalist in Dubai