As group CFO of City of Johannesburg, Manenzhe Manenzhe FCCA is determined to use his role to make a difference for each of its almost five million residents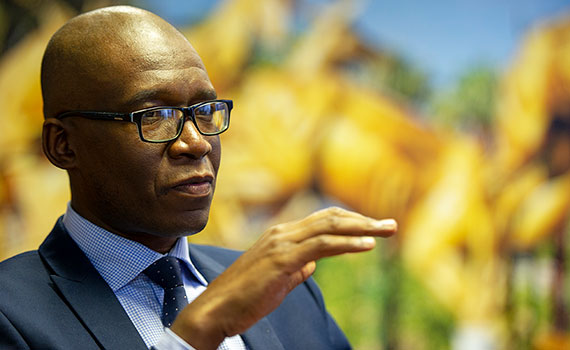 This article was first published in the June 2019 Africa edition of Accounting and Business magazine.
In January this year Manenzhe Manenzhe FCCA took on the role of running the finances of Africa's richest city. As group CFO of City of Johannesburg, the 47-year-old has come a long way since he started his career as a trainee accountant at KPMG. Having spent all of the past 14 years in the public sector – working at institutions as diverse as the Gauteng provincial government, South African Revenue Service and the Parliament of South Africa – both his passion and experience are now being brought to bear at the governance coalface.
Manenzhe oversees a budget of around ZAR52bn (US$3.6bn). It is his job to ensure this budget is aligned with the municipality's priorities as embedded in its integrated development plan. Among other things, that plan seeks to ensure improved service is delivered to the almost five million residents of Johannesburg.
'Accounting in the public sector is essentially no different from the private sector, but working for profit is not the same as working for people,' he says. 'It's a calling – a call you must be prepared to answer. You must know your role, and that your aim is to make a difference to someone else's life, not just to a company's bottom line.'
When Manenzhe assumed his current role earlier this year the position had been vacant for about 18 months. For more than four years, City of Johannesburg had received unqualified audit opinions but with emphasis of matter added. In the spirit of good governance and sound financial management, a clean audit opinion – one without emphasis of matter – is achievable, believes Manenzhe.
He is well aware that his focus on improving the control environment will not deliver this if it does not also improve billing integrity in water, rates and electricity service, together with an effective and efficient integrated debtor collection strategy that will address long-overdue accounts receivable.
Asked why he took the job given the number of challenges it involves, Manenzhe says: 'If none of us raise our hands and take responsibility, who will? Personally, I always find pleasure in serving the people of this country, irrespective of whether it is a new or an old administration.'
Manenzhe was born to working-class parents in Soweto, a vast township that now falls within Johannesburg's borders, where he lived for the first five years of his life. He was then sent to attend school in rural Venda – a former homeland or semi-autonomous state set aside for a single ethnic group by the apartheid government.
The Johannesburg of today is hugely different to the one he left all those years ago. But some issues still apply, not least vast social inequality – the city is home to both opulent mansions and densely populated informal settlements where protests about service delivery are almost a daily occurrence.
What works?
Manenzhe's first priority on assuming his new position was to make an accurate diagnosis of his department. 'As much as you have to hit the ground running, you can't do that without knowing what works at the institution, what has worked and what doesn't work,' he says. 'This institution existed before I was born; I need to know what kept it alive.'
The next item on his to-do list was to get his staff to believe in themselves. 'Step one was morale – I always start there – and then it is learning and training,' he explains. 'My longer-term aim is a proper turnaround strategy, to ensure that City of Johannesburg gets a clean audit. It is an achievable goal, and my colleagues are already working towards it.'
The city's budget is the largest Manenzhe has ever controlled, more than 20 times the ZAR2.5bn budget of Parliament where he was previously CFO. However, he says the determinant of a budget is not the size of the institution but what is required to deliver its mandate.
He goes on to say that Parliament should lead by example in abiding by the law – a ZAR30,000 irregular expenditure is significant if it is a transgression against laws passed by Parliament itself. 'Parliament passes the laws, so how can you expect public confidence in the legislature if it cannot adhere to its own laws?' he asks.
Manenzhe says he learnt a lot from his time at Parliament, which was 'a very exciting experience', not least because he implemented a turnaround strategy – 'and it worked'.
He adds: 'When I joined Parliament in 2013, I was led to understand that it hadn't had a clean audit in more than 20 years. When I left, it had received four clean audits in five years. I believe I left a stable institution that is on track to receive another clean audit this year. But more importantly it was teamwork that got us there.'
There were other lessons too. 'I learnt patience and to believe in people, and how to work in a team. I have always believed that leadership is not what happens in your presence, but what continues to happen in your absence. So I try to empower people.'
He makes an analogy with a favourite TV programme, National Geographic's Air Crash Investigation. He says: 'It's like the cockpit's relationship with ground control – a pilot can't see much from up there through the windscreen. Almost 90% of crashes take place when the plane is lost from the radar, when the relationship between the ground and the air breaks down. I started sharing this idea with the staff here at a strategic review and they agreed: it is teamwork that makes the team work. That is why empowering people is so important.'
The strategy paid off at Parliament and in the Gauteng department of transport where he had only 17 accounting interns to work with and a fleet of 7,000 vehicles to manage.
Manenzhe also credits his ACCA Qualification and the firm grounding in International Accounting Standards (IAS) he received for his ability to navigate the different laws that regulate the areas of government in which he has worked. He deliberately chose the international route instead of the Chartered Accountant South Africa (CASA) path, which, when he started in 1992, was teaching accounting standards applicable mostly to local industry. 'I told myself that if I wanted to be an accountant for the future, I had better adopt ACCA to remain relevant,' he says.
Recognising commonalities
He adds: 'Every institution has different reporting systems and legislation, but I have learnt that the principles are the same, because all are meant to ensure sound financial management. You would not know that if you had not learnt about IAS. My ACCA training helped me identify the commonalities.'
Manenzhe also chose ACCA because of its focus on strategy and other aspects of business. 'It's a different ball game. You are not a number cruncher – you do advanced studies in management, financial and tax accounting, but then you go on to business analysis, performance management, and strategic management. It even teaches you how to set up a company.'
Studying for the ACCA Qualification was no walk in the park for Manenzhe. It involved a five-hour car journey from Johannesburg to Gaborone in Botswana to attend ACCA lectures at weekends. He brings a similar level of determination to his passion for road running. In June, he will be competing in his sixth Comrades Marathon, the world's largest and oldest ultramarathon. 'Running is what keeps me going,' he says. 'I wake up at 4.30am and run 10km before the working day starts, and if I get some time after work, I run again. It keeps me calm.
'When you run the Comrades Marathon, the one thing we all share is that all Comrades runners run one race. What joins us – people from all over the country, whites and blacks, suffering for 90km – is the goal of the finishing line. It's a common purpose. It's like that here in City of Johannesburg – we are all here to serve.'
Another thing Manenzhe has had to learn is how to stay the course in a politicised environment. 'Parliament has taught me how not to be partisan. You have 13 different political parties and you treat them equally.'
While at the National Energy Regulator of South Africa, he travelled to the US for a course on leadership in a political environment. 'I learnt that the best way to be non-partisan is to serve the people. They are your real boss – it is my mother at home, it is my cousin, it is the man on the street. When they say they are happy with what City of Johannesburg is doing, you can recognise that you have achieved something.
'If in the private sector the rule is that the customer comes first, then in the public sector it must be that the people come first. Where one is tasked with satisfying clients, a civil servant's work is never done. You will find somebody sleeping on a street corner and you ask yourself how you will help them. I have 4.9 million bosses and every one of those people matters.
'If God hasn't given you a voice to sing, what has He given you to change other people's lives? For me, it's experience and skills. May they be used properly to serve the people.'
Nicki Güles, assistant editor and head of news at South African newspaper City Press
"Leadership is not what happens in your presence, but what continues to happen in your absence. So I try to empower people"