With ambitions to reach developed country status by 2041, Bangladesh is taking steps to improve financial regulation, according to FRC chairman CQK Mustaq Ahmed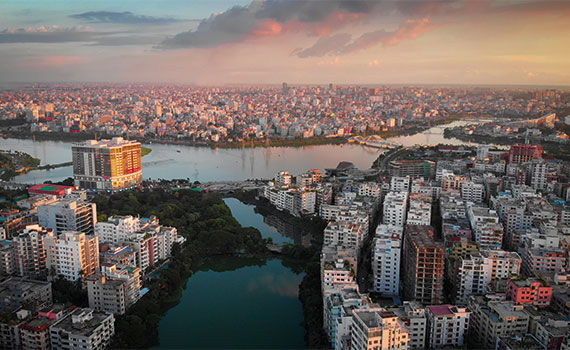 This article was first published in the June 2019 International edition of Accounting and Business magazine.
Bangladesh has lofty goals. It aims to transform its economy to meet a target of middle-income status by 2021 and developed country status by 2041.
The nation is experiencing rapid growth and is looking for GDP growth of above 8% in 2019. The World Bank, while predicting slightly lower growth, counts the country among the world's top five fastest growing economies. However, successive governments have struggled to attract foreign direct investment into its private sector – an economic area that will be crucial to achieving a sustained level of growth. The problem is largely due to a lack of regulation in the sector.
Understandably, the government is keen to remedy this situation. To raise international investors' confidence and meet global expectations, it is taking steps to establish a regulatory infrastructure aimed at assuring and improving the quality of financial reporting and corporate governance in its vast panoply of unlisted companies.
Government estimates suggest that out of more than 300,000 public interest entities (PIEs) operating in the US$285bn GDP economy, just 314 are listed and only 166,000 are registered companies. That leaves a huge number of companies, partnership firms, state-owned companies/commercial organisations, microcredit organisations and non-governmental organisations (NGOs) under the FRC's remit.
Back in 2003 the World Bank's Reports on the Observance of Standards and Codes recommended an independent agency be set up to regulate the accounting and auditing profession in Bangladesh. But it took more than 12 years of government consultation and parliamentary debates to get the relevant measure on the statute book.
There was also initial opposition from the local accounting body, the Institute of Chartered Accountants of Bangladesh (ICAB), which feared the new body would undermine its self-regulation.
Legislative provision for the establishment of a Financial Reporting Council (FRC) was finally included in the Financial Reporting Act 2015, and opposition has now largely died down.
The FRC, which came into being in 2016, is charged on the one hand with monitoring and regulating the performance of professional accountants and auditors, and on the other with overseeing the quality of financial reporting and corporate governance. Its operations began when CQK Mustaq Ahmed was appointed as chairman in 2017.
He is in no doubt about the need for the watchdog. 'All foreign companies and domestic companies listed on the Dhaka or Chittagong Stock Exchange are required to use IFRS Standards and are regulated by the Bangladesh Securities and Exchange Commission,' he says. 'But there are many large companies that do business of a thousand crore taka [US$118m in Bangladesh's national currency] that are completely unregulated. The FRC will fill that gap.'
The council is scheduled to be fully functioning by October this year, but much remains to be done. 'We are putting the necessary building blocks in place,' says Ahmed.
A key challenge is recruiting qualified staff. Ahmed and his team have submitted an organogram to the ministry of finance, seeking a total of 218 recruits. Two executive directors are already in post, and 15 directors and deputy directors are expected to be appointed by the end of August. 'We are hopeful that in two to three years' time, the FRC will have a full quota of professional accountants ready to play a regulatory role,' says Ahmed.
Work is also ongoing with the development of the various regulations that will govern audit, accounting and financial reporting. Alongside this the FRC's ruling council is busy devising the regulator's operational rules, adding detail to the tasks laid down in the 2015 legislation. To help it move forward, Ahmed hopes to receive support from other institutions and professional bodies such as ACCA: 'We hope ACCA can be instrumental in building links with other corporate regulators internationally to share experiences and information.'
Preparatory work has included defining which companies come under its purview as PIEs – in itself a complex task. Many Bangladeshi businesses are family owned and, according to Ahmed, not subject to corporate governance standards. An added complexity is that several major groups list some parts of their business, while retaining others as privately held companies. Ahmed identifies certain conglomerates as examples of groups that have listed one or more arms of their business but remain otherwise largely private and hence unregulated.
The FRC's primary responsibility is to oversee standards of auditing and accounting practised by private companies in Bangladesh, although it can also intervene to improve corporate reporting and governance in Bangladesh-based listed companies. It is also authorised to crack down on corruption, fraud and tax evasion, and to report these to other concerned regulators and/or investigating and prosecuting agencies such as the Anti Corruption Commission (ACC).
If the FRC uncovers information about potential money laundering and terrorist finance, it will notify the Bangladesh Financial Intelligence Unit (FIU), via a deputy governor of the Bangladesh Bank, the central bank (of which the FIU is a part), who sits on the FRC board.
Well qualified
An economics graduate, Ahmed has spent most of his 33-year career in the Bangladesh civil service, serving in a range of ministries and rising to secretary (the chief ministry official).
In 2014, he took on an advisory role with the German development agency Deutsche Gesellschaft für Internationale Zusammenarbeit (GIZ), and with Katalyst, a Dhaka-based multi-donor project promoting small and medium-sized companies, before joining the FRC.
In a country that is routinely ranked among the most corrupt in the world, Ahmed is determined to build an effective institution with integrity. 'We're firmly committed to keeping the FRC's reputation beyond question,' he says. 'The FRC must be seen to be independent.'
Despite the challenges, he is bullish about the future. In two to three years' time, he hopes that the agency will employ enough professional accountants to ensure Bangladesh's private companies abide by internationally accepted standards. 'Foreign investors will be able to read uniform financial statements that meet their expectations. The FRC will successfully strengthen public trust and confidence in the quality of Bangladesh financial reporting and auditing,' he predicts.
Behind Ahmed's drive is a belief in the need for this oversight. He says it is important to build the 'right' institution to help realise Bangladesh's ambitions.Importantly, he says, 'the FRC is getting full support from the government'.
AZM Anas, journalist in Dhaka
"It took more than 12 years of government consultation and parliamentary debates to get the relevant measure on the statute book"