A recent survey reveals that accountancy practices in Asia's top financial hubs are adopting technology at different speeds – with Singapore lagging behind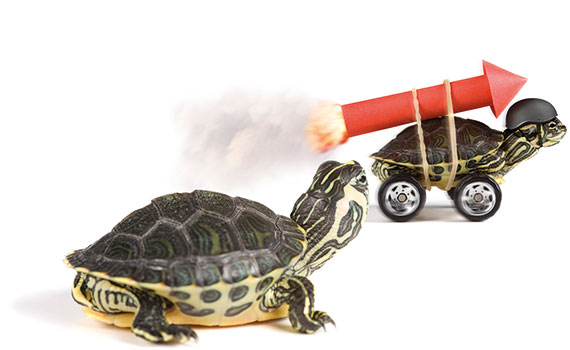 This article was first published in the June 2019 China edition of Accounting and Business magazine.
While the Big Four and next-tier large firms have already positioned themselves at the frontline of technology automation adoption, small and medium-sized practices (SMPs) in Hong Kong and Singapore are also stepping up their investment in automation, albeit at slightly quicker pace in Hong Kong than in Singapore.
Based on the findings of the annual industry report from accounting software platform Xero, Accounting Industry Report 2019, Hong Kong accounting firms are leading the digitisation drive, with 59.5% of accounting practices using data automation apps to improve operational efficiency, compared to 25.8% of their counterparts in Singapore. Pacesetting companies – so-called because they comprise the top 15% of the market and post high revenue and growth rates – are spearheading the digitisation drive, with 81% of such firms in Hong Kong using automation apps compared to 34.5% in Singapore. Currently, the biggest users of automation tools are practices that provide complex advisory services (42.9%), followed by simple advisory services (33.3%) and basic compliance services (24%).
Xero surveyed 97 accounting and bookkeeping companies in Hong Kong and 157 in Singapore, asking their views across a range of different areas, including opportunities for practices in technologies relating to compliance, simple advisory and complex advisory.
The difference in the pace of automation adoption, according to Xero, can be attributed to the observation that compliance services make up 70% of the revenue for accounting practices in Singapore, with simple and complex advisory services taking up a much smaller proportion. In comparison, the appetite for simple and complex advisory services is already on par with that of compliance in Hong Kong. However, the gap between pacesetting accounting firms located in the two Asian financial hubs is expected to narrow. Singapore-based companies are expected to quickly catch up in 2019, with 52.4% indicating they are considering implementing data automation tools in comparison to just 32.1% of Hong Kong-based firms.
Time-saving tools
According to Xero, accounting firms moving towards the provision of advisory services are finding that data automation and digital tools are useful in saving time on administrative tasks, such as chasing clients for documents and information, which is why there has been a faster adoption of such tools in Hong Kong. Furthermore, Mainland China, with its complex business landscape and fierce competition, is creating a greater demand than ever before for advisory services by Chinese clients. This also serves as a prime opportunity for accounting firms to establish stronger client relationships and be seen as trusted business advisors. As such, accounting practices that offer such services, backed by the use of robust digital tools, are well positioned to take advantage of such a demand.
Providing Singaporean SMPs with an incentive to pick up the pace of automation, S$2.4m has been made available to firms to adopt baseline technologies, funded by Enterprise Singapore (ESG) and administered by the Singapore Accountancy Commission (SAC). According to the SAC, SMPs are able to apply for funding support up to 70% for the first year of adoption. With the total grant capped at S$30,000, SMPs can adopt up to three solutions during their first year in the programme. This may include one of three software areas: practice management system, tax and internal audit.
Enhancing productivity
In Hong Kong, clients of SMPs are expecting their professional services providers to help them adopt their own technological changes. They want assistance in using big data and other new technologies to cut operating costs, boost efficiencies and enhance productivity. Hong Kong-based Conpak Management Consultants is an example of an SMP experiencing the benefits of investing in automation. Dorothy Fok, Conpak's assistant accounts manager, says the firm's implementation of digital technologies has notably improved the efficiency of its business-as-usual services, such as document processing. More specifically, Fok says that by using an optical character recognition (OCR) system, which scans and transforms paper documents into digital files, they can be stored, searched and retrieved quickly, easily and reliably. Digital files can also be securely uploaded to the cloud and transferred between Conpak and its clients. 'Data entry and information are aggregated in one place with cloud technologies,' adds Fok, who says a lot of time is saved, from requesting and receiving documents to physically handling documents and returning them to the client.
Headquartered in Hong Kong with an employee headcount of about 140 staff, and with offices in Shenzhen, Shanghai and Beijing, Fok says that before jumping headfirst into automation technologies, Conpak outlined several objectives the firm was looking to achieve. These included achieving higher levels and better quality of output, and a lower risk of errors, especially in data collection and processing. 'It's a case of balancing the costs and benefits,' says Fok, adding that Conpak is planning to put additional technologies into service, including artificial intelligence (AI) software to further improve workflows and workplace client handling systems.
In Singapore, having put a number of digital automation tools into practice, including robotic process automation to handle routine and administrative works, and Xero accounting software to facilitate bank transactions, CA Trust PAC is exploring the feasibility of implementing additional tools to provide benefits for the firm and its clients.
'We consistently think of how automation can help us be more efficient, especially around routine and administrative tasks that are usually quite time-consuming,' says Chua Soo Rui, director at CA Trust PAC in Singapore. 'With technology, it is much easier for us to streamline processes and also minimise the potential for human errors,' Chua adds.
Engaging with clients
With the automation of routine and administrative works, the administrators have more time to focus on client engagement activities – for example, sharing technical knowledge and CA Trust PAC's digital experiences with clients. Chua says interaction with clients doesn't need to always be in the context of a transactional relationship. It's about providing insights on how different types of technologies work and helping clients make the best use of them. 'It's another way to strengthen relationships by inspiring and motivating clients to digitise their businesses,' says Chua. 'We can give our clients insights into the use of technologies that could drive growth, which are highly valued,' she says. 'It's what clients are now expecting; they want to use it as a source to make decisions.'
Elaborating on the benefits of robotic process automation, Chua explains the digital tool is particularly helpful with streamlining the client on-boarding process. In the past, the administrator would need to purchase the client's business profile from Singapore's Accounting and Corporate Regulatory Authority (ACRA), create a new client profile in the customer relationship management (CRM) system, perform a background search of clients using SentroWeb software and finally prepare an engagement letter. 'Now this process is automated with only one click,' says Chua.
As part of CA Trust PAC's automation journey, the firm has recently on-boarded a payroll software system that enables leave application and approval to be processed using mobile apps. The firm has also introduced ProSystem fx for audit preparation and execution. And to build out its expanding platform of digital tools, the firm is now looking at the feasibility of implementing data analytics.
Chua says that while digital automation provides tangible benefits for clients and CA Trust PAC, there is the additional advantage of the firm being perceived as a tech-savvy, forward-looking, attractive potential employer to young accounting professionals. 'They love technology and the flexibility it offers, Chua says. 'We know from feedback from our interns how much they appreciate working with technologies that make work more efficient and rewarding.'
Shaping the future
Kevin Fitzgerald, Xero's regional director for Asia, notes that as the roles of accountants evolve, digital platforms are helping professionals to succeed at their jobs by enabling them to leverage the latest technologies, such as machine learning and AI. 'Digital tools are enabling the automation of administrative jobs, allowing accounting firms to extend their capabilities beyond compliance services and tap into the growing demand for advisory services,' he says.
Fitzgerald also notes that businesses are increasingly recognising the value of such strategic, analytical work, and this in turn drives up revenue and increases value-add for the accounting firms that provide it. For example, the cloud accounting platforms that accounting firms are utilising have started to incorporate AI and machine learning to automate the coding of a significant portion of small businesses' daily transactions.
As Fitzgerald explains, while SMPs might not enjoy the same robustness of IT capabilities that comes with scale, compared to the Big Four they have a stronger preference for digital tools that are easier to adopt and integrate, and are less of a drain on their IT resources, while still providing all the capabilities and features they need. 'This allows SMPs to focus their time on client-servicing work to deliver real value,' he says.
Chris Davis, journalist
"With technology, it is much easier for us to streamline processes and also minimise the potential for human errors"