A new report, co-authored by ACCA, stresses that internal controls need an overhaul as new technologies transform business and more complex challenges emerge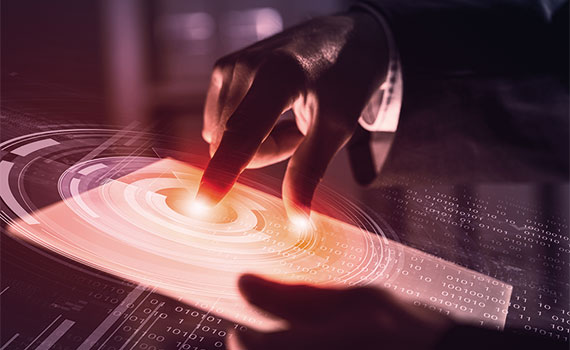 This article was first published in the July/August 2019 China edition of Accounting and Business magazine.
Much focus is being given to the growth benefits of technological innovations like artificial intelligence (AI) and blockchain as they can allow companies to improve their processes and reinvent their internal controls. But digital technologies also come with implementation challenges that companies must understand in order to identify and mitigate any associated risks, warns a new report.
Prepared by PwC Singapore, ACCA and INSEAD Emerging Markets Institute, the report, Re-inventing Internal Controls in the Digital Age, looks at the opportunities digital technologies offer to enhance internal controls. But it also highlights some of the challenges in implementation, warning that companies must first ensure that critical functions such as data protection, safeguarding assets, preventing fraud and verifying financial records are well taken care of.
'In Singapore, we are seeing more and more businesses looking at how they can leverage AI and data to build better controls. Using smart controls powered by data, organisations can get on with business and ultimately focus on their growth agenda,' says Mark Jansen, data and analytics leader at PwC Singapore.
'Digital technologies do hold huge promise for organisations and we are already seeing them put to good use. That said, we are also seeing many challenges for companies in driving broad-based adoption of these new technologies, often because the underlying data quality is poor,' he adds.
Data deluge
PwC's latest Annual Global CEO Survey showed the gap between data that CEOs believe to be critical and how comprehensive it actually is has, surprisingly, not closed over the last 10 years. Despite billions of dollars of investment and priority positioning on the C-suite agendas, organisations are still struggling to translate a deluge of data into better decision-making, the survey showed. The main reasons for this cited in the report are 'lack of analytical talent', followed closely by 'data siloing' and 'poor data reliability'.
'New technologies rely heavily on the quality of the data and, as such, a back-to-basics approach is needed to make sure the fundamentals are right; we are seeing the topic of data governance gaining enormous traction as an enabler for broader organisational transformation,' Jansen explains. 'Ultimately if we are relying on technology to automate processes, the inputs and underlying data must be robust, otherwise companies might just automate poor outcomes.'
PWC's Annual Global CEO Survey found that 87% of CEOs in ASEAN member states expect AI will significantly change the way they do business in the next five years, with 72% believing that it will have a bigger impact than the internet. But companies wanting to harness AI must recognise that advanced machine-learning algorithms are essentially a 'black box' and the decisions are not fully explainable.
'AI can help solve complex problems at speed, but understanding what data is being used, the assumptions involved and being able to objectively explain the outcomes is critical. AI is not a panacea to solve all problems, and the real risk is we over-rely on AI when the reality is that it is relying on us to provide the right data,' Jansen says.
Similarly, blockchain technology and its decentralised ledger holds great promise from a regulatory compliance or audit standpoint, with solutions currently being developed to help manage supply chain, trade finance, insurance, self-sovereign identity and data sharing, among others.
But just because a record is encoded into a blockchain does not mean it is correct or accurate, Jansen remarks: 'The accuracy of data has to be established independently, for example through auditing data entrance processes and smart contracts, and through security assessments of all the points where the blockchain interacts with peripheral layers.'
A new culture
Ultimately, the key challenge for organisations may not arise from the new technologies in themselves, but in the human willingness and ability to adopt them. With these technologies fundamentally changing the way staff and machines work together, companies need to focus on creating a culture of technological innovation and adoption that goes beyond teaching hard skills.
'While digitalisation and AI have the potential to transform internal controls, managing the man-and-machine combination optimally is becoming more important as technology advances,' says Vinika Rao, executive director at INSEAD's Emerging Markets Institute. 'An awareness of irreplaceable value-adding human interventions and a sensitivity towards the culture of the organisation are crucial for the successful implementation of controls that keep pace with the opportunities created by technology.'
David Toh, governance, risk and controls and internal audit leader at PwC Singapore, points out that digitalisation is an enterprise-wide business issue, not an IT issue: in any such discussion, companies need to include business units, technology and risk management as well as representatives from executive leadership. 'There is a need to ensure that even the board has access to the expertise it needs on the subject,' he says. 'Some boards have started to consider recruiting directors from relevant backgrounds in addition to internal and/or external consultants.'
Joseph Alfred, head of policy and technical, ACCA Singapore, notes that while the board should encourage and lead organisational change, CFOs and the finance function – who have unique oversights over the organisation and the control environment – can also play a catalytic role in these transformations.
'Professional accountants of the future must embrace digital to continue to be relevant to the organisation,' Alfred says. 'While automation anxiety may be one factor in slowing down the adoption of new technologies to strengthen internal controls, probably the more prevalent issue is a lack of awareness of how exactly the new technologies can help in enhancing control.'
Alfred also points out that audit committees can enlarge their role by advising organisations 'not only on the quality of the current internal control framework but how to enhance it through digital transformations.' He hopes the new report will motivate accountants 'to explore the digital terrain and identify digital tools and techniques that will be useful to their organisations to enhance controls over finance and operations in general.'
Sonia Kolesnikov-Jessop, journalist
"The real risk is we over-rely on AI when the reality is that it is relying on us to provide the right data"