Ireland's push to expand its utility infrastructure has to be balanced against growing climate change challenges, putting sustainability reporting to the fore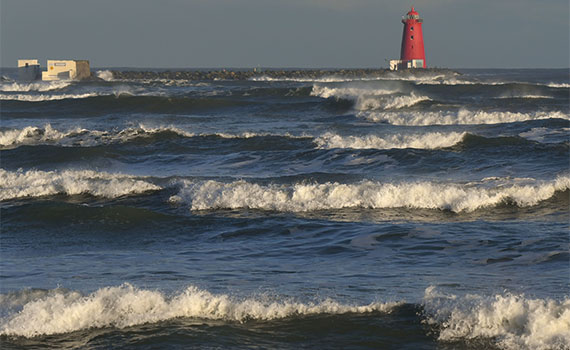 This article was first published in the July/August 2019 Ireland edition of Accounting and Business magazine.
Accountants are set to find themselves on the frontline of a major infrastructure investment challenge facing Ireland: how to improve an underperforming water supply without boosting energy consumption to levels that may fuel climate crisis.
Combining non-financial with financial reporting is an essential part of making the fine investment judgments that will be needed as Ireland's government and utility sector seek to reform a water system that loses more than 40% of supply from the national pipe network before it ever gets to taps. There are also weaknesses on wastewater issues, with major coastal towns such as Arklow still pumping raw sewage into the sea.
These headline-grabbing realities, plus the threat of hefty fines for breaches of European Union water directives, are among the reasons why the government created Irish Water in 2013 as a major utility charged with tackling leaks and inadequate wastewater treatment.
But its task is being made harder by climate change, which, according to its recently retired CEO Jerry Grant, 'threatens drought and torrential rain, which require huge investment in finding new sources of water for the populous east coast while also building flood protection for new treatment and pumping plants built by Irish Water'.
At the same time, the energy required to build and operate such projects stands to make the situation worse by boosting carbon emissions. New Irish Water infrastructure has trebled the utility's demand for electricity and now accounts for 21% of total public sector electricity consumption, even as the country struggles to switch to renewables and abandon fossil fuels.
Water can also be a renewable energy source, of course. Dublin is served by the giant Pollaphuca reservoir, which the Electricity Supply Board (ESB) uses to generate hydropower.
Meanwhile, Ireland's demand for electricity continues to rise – from around 30 terawatt hours (TWh) in 2018 to above 33TWh in 2025, according to the EirGrid Group. And Peter O'Shea, head of corporate and regulatory affairs at ESB, says that Ireland could have 29% more people and 32% more houses by 2050, all adding to demand.
Along with these challenges, Ireland has a binding EU target to halve carbon emissions by 2030. A third of emissions come from the power sector, but O'Shea argues that 'electricity could go from being 20% of the [carbon emission] problem to being 70% of the solution.'
Achieving that 70% will take significant green energy investments, though, that will have to be made at the same time as the planned water improvements. Boosting electricity and water supplies while cutting carbon emissions will pose major financial planning challenges.
Sustainability reporting
Against this background, accountants are honing their services, in line with the EU's non-financial reporting directive, now incorporated into Irish company law. Mark Kennedy, managing partner at Mazars Ireland, says: 'This explicitly includes a requirement to report on environmental issues, and we are now seeing larger companies complying.'
Mazars and other firms have seen a growing interest in Ireland in advice on how to develop integrated reporting models and best practice on the valuation of environmental and other impacts caused by investments and operations. 'We have contributed to some of this thinking and are actively working with international clients on these issues,' Kennedy says.
Increased awareness of the implications of such challenges has generated a 'huge surge in interest about sustainability reporting over the past six to 12 months' among business clients, according to Lorraine McCann, leader for climate change and sustainability services at EY Ireland.
Her firm is engaging new skillsets says McCann, herself an environmental science graduate, with staff from economics and engineering backgrounds becoming more important in working alongside accountants in her practice. She adds that CFOs at client companies 'need to be more aware of a wider range of issues'.
Mazars is similarly broadening its skillset on sustainability reporting, says Kennedy. 'Our teams include auditors, accountants, IT experts, valuation experts and actuaries. We also have consultants with experience in working on sustainability projects.' They contribute advice on reporting models, data collection and analysis, design and monitoring of internal controls, good decision-making and reporting, and auditing public statements against international standards.
Attention on sustainability issues will intensify since Ireland's climate action and environment minister Richard Bruton announced the national carbon tax will rise from the current €20 a tonne to €265 a tonne by 2050.
Irish companies also face increasingly onerous reporting regulation. Potentially significant for Irish businesses (given that many of the largest are listed in London) is that it has been a requirement since 1 April for all UK-listed companies to report their global energy use and emissions data annually.
This will force companies and investors to seek more information on climate risks, says McCann. Ensuring the information is sound is critically important for businesses turning to EY for help in making their non-financial reporting rigorous. 'We help companies to cut the noise on sustainability…there's a lot of confusion about what sustainability means,' she says.
A great deal of work is needed. A study by Deloitte of the 2018 annual reports of 100 FTSE-listed companies in the UK showed that just four noted they had complied with standards developed by the G20 Financial Stability Board's Task Force on Climate-Related Financial Disclosures (TCFD), which are designed to encourage corporate consideration of climate risk.
Kennedy thinks that a similar report will be released for companies listed in Ireland. 'Commentators and the public are demanding of companies that they provide greater insight into how they use natural resources,' he says. 'This has gone beyond a corporate social responsibility issue and is now becoming a question of reality, measuring and managing the impact of externalities on business models.'
Mark Godfrey, journalist
"There has been a huge surge in interest about sustainability reporting over the past six to 12 months among our business clients"