As CFO of Diabetes Canada, John Reidy FCCA has had to make tough decisions to bring the Toronto-based not-for-profit's finances back to health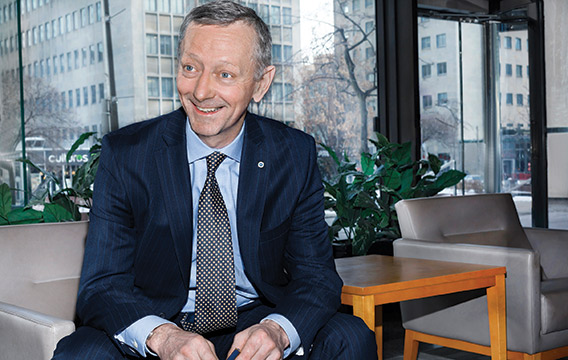 Studying this technical article and answering the related questions can count towards your verifiable CPD if you are following the unit route to CPD and the content is relevant to your learning and development needs. One hour of learning equates to one unit of CPD. We'd suggest that you use this as a guide when allocating yourself CPD units.
This article was first published in the July/August 2019 International edition of Accounting and Business magazine.
An Irish native, John Reidy FCCA, martial arts teacher and self-proclaimed hockey nut even though he can't skate, isn't just committed to sport, he is also passionate about his job. After a varied and high-powered international career in both large companies and small startups, Reidy is now at the financial helm of a large Canadian not-for-profit.
As CFO/COO of Diabetes Canada, a registered charity headquartered in the heart of Toronto's financial district, his mandate has been anything but easy – optimise the systems and processes, retrench (downsize) the organisation and reverse the cash bleed to ensure long-term survival.
Reidy's move to Diabetes Canada was unexpected to say the least. How he landed there was a matter of coincidence. 'I never intended to be a not-for-profit guy,' says Reidy. 'My wife is the one that was always fundraising for charities and volunteering, whereas I was definitely a finance guy in the corporate sector. However, one day a friend of mine said: "I've got this charity that needs some help with their CFO position." I was planning to be there on a short three-month stint – that was three and a half years ago.'
As Reidy learned more about diabetes he became consumed with trying to help the organisation out of a very difficult spot. 'Diabetes is really, really important and it's massively underrepresented in the market, so people don't realise how insidious a disease it is,' he says.
According to Statistics Canada, in 2017, 7.3% of Canadians over the age of 12 (around 2.3 million people) had been diagnosed with diabetes. Between 2016 and 2017, the proportion of males who reported being diagnosed with the disease increased by 7.6% to 8.4%, while the percentage of females, at 6.3%, remained the same. Other statistics present a more alarming scenario, reporting that the number of people living with pre-diabetes or type 1, and type 2 diabetes, could be as many as 11 million, or roughly one in three Canadians.
Once Reidy understood the scope of the problem, he was hooked. 'You wouldn't join an organisation of this kind unless you felt a connection to the cause. I became driven by the need to deliver what is actually not a particularly attractive message to the Canadian public, but one they absolutely need to hear.'
Reidy's ACCA Qualification and an MBA from Manchester Business School gave him a broad understanding of business. But it was his tenures in large public corporates and Canadian private equity that provided the range of skills he needed for his new role, even though a large charity would prove to be quite a different animal. 'I had a lot of experience retrenching and restructuring, and fixing IT projects that had gone wrong,' he says. 'Technology, handled well, can transform a business, but handled badly it can destroy it. I have seen far too many wildly over ambitious projects.' (So great was his interest that at one point he considered following in the footsteps of his three siblings, who are all in IT.)
Like many companies and charities, Diabetes Canada, Reidy explains, had invested in systems but hadn't done it properly. 'We had poor processes and we were also suffering revenue challenges,' he says. 'I spent a huge chunk of my career remediating badly implemented processes and systems.'
Over the preceding years the competition for donation dollars had become fierce. And, as he explains, one of the most challenging aspects of being CFO of a charity is allocating the spend equitably between important projects. 'Being the finance person puts you in the difficult position of having to force decisions between competing projects, even when both or all projects are good ones. It's a delicate balancing act and highly nuanced,' he says.
In addition, as a charity, Diabetes Canada is duty bound to demonstrate to donors that it is using their hard-earned cash properly and effectively. 'The counterpoint to that,' he adds, 'is that, in order to get the dollars in, you have to get the organisation's name out there – but the money spent on communicating with donors, ie marketing, is not seen as good use of their donations.'
And in a not-for-profit organisation, he comments, while staff are totally passionate about what they do, it does not always come naturally to them to 'connect the dots' in relation to the long-term financial implications. Adjusting to that mindset presents a challenge. 'The not-for-profit sector is populated with passionate, committed individuals who are deeply embedded in the cause. They are not in the space to become rich, and funding and all its complexities is rarely top of mind.'
As a result, the charity suffered year-over-year losses, which called for drastic action. In the last two years the organisation has moved from a largely branch-driven presence to a virtual one in Canada, in the process reducing both its headcount and branches by over 50%. 'Downsizing is something that ensures the long-term survival of a charity but it's not something that makes you feel good when you're doing it,' Reidy comments.
Meanwhile, Diabetes Canada has significantly expanded its recycling business Clothesline, which generates approximately 21% of total revenue through recycling and reselling donated clothing. 'It's a commercial business that gives all of its profits to us,' he explains. 'It collects the products and sells them through various channels, and the profit it makes comes to us for funding projects.'
On joining Diabetes Canada, Reidy assumed responsibility for the IT function and the Clothesline business, alongside his financial duties. He has reduced infrastructure costs by 40%. He has also implemented sound budgeting and reporting processes including cashflows and investment management; restructured the IT department to reflect a customer-centric strategy; implemented new finance and HR systems; and significantly improved internal controls and board reporting.
So what's next? Diabetes Canada is now where it needs to be for the future, Reidy notes. 'We've got the platform, we've got the ear of both federal and provincial governments, so now it's time to get on with it.' The next two big challenges are interconnected. 'One is customer relationship management. Second is stepping up our social media initiatives, because they're two ends of the same spectrum. Our social media platform is the be all and end all,' he says.
Ramona Dzinkowski is a Canadian economist and president of RND Research Group.
"'A connection to the cause is essential when working in an organisation of this kind'"