Nik Nazifah Nik Ahmad FCCA, director of finance and business support at Axiata Business Services, believes that embracing new challenges has guided her career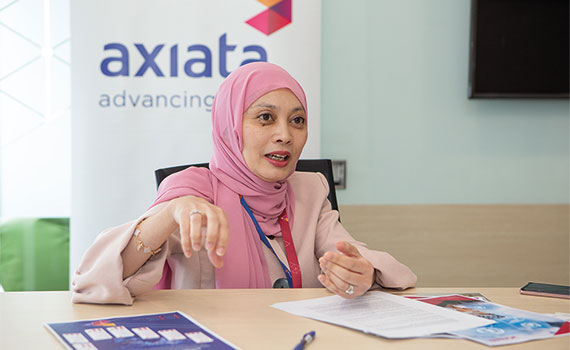 This article was first published in the July/August 2019 Malaysia edition of Accounting and Business magazine.
Nik Nazifah Nik Ahmad will be the first to tell you that she is no corporate high flyer, despite her impressive resumé. Her finance and accounting career, which has spanned more than 25 years, has, she says, been shaped by her sense of curiosity, the gaining of new experiences and delight in working with different people.
'You can make so much of your profession; I think if the profession was only about being a bean counter I would have left it a long time ago,' says the director of finance and business support at Axiata Business Services (ABS), a subsidiary of Axiata Group. 'You don't necessarily have to become the finance director or CEO but I think that you have to have that hunger and passion. In my case I have always been interested in business, and how the numbers tell the story. I am also the sort of person who is always interested to learn, so after a three-year stint within a role I would usually look for a different one which brings with it different challenges.'
Nik Nazifah assumed her current role in October 2018 after serving for more than three years as Axiata's group chief internal auditor. She made the move into the telco industry in 2013 when she took on the role of corporate controller at Celcom Axiata, one of the operating companies under the Axiata Group. The change was a significant one: she had spent the 16 years prior to that at Shell in a variety of finance roles.
'It was a significant move, going from a multinational to a government-linked company, and from oil and gas to telecommunications, but I told myself that even though I may fail, if I don't try I would not know,' she recalls. 'I think that if you really give it your best shot, the chances of failure are low, so I decided to take the plunge.'
That leap of faith was great but it was a chance to do something different, she says. She weighs up every role thoughtfully. 'When they asked me to consider the internal audit role, for example, I thought: "Why not?" I saw opportunities to grow and learn about the business and operations because you get a bird's eye view and can add value,' Nik Nazifah says. 'Having done the operational roles before you know what you're talking about when you discuss system implementation or ERP [enterprise resource planning] implementation. You've gone through the pains of that implementation process together with the business, so when you are auditing or reviewing that aspect you know it beyond just a review from the desktop, and that hopefully adds a bit more credibility for the stakeholders.'
Steering cybersecurity
That stint as group chief internal auditor saw Nik Nazifah play an integral role in setting up Axiata's cybersecurity steering committee. 'In the early days my team and I worked closely with the group technology team as well as consultants to assess where we were across the group on cybersecurity and thereafter to kick off the improvement initiatives,' she says, adding that the business has since recruited a group chief information security and privacy officer who, together with his team, has embarked on further initiatives across the group to improve Axiata's resilience.
Nik Nazifah describes her current role as being more operational. 'It covers finance and business including statutory financial reporting, business planning and forecasting, and providing support to the business and sales teams,' she explains. 'The legal function is also under my purview so contract management and initiation of new contracts and agreements are also within the responsibilities.
'It's almost like a mini-CFO role. You do feel responsible, and because it's like running your own company you want to make it work. You want to make it profitable,' she says.
A relatively new entity, ABS provides Internet of Things (IoT) solutions. 'It's an important development for the group as Axiata is moving from being a pure telco to a digital communications provider,' she says. The group's goal is to become a New Generation Digital Champion by 2022 and, in pursuit of this vision, it is growing the IoT business to connect its 350 million customers and the wider two-billion population within its footprint in ASEAN and South Asia.
Embracing IoT
Some of the exciting IoT opportunities include personal tracking, fleet tracking for small and medium enterprises, and the connected car. Of the latter, she says that although some of the more upmarket vehicles may already have the capability, the connected car offers drivers the necessary diagnostics information while keeping passengers connected via 3G and 4G connectivity. The connected fleet, meanwhile, is targeted at companies with commercial fleets – allowing them to manage, monitor and improve the efficiency. It collects and analyses data for better fuel usage, improved driver performance and greater route optimisation.
It is, however, still early days for the IoT. 'We are trying to commercialise these solutions through our operating companies,' Nik Nazifah says. 'Many of them work with small and medium enterprises so there is a lot of potential.'
Axiata's migration from being a pure telco to a digital communications provider has not been an overnight journey. 'In the last couple of years Axiata has been focusing on three elements of digitalisation: digital telco, digital business and digital advertising,' Nik Nazifah explains. 'These address the needs of our customers who are demanding these digital solutions from us, beyond the traditional connectivity solutions.'
Nik Nazifah says this approach is essential because the traditional telco business has changed drastically. 'How many of us send text messages, or make calls that are not through WhatsApp?' she asks. 'We have realised that for many years those revenue streams have been declining across our markets, so we need to be much more innovative. The Googles and WhatsApps of the world have eaten our lunch so we need to be fast and innovative like the start-ups.'
Digital-savvy talent
Talent and development programmes are also very much focused on digital. 'Our leadership programmes, for example, are tailor-made to have a digital component, which calls for quicker decision-making but at the same time also ensures a balance with regards to safeguarding the organisation accordingly,' she says.
Operating in a fast-paced digital environment is not without its challenges, Nik Nazifah concedes, adding that some of the stumbling blocks include ensuring that the IoT solutions can break into the market and become commercially viable. Another challenge is to ensure that the solutions, once they have been rolled out, are a commercial success and can be replicated across the group's footprint.
Besides IoT solutions, within the realm of the Fourth Industrial Revolution or Industry 4.0 technologies, Axiata is placing a great deal of emphasis on understanding its customers, who are spread over 11 countries in South-East Asia and South Asia.
On a personal level, Nik Nazifah says that the fast-paced digital environment demands continuous learning. 'I am learning all the time; there's just so much to learn. Just when you think that you know something, something else comes up. As a finance person, you're always tacked to your functional role but as you progress you need to ensure that you have a good understanding of the overall business. When I was on the cybersecurity steering committee, there was a lot to learn; you needed a decent understanding of the subject in order to understand consultants' reports.'
She admits that the nature of the industry and the responsibilities of the job can be stressful. 'People do feel pressured to make decisions or to do certain things because there is that expectation from the boss or even from the board. But I believe that you have to have that common sense and pause to take stock,' she says, adding that although in some organisations it may be ingrained in the culture to 'not challenge the boss, you can always say that you're not comfortable with certain things, and that you have the data points to back it up'.
This sense of scepticism, Nik Nazifah says, stems from her training as an accountant as well as her years in the profession. 'It's also from working with different people,' she says. 'I've had the privilege of working with great leaders and with great teams. Learning from them, from my mistakes and from my experiences have shaped my career.'
She is generous, too, in sharing what she's learned with the next generation. 'I've been fortunate to have had different mentors in my career and these are the people I seek out who I think can give me frank and constructive feedback, as well as useful insights based on how they have progressed in their careers,' she says.
'As a mentor I try my best not to impose my values; the things that went right for my career may not necessarily be the same for another person,' she says, adding that by mentoring she, too, gains valuable insights. 'I learn as much from my mentees as I hope they are getting in positive values from me.'
Sreerema Banoo, journalist
"The Googles and WhatsApps of the world have eaten our lunch so we need to be fast and innovative like the start-ups"