Ronnie Patton, FCCA, senior lecturer in accounting at Ulster University and ACCA Council member, sees clear benefits in closer ties between business and academia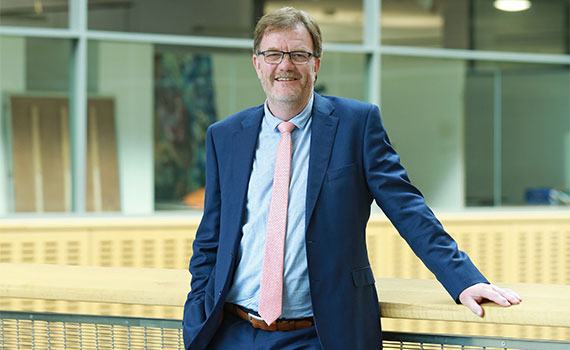 This article was first published in the July/August 2019 Ireland edition of Accounting and Business magazine.
Back in 2011 when AB Ireland last caught up with Ronnie Patton FCCA, the senior lecturer in accounting with Ulster University was just stepping into the role of ACCA Ireland president. No surprise then that education would be a major focus of the interview and his time in office. Eight years later, it's quickly evident that Patton's long-standing commitment to both ACCA and a progressive educational agenda remains undimmed.
In 2014, he was elected to ACCA Council for the first time and, later this year, he leads out one of Ulster University's newest educational offerings as course director of the MSc in Strategic Accounting. A few years in the pipeline, this new postgraduate course brings to fruition a long-standing goal of Patton's to see academic and professional opportunities aligned.
The Masters will allows students to complete all ACCA professional exams, as well undertake part of ACCA's Professional Experience Requirement (PER), along with some additional modules specific to the course. While it isn't a formal partnership between ACCA and Northern Ireland's largest university per se, 'it ties very much into the partnership model', Patton says, adding that a great deal of thought has gone into ensuring it seamlessly reflects the values of both.
Patton's position in both organisations has allowed him to play a facilitating role in this. 'The catalyst for the Masters was the many conversations I've been able to have by virtue of being on ACCA Council and, as a lecturer, my understanding of what's important to the university,' he says. 'The MSc in Strategic Accounting works for ACCA because it provides opportunity, which is very much at the heart of the ACCA ethos, and it works for the university because it offers a strong, relevant postgraduate course that can attract students from here and overseas.'
The structure of the full-time course, blending learning with real-world experience, also reflects a long-standing conviction that academic and professional advancement are two sides of the same coin. 'I was never really comfortable with the differentiation between the two in the first place,' he says. 'The MSc is very much designed to reflect the fact that these are not separate worlds. It opens up opportunities for people that weren't there before and it will create an attractive new recruitment stream for businesses.'
Future proofing
The Masters can also be said to pick up on what's happening in ACCA in terms of its development as a professional qualification and, in particular, the growing focus on strategy within the accounting role. This may be a reflection of a profession future-proofing itself, but it's also a consequence of current realities and, in particular, how artificial intelligence (AI) is reshaping the finance function in organisations across the world.
For Patton, as an academic, grappling with the future shape of the profession may have some theoretical elements, but there are very practical aspects to it too, as it is a question posed to him by students on a regular basis. 'When I'm asked the question, "is there a future in accounting?", as I am a great deal, the point I make to students is that the impact of technology now makes this a really exciting time to start a career in finance. It is giving people the ability to develop high-level analytical skills, to draw evidence-based conclusions, and to contribute to businesses in a way that may have taken previous generations longer to get to. AI has changed the skillsets that accountants need, but it has also created a situation where people can progress their careers more quickly. How we develop those new skills is where I see the opportunity to link the professional and the academic.'
This focus on the new skillsets, it should be said, doesn't come at the expense of the long-standing values that he sees at the core of the profession, and he has talked frequently about the importance of professionalism and public value, in particular, as cornerstones of the ACCA Qualification. 'Professionalism and public value are about looking beyond yourself and your individual role, understanding your impact and trying to ensure that what you are doing is of benefit to society. When I look at my own role in the university, I see it as trying to enable students to see learning as not just as about passing exams, but thinking about the skills they are being given and how these can help them grow as professionals and contribute in the future.'
One of the less orthodox methods he uses to get this message across is by playing Jimmy Hendrix to his students. 'The reason I do it is to open up a conversation. When I first heard Hendrix, it was 1968 and I wanted to be a hippy and a rock star. We all thought the world was changing as people started asking questions about society and their place in it. So I ask students why they are doing this particular course and the most common answers I get are that they are here to pass exams, to get a good degree and to make money. These are all reasonable aspirations, but they are secondary.
'My argument is that you are here to learn, and if you learn, then all those options and many more will become available to you.' It's a view reflective of his overall ethos about third-level education, that 'university isn't just about getting people through exams, it's about enabling them to learn so that they deserve to get through'.
For someone with such an obvious passion for learning, it may be surprising to note that the role of lecturer came about somewhat by chance. 'When I left school, the one thing I was absolutely clear about was that I didn't want to teach. That was, in part, why I became an accountant.' A successful career in business consulting saw him recognised as an able communicator and, from there, the opportunity to lecture on ACCA subjects emerged. He never looked back. 'I've said many times that I'm someone who used to have a real job. ACCA opened that door into teaching, which was one I didn't even realise I wanted to go through at the time.'
Catalyst for change
ACCA as a catalyst for progression is also something Patton is clearly passionate about. 'Personally and professionally, ACCA has been very beneficial to me. That's not just my experience, it's one that I see many other people having. ACCA gives people opportunities and, as the world becomes more fluid and people consider working outside their local environment, that becomes more and more important. The phrase that often occurs to me is that ACCA lets you take control of what you do and where you do it, provided you acquire the skills needed.'
In 2014, he was elected to ACCA Council and, while it might have seemed a natural development from his time as ACCA Ireland president, he says it was never something at the forefront of his mind. 'A number of people encouraged me to consider running for Council and that, again, demonstrated to me one of the great aspects of ACCA: it's an environment where people will encourage others on the path of their growth and development.'
The challenge of representing members at a truly international level appeals to him in particular. 'As a member of Council, you have exposure to what is going on in different markets and a requirement to understand ACCA strategy internationally. You are seeking to deliver the maximum benefit to the maximum number of people, while recognising that our 219,000 members across the globe operate in often very different countries and economies. My goal within Council has always been to try to demonstrate to members that they are being listened to and their needs are at the forefront of what we are doing.'
Northern Ireland presents its own distinctive profile within this story, of course, and it's interesting to recall that, back in the 2011 AB Ireland interview, the conversation about the region's future centred on what appeared to be a very real opportunity to reduce its corporate tax rate to that of the Republic of Ireland's. In the intervening years, the suspension of Stormont and the upending of politics as usual through Brexit have put this proposition on the back-burner.
What hasn't changed, however, is the ambition of the next generation of business professionals to see the region thrive. 'Although our students are global in their outlook, my perception is that a lot of them want to stay local. I don't see a huge number of graduates looking to move outside the island of Ireland,' he observes. 'Whatever happens with Brexit, we are going to need people locally with strong skills who understand how business works. Businesses will need planning, they'll need controls and they'll need talented managers.
'What you see through the new MSc in Strategic Accounting is Ulster University and ACCA putting resources into this future through education. The success of the ACCA model has always been that it's based on a series of partnerships, with educators, employers and students.'
Donal Nugent, journalist
"Professionalism and public value are about looking beyond yourself, and understanding your impact and trying to ensure that what you are doing is of benefit to society"