Samuel Mwogeza FCCA, CFO of Stanbic Bank Uganda and the country's CFO of the Year, has embraced digital disruption and new business models for financial inclusion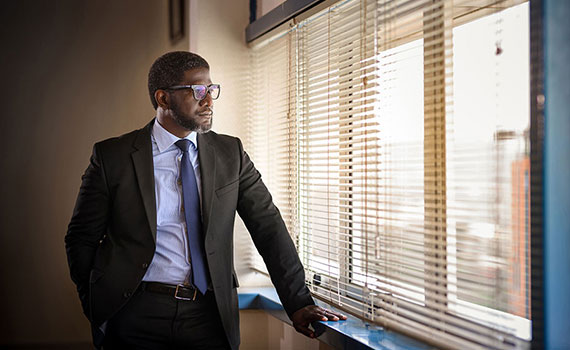 This article was first published in the July/August 2019 Africa edition of Accounting and Business magazine.
Digital disruption has been transforming banking services worldwide, and Africa, with its important mobile commerce sector, has been in the frontline of this change. The fact has not been lost on the traditional banking fraternity. Samuel Fredrick Mwogeza, CFO of Stanbic Bank Uganda, sees helping the bank prepare and adapt to the changes as a key part of his role.
'We have seen a lot of disruption from technology,' he says. 'We have seen the competitive landscape for the banking industry swiftly changing. We have also seen our customers evolving and wanting to see value in different ways.' He says that Stanbic has made huge investments in alternative online channels, including a mobile app, internet banking and a Business Online service.
'The results have been remarkable, with transaction growth across these channels in excess of 40% on a year-on-year basis. Transactions on these alternative channels now represent approximately 80% of all transactions processed within the bank,' Mwogeza says. 'My primary role today is to ensure the bank is futuristic and leverages technology efficiently and in a manner that has great clarity.'
The bank is in the process of becoming a holding company so it can create subsidiaries in other sectors such as fintech, insurance and real estate. Once the process is completed later this year, Mwogeza expects to assume a leadership position in the company, alongside his job as CFO. 'A big part of that will be looking at ways to leverage our brand – to create more subsidiaries beyond just the bank, which will provide additional value for customers and also for shareholders.'
CFO of the Year
Mwogeza has been central to shaping the direction of the bank and contributing to its success in the country's competitive banking industry. His leadership and ability to drive the company in the right direction won him recognition as Uganda's CFO of the Year 2018 in the annual contest co-organised by ACCA Uganda and Deloitte – he picked up the Best Strategy Execution Award as well.
He points to the bank being voted overall gold winner at the Institute of Certified Public Accountants of Uganda annual financial reporting awards four times since 2011 as confirmation that the bank is getting it right. 'We have been deliberate about modernising and automating our financial reporting processes,' he says. 'We want to enhance the ability of our customers to understand the trajectory of the company, over and above just showing numbers.'
His understanding of the holistic value of robust accounts comes from broad international experience. His journey to becoming a leader in Uganda's banking sector started 15 years ago, after he completed a degree in accounting at Makerere University in Kampala and then ACCA training at Management and Accountancy Training Company, also in Uganda.
His career choice was inspired by his late father, a career banker for more than 25 years, and by his mother, an accountant with a passion for mathematics. He credits both parents for setting the foundation for his professional work ethic. 'I wanted to learn and be a better person professionally,' he says. 'The ACCA Qualification takes you beyond the preparation of accurate numbers to aspiring to be a strategic leader in organisations.'
He credits his ACCA status with launching his career. 'I got my first significant promotion after qualifying with ACCA,' he recalls. The ACCA programme also whetted his appetite to learn. In 2011 he gained a distance learning MBA from the University of Edinburgh Business School, in Scotland. The international education gave him valuable exposure to different types of thinking. 'I wanted to get that international exposure beyond the constraints of my local environment,' he says.
He started his banking career at Citibank Uganda before moving to Barclays Bank. At both, he was heavily involved in financial analytics. In 2010, he moved to Stanbic Bank for the very different role of finance manager for corporate and investment banking. He became the CFO in 2015.
Mwogeza says his multifaceted CFO role has been evolving to reflect an ever changing industry. Amid the flux, he is responsible for ensuring the internal financial control framework is robust and for leading strategic formulation and implementation at the company. Today, Stanbic is the biggest of Uganda's 24 commercial banks, with estimated assets of UGX5.4 trillion (US$1.46bn) at the end of 2017.
With 35 staff working directly under him, Mwogeza believes that leaders should generate an environment where innovation and creativity is encouraged, and puts the success of the bank partly down to this. 'You build a great team and allow them to chart a way for what leads to growth,' he says. 'I believe in the power of the collective, and pick out insights from the team on what has to be done.'
Once you've hired people who deserve the job, he adds, you should give them the platform to grow their talent. 'The role of a leader is to enable people to be their best and not to create competition. Helping people align their growth journey with the organisation's growth journey is important for me.'
Mwogeza stresses how critical it is for accountancy professionals to uphold strong ethical values. He grounds his own ethics in his faith and his family: 'My wife plays a very supportive role, and my faith has been central.'
His leadership and professional skills have not just benefited Uganda. He has undertaken assignments in other African countries, including Tanzania, Zambia and DR Congo, in each case largely providing strategic financial support to banks.
Up for the challenge
In all these markets, he says the challenges facing the banking industry are similar: disruption from technology, the informal nature of the economy and a poor credit culture. Stanbic Bank, he says, has been keen to address all these in Uganda. 'We see ourselves as a partner in this economy and so we have been deliberate in addressing some of these challenges.'
One of the bank's initiatives is to build the capacity of small and medium-sized enterprises (SMEs) through an SME business incubator. Its efforts are focused on the oil and gas sector in a country that has significant untapped but proven reserves. 'If we empower SMEs in the country to have access to opportunities that will be created when the oil and gas is commercialised, it will have a fundamental effect on true value creation in the country.'
In another initiative promoting financial inclusion, the bank is offering agent banking – a shared platform where licensed financial institutions can contract a third-party operator to provide a range of financial services on its behalf. Since the platform was launched last year, Stanbic Bank has developed working relationships with more than 750 agents across the country – a significant expansion of its 70-branch retail footprint.
'In this short space of time, we have been able to widen our distribution and access to financial services without requiring significant investment,' Mwogeza says. He believes all Ugandan banks need to take this route. 'Customers may need financial services, but they don't necessarily want to go to a physical bank, so we need to find ways of reaching them.'
Evelyn Lirri, journalist in Kampala