The Big Four firms are building their legal muscle in Asia, offering a multidisciplinary edge that is enabling businesses across the region to improve efficiency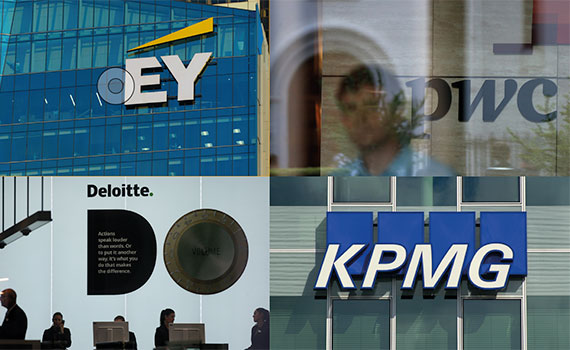 This article was first published in the July/August 2019 China edition of Accounting and Business magazine.
A decade on from the widespread retreat that all but ended accounting firms' foray into legal services, the majors have mounted a new push. Over the past year, Deloitte, KPMG, PwC and EY have been adding law firms and earmarking top talents to spearhead their assault on ground hitherto held by traditional legal practices, with Asia a key focus of their attention.
As they build their legal muscle in markets like Hong Kong, Singapore, Australia and New Zealand – and venture for the first time into mainland China – the Big Four are merely 'following the money'.
'Asia Pacific is a region of growth,' says Stuart Fuller, head of KPMG Law. 'If you look at the development of the economies, but also the connectivity of those economies, you can see a place for legal services. You have to follow the money – to go where our clients are doing business and make sure we can service all of their needs.'
The regulatory changes that followed the global financial crisis have made that path clearer. Today, even though the regulations vary in different jurisdictions, there is greater clarity around the provision of legal and auditing services under the same roof.
KPMG Law was established in Australia in 2014. In January, KPMG opened an affiliated law firm in Hong Kong, SF Lawyers, and is planning a Shanghai opening later this year. The mainland is relatively new territory for the Big Four firms, but Lachlan Wolfers, partner at KPMG China, feels that 'the time is right'.
'We wanted to use the opportunity of setting up in Hong Kong first,' he explains. 'Hong Kong is a more mature legal jurisdiction, and we will learn a lot from that process.'
Wider markets
Shirley Fu, principal at SF Lawyers, says business opportunities are expected to grow exponentially due to increased movement of goods and services, capital, people and information within the Greater Bay Area and the wider regional and international markets. She adds that the objective is to have 22 lawyers in Shanghai in year one.
Honson To, chairman of KPMG Asia Pacific and China, says that the KPMG global legal services network grew by 30% in 2018 'and has significant growth ambitions just beginning to be realised across the Asia-Pacific region'.
SF Lawyers operates in association with KPMG Law in Australia, led by Fuller, the former global managing partner at King & Wood Mallesons. After moving to KPMG in 2018, Fuller occupies the role of Asia-Pacific regional leader for legal services.
Growing demand from clients in South-East Asia also led to Deloitte's decision to establish a Singapore-based foreign law practice, Deloitte Legal International in August 2018, and Sabara Law (a Singapore law practice) in November 2018.
Low Hwee Chua, regional managing partner for tax and legal at Deloitte Southeast Asia, says that with Asia Pacific expected to be the fastest growing economic region in the next few decades, 'Deloitte Legal's presence in Singapore enhances our global footprint in the region. It allows us to assist Singapore-based and foreign clients by facilitating their access to, and investments and business in, Asia Pacific, including in particular the emerging markets of the Indo-China region,' he says.
Uncertainty in the major Western markets and events such as Brexit have also intensified interest in the emerging markets in Asia Pacific, Low notes. 'We also anticipate continued crossborder outbound investments from major Asian countries such as China and Japan.'
Rashed Idrees, managing director at Deloitte Legal International, notes that 'The increasing growth of the Asia-Pacific economy provides plenty of opportunities across the region that we aim to capitalise on, including working together with other Deloitte professionals across various industry sectors and services lines.'
According to Yeoh Lian Chuan, Sabara Law's managing director, the practice will focus on advisory areas such as data protection, financial services regulatory and private wealth services, and technology-supported legal services. 'These are areas which we believe offer considerable opportunities in the coming years,' he says.
Meanwhile, EY Law included a Hong Kong member firm in 2015 (renamed LC Lawyers in 2018), taking its presence to 83 jurisdictions with more than 2,300 lawyers globally. 'Clients are very interested in multijurisdictional integrated advice and turnkey solutions,' says Rossana Chu, co-managing Partner at LC Lawyers.
New way of delivery
What's changed in the business landscape since 1997 is 'the new way of delivery of legal services and massive digital transformation in all business functions', Chu says. 'We see changes in legal operating models and a move by sizeable clients towards outsourcing some of the legal function processes and managed services. Those services are being rolled out on a global basis and appeal to multinational corporations. EY Law has always been a leader in innovation, but it's important that we have regional capabilities to deliver legal services to the clients.'
EY is also providing legal services to New Zealand through EY Law, an incorporated law firm in New Zealand. Its legal service offerings are closely aligned to those in EY Law in Australia, where legal services are provided through a multi-disciplinary practice as allowed by Australian regulation. Kirsty Keating, EY Oceania law leader in charge of the legal divisions, says there are currently 75 legal professionals and 15 partners across both jurisdictions.
'As a professional services firm, EY has always been responsive to the dynamics of changing markets, so the growth of our legal services has been in tandem with demand and requests from our client base,' Keating says. 'Access to EY's legal network – here and overseas – means clients receive a high-quality, efficient, streamlined service wherever required.'
Taking a cue from professional accountants' business philosophy, EY's legal practitioners want to be 'more than just lawyers to our clients', Keating adds. 'We aim to become trusted business advisers who team with other parts of EY to support our clients achieve their commercial objectives.'
A focus on top-tier talent is a key focus of the Big Four's legal strategies. For instance, corporate lawyer Rachel Eng – who has advised on a slew of listings, real estate investment trusts and funds – joined PwC's legal services network in October 2018. As managing director of Eng and Co, she works closely with PwC Legal International (a separately licensed Foreign Law Practice based in Singapore); together they have a team of around 20 lawyers covering domestic and regional corporate work.
Emphasising the value of retaining talent, Eng says the firm's lawyers are experienced in areas of mergers and acquisitions, capital markets, restructuring, corporate advisory, funds and trusts. 'We have a strong value proposition and believe clients will see the strength in our multidisciplined teams,' she says.
Tony O'Malley, a former King & Wood Mallesons managing partner who joined PwC in 2014 as Australia and Asia-Pacific legal services leader, agrees. 'In part, acquiring and developing top legal talent is a reflection of the complexity of the work we have targeted to win and the customers we are looking to serve,' he explains. 'It is also an essential ingredient to delivering integrated solutions, as customers expect the PwC legal offering to match the high-quality standards set by the firm's tax, assurance, deals and consulting practices.'
Wave of disruption
In February 2019, former Telstra senior general counsel Mick Sheehy joined PwC Australia to lead NewLaw, established in preparation for the next wave of disruption challenging Australia's legal landscape. 'This is about building legal departments of the future,' says Sheehy. 'If we can hone their focus with the right information, they can make far more strategic resourcing decisions. This means everything from how a general counsel can use technology to automate through to what to do when a complicated transaction lands on your desk.'
Auckland-based Matt Keenan, director at PwC Legal, feels it's important for the network that its legal capability in New Zealand supports demand from PwC's international member firms and clients. 'We're taking a more conservative approach to growing our practice than some of our neighbours in the Asia-Pacific region, but we're aiming to build a domestic legal practice that leverages PwC's multi-disciplinary expertise, global coverage and technology solutions for our clients,' he says.
The Big Four's rise up the legal services value chain is evident in the inaugural Asia-Pacific Alternative Legal Brand Index published last year by Acritas. Established to identify the strongest non-law firm brands in the region, the index ranks PwC, EY and KPMG in first, second and third places, with Deloitte in seventh place (after LexisNexis, Thomson Reuters and Lawyers on Demand).
David Johnson, Acritas account director, says that the Big Four benefit from an 'incredibly strong brand profile across the professional services sector. In-house legal clients are reacting positively to the multidisciplinary skills set they can bring to their challenges and the business knowledge and understanding they have developed through working with the wider business,' he says.
Johnson believes their multidisciplinary offer is a big advantage as it allows them to support the challenges faced by in-house legal teams through a wider angled lens than may be possible from a pure law firm. 'The accountancy, audit, consultancy and technology offering of these organisations can only be a positive in helping general counsel in the region drive efficiencies across their teams and contribute directly to the bottom line of their businesses.'
He adds that while the legal industry 'is fixated on distinguishing work delivered by lawyers and non-lawyers, in reality, clients just want effective solutions to their problems'.
Low, for one, does not intend to replicate the traditional law firm model. 'Instead, we are refining the service model and tackling previously underserved fields,' he says, 'providing legal services together with Deloitte's other service offerings that leverage our experience, technology and global reach.'
Peta Tomlinson, journalist
"Clients are very interested in multijurisdictional integrated advice and turnkey solutions"