Mentoring is a powerful – and increasingly important – tool that enables both mentors and mentees to reap the rewards of sharing knowledge and learning from others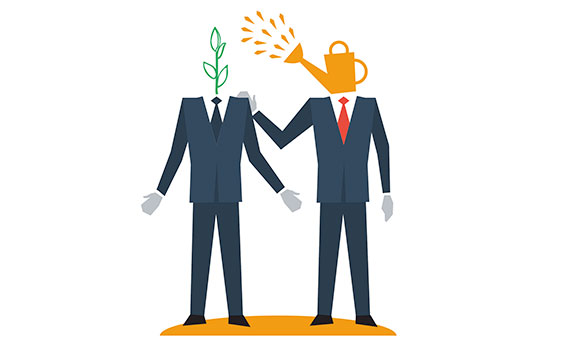 This article was first published in the September 2019 China edition of Accounting and Business magazine.
Mentoring has become one of the business buzzwords of our time. Start-ups swear by it, and more and more corporations seem keen to embrace it.
Some take a formalised approach. For instance, the Chartered Accountants Australia and New Zealand (CA ANZ) Mentor Exchange programme connects the skills and knowledge of experienced members with new accountants who are starting out on their professional journey.
Lee Whitney, group executive, account management, at CA ANZ, says it is immensely beneficial for new members to have a mentor 'because they gain access to knowledge, insight and experience that you can't read about in a book,' he says.
'A mentor doesn't just tell you what to do; it's a relationship where you can discuss important decisions in your career, ask for advice and, bottom line, learn from someone who has walked the same path you are walking on now.'
In a changing profession like accounting, Whitney adds, it is crucial that those entering the profession learn from mentors who are adapting to the changed environment. 'There is no substitute for someone experienced who can point out the pitfalls and what skills you need to be successful,' he says.
ACCA's mentoring programme for members and affiliates was piloted last year in six markets: Hong Kong, Ireland, Malaysia, Pakistan, Singapore, and UK. Clare Hodgson, head of professional development products, says that the programme allows mentees to develop their knowledge and skills as they benefit from the insights and perspectives of their mentors, while the latter can grow their network and give back to the profession.

Valuable resource
'This is an exciting initiative that I hope will be a valuable resource to members and affiliates around the world,' Hodgson says. 'More than 3,200 members and affiliates have already signed up; it's heartening to see such a fantastic response and I look forward to watching this grow in the future.'
Targeting those further along in their career, Mazars' Aspire is a structured programme for potential partners. Launched in Asia in 2012, Aspire is this year into its sixth cohort.
The programme, organised and executed at Mazars University in Milan, Italy, typically lasts 10 to 12 months. Mentors are senior partners across the region, while the mentees have been recommended by the managing partners of their respective countries.
'Rather than solely focusing on the mentees' technical skills, the programme seeks to provide a guided pathway while opening their minds to different world views outside their own offices or countries,' says Lin Yiqing, Mazars' Singapore-based group talent manager. 'The programme also enables the mentees to build their professional identity, leverage on their personal capabilities for leadership, and balance their career and lifestyle priorities for long-term career success.'
Beyond business
Roland Yau, managing partner at CoCoon Ignite Ventures, a Hong Kong venture capital fund focusing on investments in early stage technologies, agrees that mentoring is important beyond business.
'I see it as a sharing of wisdom and experiences, which is quite different from sharing intelligence,' says Yau, the lead mentor of tech logistics start-up Pakpobox and a mentor of many other enterprises.
'There are plenty of resources today that help people find answers, but that does not completely solve some of the challenges people may face. For example, intelligence would tell us that a tomato is a fruit, but we need the wisdom to tell us that we don't put tomatoes in a fruit salad. Good mentoring can therefore be the difference between executing an idea successfully, versus being the smartest person in the room yet no one wants to speak with you.'
But 'mentorship moments', as Elissa Sangster, CEO of the Forté Foundation – a US-based non-profit focused on women's advancement – calls them, can also be serendipitous. She recalls a flight where she sat next to a partner at a top consulting firm.
'We didn't work together so it was easier to chat freely and share our stories – the good and the bad,' she explains. 'We talked about my passion around getting women into leadership roles, and how men can be allies to enhance diversity. By the time the plane touched down in Texas, I had a long list of things I needed to do. If we hadn't had this unexpected deep-dive talk, I would have missed a great opportunity to tap his considerable expertise.'
Mentoring is not a new concept: it's been around since the ancient Greek poet, Homer, penned The Odyssey, creating a character called Mentor (meaning wise guide), to look after and educate the protagonist's son while he was away at war. But why is it so successful today?
Suzannah Chapple, founder of Chapple, a boutique change and communications recruitment company in the UK, says mentoring meets a basic need for nurturing.
'It's a generous thing to do: someone has to give up their time to do it,' she explains. In the workplace setting, mentoring also provides a 'safe' environment where someone else can be used as a sounding board, without fear of repercussion.
A key advantage is that it's personally tailored, says Chapple. 'Any formal education has got to be a catch-all, but mentoring is one to one and it's around exactly what that person needs.'
Beyond individual growth, mentoring has business benefits as well, Chapple says. 'Productivity goes up, people are happier and more fulfilled, and they're more likely to stay with the company.'
Chapple views mentoring as such a powerful tool that it should be embraced by every organisation, at every level. 'By sharing our experiences with others, be it successes or failures, and helping them learn from our mistakes, we will positively contribute to the personal growth of individuals and the economy as a whole,' she says.
But for those who also value their own bottom line, Greg Madden, co-founder of [axr] in Australia, has good news. Last year, the recruitment consultancy surveyed more than 1,000 accounting and finance professionals, asking specifically about their use of mentors.
'There was an obvious trend in the utilisation of a mentor and an increase in the remuneration of the respondents,' Madden says. 'That is, the more the individuals utilise a mentor, the more they appear to earn.
'Anecdotally, my 25 years' experience has shown me that finance and accounting professionals who are mentored reap a financial benefit far greater, and are generally promoted much sooner, than those who are not.'

Peta Tomlinson, journalist
"There is no substitute for someone experienced who can point out the pitfalls and what skills you need to be successful"