The finance function is in flux. To cope with future challenges, it needs to connect with stakeholders like never before, says ACCA president Robert Stenhouse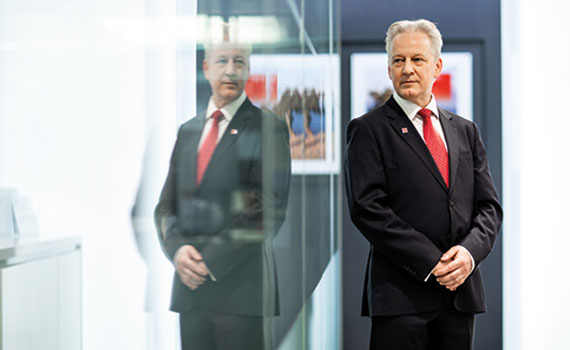 This article was first published in the September 2019 Internatiional edition of Accounting and Business magazine.
If you were given a blank sheet of paper, how would you design the finance function of the future? Where would you start and what challenges or opportunities would you see ahead?
These are some of the questions asked in the report by ACCA and PwC Finance: a journey to the future? It summarises the responses of members and PwC contacts worldwide on a number of hypotheses about the future of finance.
The report found respondents to be clearly separated into two groups: those who think change will happen but question its speed; and those who don't consider major change to be likely. The report attributes these differing views to geography and demography: respondents in developed economies appeared less open to change than those in fast-changing economies.
The points made about trust interested me a great deal. Trusted data is increasingly seen as the core of the organisation. If we are to secure value from data, we need to be able to trust it. My experience of using audit analytics is that there is often a lack of high-quality data. To secure data that will yield true insight requires consistent processes, effective internal controls and ongoing monitoring. These are core competencies in finance professionals.
Compared to other disciplines, the finance profession already has established competencies in data governance, which are underpinned by the concept of professional scepticism and ethical standards. Finance professionals therefore have a huge opportunity to apply and extend their skillsets into non-financial data.
There was a strong belief among the respondents that the CFO would remain central to the organisation, but that risk management and having a holistic view is increasingly important. Many saw the need to manage internal and external stakeholders as increasingly significant. With financial skills spread across the organisation, the impact on the CFO as the strategic financial adviser to the board also can't be ignored.

If I had a blank sheet of paper, I'd include the recommendations in this report. I'd ensure the finance function's design is truly connected. I would ensure that it built internal and external networks, and that it communicated proactively, and demonstrated its value through building trust and sharing insights. I would also make sure ongoing learning support was part of the design.
ACCA continues to explore this notion of connections and the profession as a super-connector, so look out for further resources on this as we help develop the finance function of the future.

Robert Stenhouse is ACCA president and a director, national accounting and audit, at Deloitte in the UK.