Professor Dr Noor Azizi Ismail, vice chancellor at Universiti Malaysia Kelantan, describes working with ACCA to devise a curriculum that creates a talent pipeline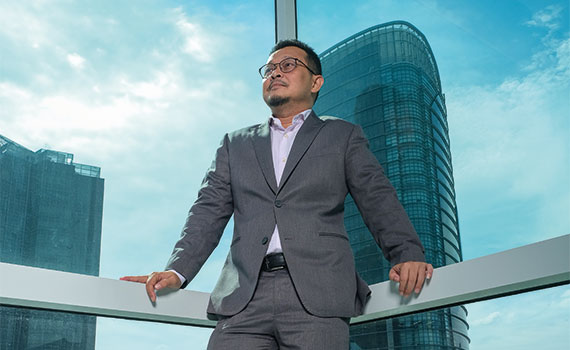 This article was first published in the September 2019 Malaysia edition of Accounting and Business magazine.
Universiti Malaysia Kelantan (UMK) bills itself as the 'entrepreneurial university'. But to train authentic entrepreneurial talent able to contribute positively to economic and social development, it has to walk the talk.
'We want to be one of the best universities in entrepreneurship. To achieve that, we first have to prove that we can run the university like a business entity,' says vice chancellor Professor Dr Noor Azizi Ismail, who was appointed on his 50th birthday in January for a three-year term.
To do this, Dr Azizi is focusing on change management and strategic collaborations to bridge resource gaps and ensure UMK's sustainability. Resetting financial mindsets is fundamental to UMK's long-term success. As government funding for higher education has been slashed in recent years, universities have been urged to spend more prudently and diversify funding sources.
'We are being very cost-conscious and creative in optimising our resources by using methods such as outcome-based budgeting,' explains Dr Azizi, who notes that UMK has carved out almost RM3m in savings from its annual operating expenditure. 'We are always thinking about how to generate more income,' he adds.
Other than merely depending on the tuition fees as its main source of income, other strategies include collaborating with external parties to stretch resources and monetise UMK's research assets. So far this year, UMK has inked 30 memoranda of agreement (MoA) with different stakeholders globally and locally.
Milestones include an agreement with OEW Group, where the biopharmaceutical company pledged to invest RM3m for a two-year joint research project This covers the establishment of an incubator lab at the UMK Jeli campus for high value-add research into micro-algae; transfer technology including farming techniques to local micro-algae producers; and opportunities for UMK's staff and students in the bio-industrial technology programme to work in micro-algae.
UMK has also inked an agreement with the University of Seoul to jointly fund research on water quality in Kelantan's Jeli district, transfer technology and share best practices. The university has even signed an MoA to explore how to unlock and add value to Kelantan's rich mineral deposits. Another is an MoU with China Agriculture University, a leading university in agriculture, to work on smart farming.
Elsewhere, UMK is working to diversify its customer base by inviting other bodies and schools to leverage on the university's entrepreneurial education. UMK has begun offering technology-based enterprise training and degree programmes to candidates from other agencies such as Majlis Amanah Rakyat and technical and vocational diploma-holders from the human resource department's training institute.
The institution will also run technology-based programmes at its business incubator with the Malaysian Technology Development Corporation, while the agency will help commercialise UMK's technology-based products and services.
Strategic partnerships aren't just a means to monetise but a fast track to increase UMK's market recognition as a high-quality institution for entrepreneurial education. Drawing on his experience as founding dean of the respected Othman Yeop Abdullah Graduate School of Business at Universiti Utara Malaysia (UUM) – where he engaged with the likes of the Harvard and IMD business schools – Dr Azizi is steering UMK to partner with leading institutes and organisations in Asia and Europe for benchmarking and to gain global accreditation. This includes gaining international accreditation from the Accreditation Council for Entrepreneurial and Engaged Universities to certify UMK's business and entrepreneurship programmes, and working with ACCA Malaysia to professionalise UMK's accountancy education programmes.
During his stint as the deputy director general of higher education, under the Ministry of Education, Dr Azizi staunchly supported the idea of universities offering dual accounting degrees with professional qualifications, 'to make accountancy graduates more marketable and relevant'. At UMK, the proposal is being implemented together with ACCA Malaysia and has received ministry approval.
'We don't want to offer a normal accounting degree. Instead, we are developing the curriculum together with ACCA to embed entrepreneurial and professional qualities,' he says. 'We want to get industry players to come in and expose students to business and the profession from the beginning, to produce more professionally qualified accountants.' Equally important, he adds, is to upskill lecturers and expose them to ACCA training to enhance competency building.
Real-world experience
To ensure hands-on practical training, students will be permitted to carry out real accounting jobs in UMK, and there are opportunities to gain experience at local accounting firms and certified employers that have collaborations with ACCA Malaysia. Eventually, Dr Azizi also envisions UMK as a centre for training ACCA Certified Accounting Technicians in addition to producing fully fledged professional accountants, as Kelantan's economy needs accounting professionals at all tiers.
To support quality talent development and change culture and behaviours, Dr Azizi recognises the need to strengthen UMK's institutional structures and processes. Initially, he invited corporate friends who are human resource and transformation specialists to offer their services free of charge to help assess UMK and suggest solutions for addressing weaknesses and gaps. They identified trust deficit as a major challenge, which Dr Azizi is trying to address by improving communications and buy-in for UMK's direction. 'Sometimes, it is as simple as just expressing appreciation for the staff,' he adds. Dr. Azizi has also recruited new talents, including a registrar, corporate communications head and deputy vice chancellor, to oversee research and innovation; both report directly to his office.
Although Dr Azizi has clearly established his circle of competency in strategic higher education, it wasn't by design. Barred from going overseas by his parents for his undergraduate degree (he graduated with a bachelor's in accounting from Universiti Kebangsaan Malaysia in 1992), he eschewed the then Big Six firms to join UUM. The carrot? A chance to pursue his master's by coursework in Tennessee, USA. At the University of Memphis, he took five accounting subjects as well as five IT subjects, despite having 'zero IT knowledge', eventually graduating with a master's in accountancy (systems).
Bold business acumen

Interest sparked, he started exploring the subject in depth. Eventually, he trained with a global business intelligence company in what would evolve into data analytics, and even designed an accountancy information system that was recognised by the Malaysian Institute of Accountants and is still in use today. His bold business acumen was evident even then – he lacked funds for costly IT training, but bartered with the business intelligence company to train him and then appoint him as a certified trainer.
'That kind of exposure to IT-based management systems changed me – this idea that if you develop the right model, the system does the rest,' Dr Azizi enthuses. Today, wherever he goes, he is keen to integrate technology and business thinking into systems and models to make them more efficient and productive, whether in teaching, strategy or operations.
'In workplace learning, I'm challenging the faculty to reduce face-to-face teaching time from 100% to 75% and further down to 50%. The rest of the time can be spent on fieldwork and more practical things where students learn by doing. Once you change the mindset of the academicians, the change will naturally flow down to change the mindset of the students.'
A 'bulldozer' by nature, Dr Azizi is also busy breaking silos that hamper collaboration. He wants UMK's staff and students to collaborate more with both internal and external stakeholders, and is changing key performance indicators to incentivise desired behaviour. 'Close collaboration with industry can help us to address the real issues out there.'
One of his first moves was to engage UMK's faculty members teaching entrepreneurship and to push them to contact industry players. 'Call them, learn from them and bring them in to teach relevant lessons, otherwise it is all textbook,' he observes. He is also asking the science and technology faculty members to work with the business faculty and combine their strengths – for example, connecting applied research and innovation with financial management and strategic planning and operations – so that UMK can 'produce a good number of start-ups'.
Start-up culture is celebrated and nurtured at UMK; students are encouraged to do business even while in school. 'Entrepreneurship through UMK's lens is not about selling tudung [Islamic headscarves] or online reselling of products, but about adding value,' explains Dr Azizi. Currently, UMK has over 400 student-registered companies. Standouts include a briyani restaurant operator and a science student generating over RM100,000 monthly revenue from a garlic-based product. 'We are also working with Alibaba and Huawei to co-design a curriculum for an IT programme to be offered in 2020, so we can nurture more IT talents and technopreneurs.'
At present, around 5% of all UMK graduates go on to become entrepreneurs; the target is to raise this to 30% by 2023. While not all go into business, UMK seeks to instil the 'right mindset and entrepreneurial characteristics' to ensure that graduates are marketable, employable and fit-for-purpose to support Kelantan's development.
Equally critical is to change mindsets and perceptions to enable staff and students to grasp UMK's role in the big picture – which is to help drive development in Kelantan in order to support nation building. Dr Azizi envisions Kelantan as a future trading and mercantile hub thanks to its strategic location for access to the Belt and Road initiative once the East Coast Rail Link project – stretching from Port Klang on the west coast of peninsular Malaysia to Kota Bharu on the east coast – is completed. In a speech he gave in Beijing recently, Dr Azizi explained how Kelantan's proximity to Beijing, Seoul and Indochina is such that the latter's growth can spill over to stimulate the state's development and vice-versa. But structural bottlenecks have to be addressed through collaboration.
Partnerships can be in many guises – with the government and local and international players – to invest in the infrastructure needed, such as state-of-the-art ports and 5G networks, which in turn enable collaborations with the likes of Alibaba on e-commerce, Huawei on artificial intelligence, with UMK as the source of innovation and talent.

Nazatul Izma Abdullah, journalist

"Once you change the mindset of the academicians, the change will naturally flow down to change the mindset of the students"