For Tania Brown ACCA, enterprise finance lead at Amazon Web Services ANZ, a shopping trip led to the creation of both a laptop bag brand and a network for women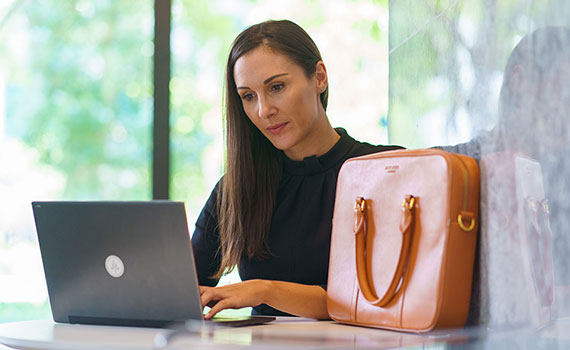 This article was first published in the September 2019 Singapore edition of Accounting and Business magazine.

Two years ago, while British-born accountant Tania Brown was shopping for a laptop bag to celebrate a promotion, she realised there was nothing in the market that catered to corporate women. 'Shop assistants kept saying to me, "Oh you can just use the one for men." I was just blown away,' she recalls. 'It was 2018. Why was it that men had this huge range of corporate accessories and women didn't? We're in the workplace, too. I kept testing the market in various countries I was visiting and received the same response.'
Eventually, she took matters into her own hands to 'design a laptop bag that looked as good as any other handbag: sleek and stylish, yet functional at the same time'. What began as a sketch on the back of a napkin soon escalated into a search for a manufacturer. 'The next thing I knew, I found myself in Shenzhen in China with an interpreter and a driver, visiting 20 factories over four days.'
Jacq Leigh, a line of women's leather laptop bags, was officially launched in April. But, Brown explains, creating the business was not just about the bags; it also enabled her to develop a much-needed platform for businesswomen to celebrate their successes.
'I remember being at a women's networking event where we were asked to stand up and talk about our proudest moment,' Brown recalls. 'After one of the ladies spoke of her achievements, the 30-plus people in the room looked to the next person, as if to hurry the room along. That moment stuck with me. I've seen it time and time again, women finding it uncomfortable celebrating their successes, or even admitting that they are successful.'
'What I really wanted was not only for women to be able to buy a beautiful bag but to also be able to share their stories and encourage each other.'
In conjunction with the launch of the bags, Brown – who is also enterprise finance lead with Amazon Web Services ANZ in Sydney, Australia – has established the Jacq Leigh Network – a LinkedIn-based network connecting like-minded women through shared experiences and relevant knowledge.
Strong network

'I've been really lucky in meeting some incredible women who have pushed me and encouraged me to achieve anything, and helped motivate me to do the things that I want,' Brown says. 'Surrounding yourself with the right people is definitely a key to success.'
Brown's route to becoming an accountant was hardly typical, especially as she dropped out of college after just three weeks. 'My mum, as you can imagine, was less than pleased, saying "you're wasting your talent; education is so important,"' Brown recalls. 'I remember looking at her and replying "It's going to be okay; I still want to learn but I want to do it my own way". I felt really compelled to prove that you can be successful taking the unconventional route.'
Wanting to be able to work and learn at the same time, Brown secured an internship at American Airlines as an accounts assistant, where she completed the equivalent of A levels a year early. There, she got the idea to study with ACCA. 'I remember really looking up to the female CFO and thinking, "Okay, I want to be like her. What do I do?"'
She says that at 17, she applied to ACCA but was rejected as at that time the minimum age was 18. Not willing to take no for an answer, she wrote a letter explaining why she shouldn't have to wait and was subsequently let in to the programme early.
'I loved the fact that my employers were willing to sponsor me to learn,' Brown says. 'I was not racking up debt, receiving an income and would come out with a reputable qualification equal to a degree or higher.'
The other thing about ACCA that appealed was its flexibility. Brown took just over seven years to attain the ACCA Qualification as she wanted to focus on gaining practical work experience, spending some time travelling and passing her exams well.
'I didn't just want to pass the exam,' she says. 'I wanted to actually retain the knowledge so I could use it. That's come in handy starting a business and remembering how to do double-entry bookkeeping, which I haven't done for 10 years.'
In the end, she proved she had made the right decision, having managed to climb the corporate ladder, spend a year travelling, move countries twice and still qualify with the second highest ACCA score in Australia.

Painstaking prep
Launching the Jacq Leigh online store took Brown 18 months of painstaking prep work alongside her full-time duties as a director at CBRE Singapore, where she worked before joining Amazon Web Services ANZ.
This included designing the bag, building the website, managing logistics and marketing the brand. Even with her partner now working full time with the business, Brown says that practically all of her time outside of work is devoted to Jacq Leigh.
'I realised I had to make choices with my time and say no to things,' she says. 'I had to be incredibly strict with how I spent my time. I also needed to reorganise my priorities and identify tasks that could be outsourced.'
Accordingly, she sat down with her partner to map out their strengths and weaknesses and figure out who they could bring in to complete the picture. While her ACCA background means that the finance and legal aspects of the business come naturally, there was still a huge amount of knowledge needed to bring the brand to life.
'We identified the gap in skill lay with the branding and marketing side of the business, so we brought in someone who complemented that skill set and could bring our vision to life.'
Brown also leveraged her tech knowledge to formulate strategies for streamlining the business. 'Automating the whole logistics flow was something that was very much set in my mind from day one,' she says.
One such step has been to implement a dropship model where products are held in the factory, packed and then shipped straight to the customer – which is not the way that Chinese factories usually operate, Brown says.
Ultimately, despite the numerous challenges, she stays positive by reminding herself that if it was meant to be easy everyone would do it. 'When it gets to that point when you feel like quitting, I always say, "Let's rest, not quit." Just take a day, breathe, rethink and come back,' she says. 'Everything's manageable and solvable.'
This attitude has certainly helped her in being able to give her best to both her full-time job as well as Jacq Leigh. 'I've always liked being under pressure and stretching myself; I thrive in this environment,' she says. 'Starting Jacq Leigh has given me a broader business knowledge that I would not have got in my day job.'

Rufus Tan, journalist
"I've seen it time and time again, women finding it uncomfortable celebrating their successes"