The Global Reporting Initiative's updated standard on waste management will help companies better measure their impact and encourage creative solutions to the crisis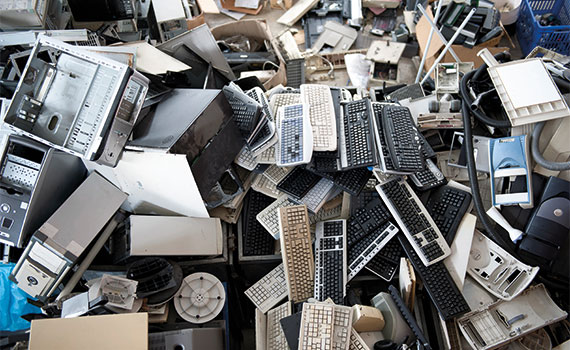 This article was first published in the October 2019 UK edition of Accounting and Business magazine.
Businesses globally could save US$1 trillion annually through better resource management, according to analysis from the United Nations Environment Programme and the International Solid Waste Programme. But that is just one of several reasons why waste should be tightly controlled: corporate reputation and investor concern are other factors, while reporting standards are also an increasingly important pressure.
The Global Reporting Initiative (GRI) is in the process of updating its effluents and waste standard. At the heart of this is the move towards the circular economy: avoiding waste disposal by reusing and recycling materials. GRI describes this as 'a fundamental shift in the perception of waste – from an unwanted burden to a source of valuable materials'.
Changes to the previous standard reflect, says GRI, best practice in waste management and the input of stakeholders. These include a stronger relationship between materials and waste; an emphasis on waste generated in the value chain; recognition of the positive role of solution providers; and reporting on waste streams. The proposed new standard would remove the need for disclosures on the transportation of hazardous waste, recognising that there is insufficient information to assess the impact of this.
'The draft GRI Waste Standard recognises that our linear, "take-make-waste" approach is contributing towards a global waste crisis,' says Judy Kuszewski, chair of the GRI Global Sustainability Standards Board. 'As the world moves to a more circular economy, in which we treat waste as an input material for production, a new approach to reporting is needed. This standard will help companies better understand and measure their waste impacts, disclosing reliable and comparable data that ultimately supports better decisions. It also encourages creativity and lateral thinking – something that's needed to tackle the issue internationally.'
While the Environmental Services Association (ESA), the sector's UK trade body, was not involved in developing the new standard, it supports the measures. 'Better measuring and reporting of waste can only be a good thing,' says ESA spokeswoman Anita McCarthy. 'Consistent, reliable data on waste flows is critical to drive investment in infrastructure and ensure we extract the maximum amount of value from the waste. Already a duty of care requires businesses to take due diligence when managing their waste. Understanding the national legal requirements must complement the use of any voluntary standard.'
Monetising waste
Regarding 'waste' products as a resource rather than as items to be put in the ground is transforming the waste management sector. The Waste Management Market Overview estimates that the global waste management industry's turnover in 2017 was around US$300bn and is poised to expand at an annual rate of 6%, to reach nearly US$500bn by 2025.
Grant Thornton's 2018 Annual waste and resource management review concluded that in the UK the industry employs more than 70,000 people and has a turnover in excess of £9bn. The sector's reorientation towards resource reuse has driven a big rise in merger and acquisition deals, the firm says.
The potential to increase the extent to which waste is recycled is clear. Many offices, for example, still use single-sided printer options, print emails unnecessarily, use disposable cups and don't have recycling bins.
Significantly, the tipping point has now arisen in the UK and many other countries where the financial cost of disposal now exceeds that for having effective systems in place to recycle. With landfill tax standard rates in the UK rising to £94.15 per tonne from April next year (£3 per tonne for the lower rate, for inert waste) – plus collection charges – companies can and should achieve significant savings by investing in better resourced recycling systems.
The Chartered Institute of Procurement and Supply says that for many businesses, waste disposal costs can equal 4% to 5% of their turnover. Veolia's waste management business in the UK has pointed out that it has 'now reached a stage where it is much more expensive to send waste to landfill than it is to recycle'.

Behaviour change
Changing consumer behaviour is also driving corporate action. Unilever has turned many of its leading products – including Dove, Persil and Wall's – into 'sustainable living brands', with ethical and social purpose commitments that include halving their environmental footprint. The group says these product ranges are growing 69% faster than the rest of the business and delivering 75% of the company's growth.
Unilever is now engaged in meeting even more demanding targets, including reducing waste associated with product disposal by half within two years and ensuring that all its plastic packaging will be fully reusable, recyclable or compostable by 2025.
Increasingly, the approach of companies like Unilever will be seen not as unusual, but the norm. Reporting standards may play an important role in that transformation.

Paul Gosling, journalist
"As the world moves to a more circular economy, in which we treat waste as an input material for production, a new approach to reporting is needed"