Technology companies are increasingly represented among mainland China's rising corporate stars – and many have international aspirations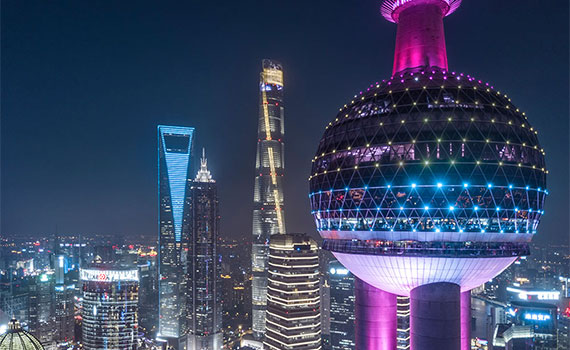 This article was first published in the October 2019 International edition of Accounting and Business magazine.
Over 20 industries are represented in the 2018 edition of China's next 100 global giants, with manufacturing remaining the dominant activity of participants. However, companies in the computer and internet-related sectors have become much more prominent, claiming 42 of the top 100 spots – an increase of 50% from the previous 2016 ranking. Within this group, 24 are computer and telecoms businesses, 10 are software and IT companies, and eight are internet enterprises.
The researchers, from ACCA and the Shenzhen Finance Institute, believe that one or more companies on the latest ranking of rising stars could grow into a 'BAT-sized company' – where BAT represents the established giants of technology company Baidu, e-commerce major Alibaba and internet services business Tencent.
In fact, Yangtze Optical Fibre and Cable (YOFC), which tops the 100 global giant ranking for 2018, received a final score very close to that of Tencent. YOFC produces optical fibres and optical fibre preforms, claiming as much as 10% of the global market.
Two furniture businesses take second and third place in the 2018 ranking: Suofeiya Home Collection and Jason Furniture (Hangzhou), respectively. Apart from one pharmaceutical company, high-tech businesses dominate the rest of the top 10, including one laser technology firm, two computer companies, one internet enterprise, and two software and IT services companies.
Selection process
The research team analysed nearly 3,000 private enterprises (ie not state-owned) listed in mainland China and elsewhere. ACCA has previously collaborated on two similar projects producing rankings for 2014 and 2016.
The current focus on private businesses recognises the strength of China's private economy, which contributes to more than 60% of GDP and represents more than 90% of all enterprises in China. Only listed companies were considered, on the grounds that a stock exchange listing indicates that a company has prepared effective financing channels to support further growth. Listed companies also have a natural advantage in terms of data availability, credibility and comparability.
Most of the companies among China's next 100 global giants have chosen to list on either the Shenzhen Stock Exchange (51) or the Shanghai Stock Exchange (33). However, nine are listed in the US (three internet-related businesses on Nasdaq and six other businesses on the New York Stock Exchange). Seven companies have joined the Hong Kong Stock Exchange.
The researchers considered a range of 11 indicators to identify future corporate stars – five measuring companies' historical performance and six predicting their potential future growth. The companies with better overall rankings typically had higher scores in relation to five of the indicators: their corporate scale (determined by sales revenue), growth rate, cashflow, overseas strategy and media opinion.
Having identified the top 130 companies – those with the highest average score across all 11 indicators – the largest 30 enterprises were eliminated. Having already become industry leaders, the aim of the project was to identify the potential global giants of the future, resulting in the removal of famous names such as Alibaba and Tencent.
What makes a top 100 company?
Looking at the most important indicators, the top 100 companies are large or above average-sized enterprises. In 2018 they had average sales revenue of RMB6.6bn (US$1bn), substantially higher than the average of the companies identified in 2016. The average sales revenue growth of the companies in the latest list reached 34%, again higher than recorded in 2016 – and a notable achievement given the slowdown in China's overall economic growth.
The average cash flow score was the highest among all 11 indicators. As the report notes, a sustainable and stable cash flow is an important factor for companies to be able to compete globally, handle economic crises and achieve further growth.
Almost half (49) of the top 100 companies scored 90 or more for their overseas strategy. Most of the companies in the 2018 ranking are already leaders in their domestic market and have begun expanding globally in recent years. For example, seventh-ranked Shenzhen Sunway Communication, a specialist in radio frequency technologies, has overseas branches in the US, Japan, Korea and Sweden in order to maintain close communication with its clients' engineers and stay aware of latest designs.
As the report highlights, China's 'go global' strategy and Belt and Road initiative are encouraging Chinese enterprises to make global investments, accelerating the process of their internationalisation. In 2017, over 25,500 Chinese enterprises participated in Chinese outward direct investments, which increased in value by 33% from 2016.
When assessing media opinion, the researchers considered both 'news opinions' (using machine learning and natural language processing to label sentences in news reports as positive, negative or neutral) and 'media coverage' (based on the number of news reports on the company during the past three years). The top 10 companies in the 2018 ranking had an average score of above 90 in the media opinion indicator, showing they generally receive favourable news reports.
Where in China?
From a geographical perspective, companies in the top 100 are unevenly distributed across mainland China, with their headquarters mainly being located in the first-tier cities and coastal provinces. The four regions with the biggest concentration are Guangdong (25), Zhejiang (25), Beijing (13) and Shanghai (seven). Companies also tend to be based in the major cities of their respective provinces, such as in Shenzhen, Hangzhou and Taizhou. Few come from the central and western regions, reflecting the underlying disparity of China's economic development across different geographical areas.
Sarah Perrin, journalist