Group finance director Aneal Maharaj FCCA shares his passion for Trinidad and Tobago's largest conglomerate and his thoughts on scope for further growth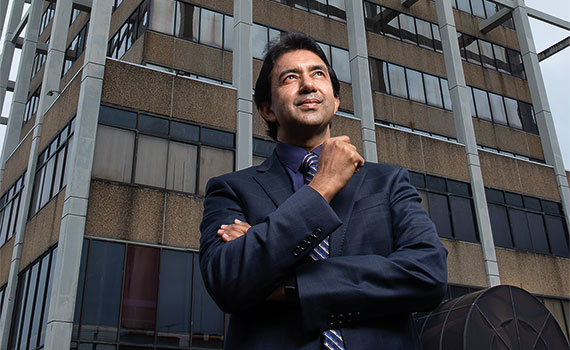 This article was first published in the October 2019 International edition of Accounting and Business magazine.
Aneal Maharaj FCCA, group finance director of the largest conglomerate in Trinidad and Tobago – the ANSA McAL group – which is also a key player in the Caribbean region, has aligned his personal professional ambitions with his company's goal of sturdy sustained growth.
Maharaj claims that ANSA McAL, which already deals in a wide array of goods and services, is only operating at 75% of its capacity. He says that with planned business development and acquisitions, it is poised to progress further. 'If we can optimise every part of the group, that alone will push us way ahead of our targets,' he says.
The group is experiencing significant growth anyway – faster than the regional economy it operates within, where some economists forecast that Trinidad and Tobago will grow at 1.5% in 2019. Maharaj believes that ANSA McAL's base businesses – which span media, beverages, non-food manufacturing, retail and finance – have the potential to expand by 25%, although he doesn't commit to the projected timescale for this growth. This will involve capturing market share, acquisition and research to bring new products to the market.
Maharaj, borrowing a line from the conglomerate's corporate anthem, explains that despite the office he holds, there will always be opportunities for him 'to do better, better, better'.
On his way to this senior position, the Trinidadian turned down the offer of two higher education scholarships – one to study science; the other, business. Immediately after completing his advanced level studies at school, he opted to go into the workplace. His first job was shredding paper at Deloitte predecessor firm Touche Ross. His eight years of employment at the company helped Maharaj to pay for his ACCA courses and secure his qualification. It is this qualification, he says, that helped him to become more well-rounded, sharpening both his understanding of accounting and the world of business.
During his studies, Maharaj admits he failed some tests, but that helped him by increasing his determination to succeed.
Jobs in the US, UK and Trinidad followed, before he joined ANSA McAL 11 years ago. It was his first job for a Trinidad and Tobago-owned company, which he describes as being 'an amazing place to work'. Maharaj says he not only loves his job but is humbled by his responsibilities and role at ANSA McAL in serving and supporting the group.
Although ANSA McAL is based in the small twin-island republic, it is a formidable company, with 6,000 employees and more than 60 subsidiaries, and with presences throughout the Caribbean and the US. This makes for complex work for the group FD, who oversees the finances of all 73 companies across more than eight territories in the ANSA McAL portfolio. Maharaj says his ability to do this is helped by the group's super-efficient structure. 'Proper governance is the glue that causes everything to stick and is what connects all the businesses together,' he says.
Maharaj stresses the importance and excellence of an inhouse team specialising in performance analysis and the structuring of transactions, which generate group-wide financial information, offering insight to the board to help position the group for the future.
ANSA McAL is a family-built business that can date its origins back to 1881, when cocoa exporter Geo. R Alston & Co was established. A series of takeovers and mergers culminated in ANSA McAL being established in 1986, following the acquisition of McEnearny Alstons by Anthony Sabga, a Syrian immigrant. This led to Ansa Industries, which was owned by Sabga, being merged with McAL to form ANSA McAL Ltd, which is still owned by the family – something that is clearly an important aspect to the conglomerate because the company's motto is 'together we are family'.
Maharaj says the company is careful about recruiting the right talent – employing people who have the 'right fit to the ANSA McAL way of doing business'. He says: 'When we recruit, there are different things we look at. One is obviously the technical competency of the individual, but that's not the whole picture. Also important is that the person can work in a team, can collaborate, has attention to detail, can inspire others to deliver exceptional work – that is what we look for.'
Maharaj himself learned the value of teamwork in his extensive experience in business advisory roles and in the energy sector, working his way up from a commercial tax manager at BP Amoco to the position of VP finance and commercial at BHP Billiton. However, despite the excitement and variety of these international positions, he admits to feeling most at home working for ANSA McAL. Like his ACCA training, the company has been instrumental in helping to mould him: 'ACCA is a way of being, ANSA McAL is a way of being,' he says.

Melissa Williams-Sambrano, journalist in Port of Spain
"Proper governance is the glue that causes everything to stick and is what connects all the businesses in ANSA McAL together"