Devanesan Evanson FCCA talks about his role as CEO of the Minority Shareholders Watch Group and the organisation's vital role in enhancing activism in the boardroom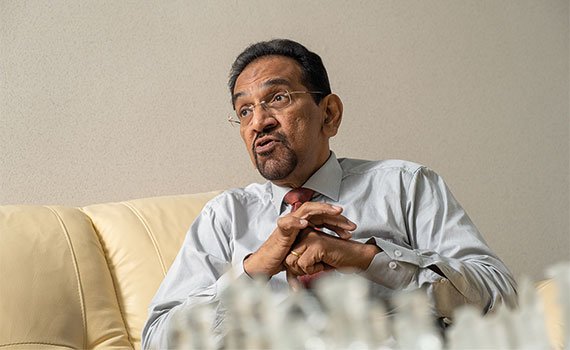 This article was first published in the October 2019 International edition of Accounting and Business magazine.
Devanesan Evanson's 18 years at Bursa Malaysia, coupled with his accounting and finance experience and law qualification, meant that he didn't take long to consider the offer to head up the Minority Shareholders Watch Group (MSWG). 'It was something that was close to my heart as it involves the capital market,' he says. 'There was no strange jargon or language to be learned so I decided to give it a shot.'
Devanesan has hit the ground running since he assumed the CEO role in 2017. 'It's been a pretty exciting ride so far, as I get to attend AGMs and see first-hand the type of questions that are being asked and the boards' reactions,' he says.
He retired from Bursa Malaysia, where he headed both regulatory and market operations, in 2010, and says that his tenure provided substantial context for his work at MSWG. In particular, he draws on the lessons of previous financial and accounting scandals from his time as chief regulatory officer.
'In that role I was able to understand what happened, the roles the directors played and where the omissions and commissions were,' he says. 'In that sense I am at an advantage when it comes to sniffing out the corporate shenanigans.'
One of his first tasks was to understand MSWG's business. 'I inherited a good organisation, but one of the most pressing challenges is for MSWG to carry out its work more efficiently and effectively: to do new things, to continue to be relevant and to be a meaningful minority shareholder-activism cog in the capital market ecosystem,' he says. 'One of the catalysts for this was funding constraints, which provided us with a kind of burning platform to reinvent ourselves.'
As part of its reinvention, MSWG came up with a three-year strategic business plan for 2019-21, which was approved by its board and later presented to the Capital Market Development Fund (CMDF) board of trustees, which provides substantial funding. 'The CMDF has approved some funding for the proposed business plan and has requested MSWG to re-present the plan with some new initiatives and new revenue sources,' says Devanesan, adding that training is one aspect that it is exploring as a revenue stream.
One of the areas he's addressed is the tightening of processes and procedures, especially in the area of corporate monitoring. 'Although people commend us for asking meaningful questions, there has also been a fair bit of criticism that we ask meaningless questions, and I was concerned about this perception, so the first thing that was addressed was the vetting of all pre-AGM questions,' he says.

Lead by example
MSWG is aware that it needs to lead by example. 'In Malaysia, there is a sizeable portion of retail investors and their approach is different compared to institutional investors,' Devanesan explains. 'Retail shareholders sometimes do not see the bigger picture and may be fixated by the door gifts, the free vouchers and the food. Here, MSWG plays a part by showing retail shareholders the type of questions that they should be asking.'
Capacity building has been another priority area. 'Interpersonal skills are paramount as we attend AGMs and extraordinary general meetings, as is the ability to articulate our thoughts through questions posed to the board. This calls into action a whole host of skills, including language competency, articulation, intonation and body language,' he says, adding that the team regularly attend training sessions to equip themselves with these skills.
Equally important is staff motivation. 'There was a need to reallocate human resources to fit the various positions with the right talent,' Devanesan says. 'Being a small organisation with 17 staff, most of them are expected to multitask, and there was also a need a strike a balance between what can and should be outsourced and what should be done by contractual employees.'

Tough questions
Established by the Malaysian government in 2000 as part of a broader capital market framework to protect the interests of minority shareholders, MSWG's core functions include the monitoring of selected listed companies, evaluating plcs for the domestic corporate governance awards and the ASEAN corporate governance awards, and promoting MSWG's corporate subscriber packages. In a year, MSWG actively monitors 300 companies, typically holding 100 shares (one board lot) in each plc in order to have the right to attend AGMs and asks questions. Devanesan explains that MSWG focuses on two areas: business operations and corporate governance.
'For business operations we peruse, among other things, the annual reports, the announcements made by the listed companies and media reports. For corporate governance, we peruse especially corporate governance statements,' he says. 'We try not to tell the plc how to run their business but will not hesitate to point out corporate governance lapses. Another area that we focus on is the financial statements where we continuously raise questions and seek clarifications.'
By and large, Devanesan feels that there is an increased level of shareholder activism in Malaysia. 'There will always be trivial questions because a portion of these minority shareholders, especially the retirees, just come for the door gifts, freebies and food,' he says. 'But we measure by the minority shareholders who ask more relevant questions – and this is increasing.' He adds that although minority shareholders and MSWG may not be able to defeat resolutions due to their minimal shareholdings, the fact that they are holding the boards accountable by asking the hard, pertinent questions will make boards more diligent.
'We can't move mountains; I guess the closest that you can come to a big win is when the resolution is passed but with a reduced majority. Concurrent press coverage of such activism will further enhance good corporate governance as the publicity will not put the wanting plc in a good light in the eyes of investors and regulators,' he adds.
That said, Devanesan believes that there is room to grow where shareholder activism is concerned and there is a role to be played by all stakeholders. Institutional investors – including the Institutional Investors Council Malaysia, for example – have played an important role in shareholder activism, says Devanesan. 'They are now prepared to articulate their displeasure at the general meetings, hold boards accountable and vote against resolutions that they are not happy with. Previously when institutional investors were not happy, more often than not they quietly sold their shares and went away,' he says, adding that Bursa Malaysia also plays an important role: 'They are the front-line regulators of the plcs and as such they bring about the regulatory discipline. The Securities Commission, as the statutory regulator, also exercises vigilance on the capital market and plcs themselves are expected to have the right self-discipline.'
On issues such as ethics and sustainability, Devanesan observes that the former is prioritised by both retail and institutional investors, especially in cases where directors are drawing high remuneration when the plc is making huge losses and no dividend has been declared. 'When it comes to sustainability, institutional investors are buying into this in a bigger way but the traction is slower with minority shareholders – they are more fixated with what can fill their pockets, basically the share price accretion and dividends,' he says, adding that MSWG is increasing its questions on sustainability issues at AGMs and hopes to encourage other retail shareholders to appreciate the relevance of sustainability. 'It is every person's responsibility to make the world a better place for future generations.'

Heightened vigilance
Although Practice Note 17 (PN 17) companies have been on MSWG's radar, Devanesan says that the organisation may need to review its monitoring. 'We started to cover PN 17 plcs because their shareholders were at greater risk, but we also appreciate that they are distressed companies, which have to come up with a regularisation plan to the satisfaction of the regulators,' he says. 'We appreciate that there are not many meaningful questions that can be raised while they are in the process of formulating a regularisation (business) plan for regulatory approval.
'Going forward, we may need to be a bit more discerning in deciding whether we want to monitor all PN 17 plcs; after all, the very tagging of a plc as PN 17 puts shareholders on notice that that plc is a distressed plc and shareholders must beware. The monitoring of these PN 17 companies may be viewed as an "overkill" since they are in the process of coming out with a regularisation plan for regulatory approval.'
Although monitoring will be on a case-by-case basis, Devanesan says that certain foreign companies listed on Bursa Malaysia will come under MSWG's scrutiny, adding that nearly all of these companies currently in their sights are distressed. 'We felt that shareholders of these plcs were at heightened risk. What we have realised over the year is that these plcs have a multitude of problems and are riddled with many issues.'
Devanesan concedes that this heightened vigilance is not peculiar to Malaysia, adding that its neighbours are not immune. 'Singapore also has its fair share of problems. But I think the important thing is that the regulators are learning, too, so going forward they will be extremely careful to not let just any foreign-based company list here.'
As to why these companies are so problematic, Devanesan is uncertain. 'I don't know if they came with the intention of being problematic. The regulators find it difficult to handle them because they are often incorporated overseas, their business are overseas, and most of their directors are foreign nationals so a whole host of jurisdictional issues come into play,' he says. 'The best way to handle these plcs is to set up a regulatory task force to focus on these companies to either rehabilitate or eradicate them.
Devanesan notes that there are not many minority shareholders in such companies, 'except for those who really like the adventure and the risk because we – and the market – have tagged them. Enough has been written about these companies already, so it's a case of not just buyer beware but be extremely wary.'

Sreerema Banoo, journalist
"We try not to tell the plc how to run their business but will not hesitate to point out corporate governance lapses"