Samuel Wang Hongbo FCCA, CIO at CMB International Capital Corporation, explains why his gatekeeping role means that he must constantly think outside the box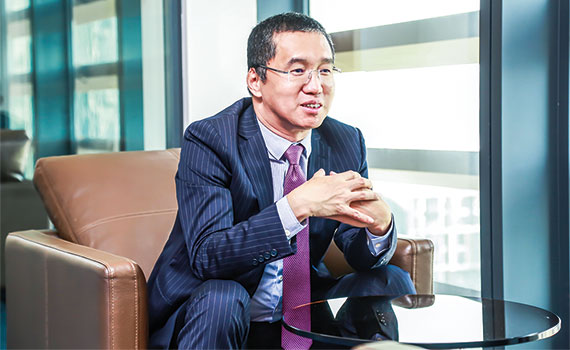 This article was first published in the October 2019 China edition of Accounting and Business magazine.
Samuel Wang Hongbo, chief investment officer at CMBI Capital, started his career as an auditor. But he also understands that to be a successful investor, one has to think outside of the accounting box.
In recent years, CMBI has been considered one of the top private equity investment institutions in China in terms of investment performance. The wholly owned subsidiary of China Merchants Bank has invested more than CNY20bn (US$2.8bn) in the past four years.
'Our daily work is to go out to seek and screen appropriate targets, then invest money in them,' says Wang. 'We have rather concentrated investors: we manage funds from the bank and from the National Council of Social Security.'
Wang and his large team are always on the hunt for new investment projects, but the buck stops with him to determine whether they're worthwhile.
'My job is to first do a preliminary assessment and decide whether a project will be presented at the project initiation meeting or not,' says Wang. 'If I do give it a pass, then the investment committee members will vote on whether it can be established and enter the due diligence stage.'
Wang continues to act as a gatekeeper, meeting the management of the target companies in person, which makes up the majority of his work and sees him travelling between Beijing, Shanghai and the Yangtze River Delta. He believes that building personal relationships is crucial, so he often has several meetings scheduled with CEOs on a typical work day. Wang usually meets up with the CEO of a potential target company once or twice before making an investment decision, 'so there is a lot of pressure and we're constantly making decisions'.
'It is very important to select the CEOs who share our values,' he explains. 'Our investment is more like a marriage: we are likely to be tied together for many years, so we must choose the right people.'
Wang, who graduated in 1991 in accounting from Nankai University in Tianjin, is quick to admit that decision-making was not one of his strong suits in the past. 'When I was young, it was never easy for me to make choices,' he says. 'But in this business, someone has to make the final call, and I have to make decisions every day, which is probably the most challenging part of my job.'
An auditor by training, Wang says that risk detection has become second nature to him. 'Having gone through all that professional training, I'm very sensitive to risks and any unusual financial data,' he says. 'It has become a part of me.'
Keen eye for character
As indispensable as financial data are in an investment project, even more important is a keen eye for character and personality: 'to know what kind of entrepreneurs you are looking for,' Wang explains. 'You will find that the entrepreneurs we work with tend to be straightforward, low-key and focused.'
Wang notes that entrepreneurs who take a straightforward approach are easier to communicate with and more focused on developing their products or services. Additionally, the culture and values of a company are also important factors to consider.
CMBI has invested in numerous industry leaders, including Uber's Chinese counterpart Didi Chuxing, group buying website Meituan-Dianping, technology firm DJI and courier company Yunda Express. In particular, Wang led the investment in the Fujian-based battery maker Contemporary Amperex Technology (CATL), a company that has grown to be the world's biggest electric vehicle battery manufacturer in under a decade. CMBI invested CNY1bn (US$150m) in CATL in 2015, followed by an additional CNY3bn in 2016.
'We seek tech-driven companies that have a competitive edge globally,' says Wang, who was one of the first investors to see the potential of the power battery industry.
CATL focuses on the R&D, production and sales of electric vehicle battery and energy storage battery systems. It is a supplier for brands including Daimler, BMW, Volkswagen and Honda. In 2018, the company announced plans to build a new factory in Germany.
'CATL now powers more electric vehicles than any other battery maker in the world,' says Wang. 'We're very proud to be its lead investor because we were able to see the potential of the battery industry in China and contribute to the transformation of that industry.'
Looking at future opportunities in the market, Wang highlights the domestic demand that the Sino-US trade dispute could generate. 'The trade war is not just about tariffs: it's heading to populism,' he says. 'Globalisation has reached a certain point where it is going backwards, which could hurt the world economy.'
Domestic focus
As the country tightens monetary policies, Chinese investors are likely to look into industries where tech-driven home players can shine. For example, he says, if China's import and export chain of electronics breaks and its companies are not able to import chips from or sell finished products to the US, they will have to find a way to innovate domestically.
'We will look for good chip developers in China, or companies in high-tech spaces like 5G,' says Wang. 'I believe that China will enter a new stage within the next 10 years where we are self-sufficient in certain key areas.'
Wang notes that the slowdown of economic growth, paired with trade disputes, has also added investors' risk aversion. 'The economic slowdown means overcapacity, so you have to carefully choose your investment direction,' he says. 'We may be looking at opportunities in healthcare and the consumer market here.'
With an aging population, healthcare is increasingly in demand in China. Additionally, the technological advancements in biotech have provided access to therapies, especially for cancers, that were not available before.
'Healthcare investment is undoubtedly a focus of ours in the future in China,' Wang says.
He also notes that China's consumer market is relatively large and the spending power of young people is incredibly strong, so there are many opportunities for consumption upgrading: 'We think consumption upgrade may be an area of interest for us, too.'
Combined approach
Ultimately, Wang says that for an investment to be successful it requires a combination of the skills of both business and professional accountancy. He recalls an occasion that illustrates the importance.
'We were at a year-end meeting at my previous company when the CEO asked the financial manager why the inventory turnover rate had increased. The manager instinctively said it was because sales had grown, which made the denominator of the inventory turnover rate formula bigger. This is such a typical answer coming from a financial manager, while in fact the CEO was concerned about what was driving the increase in turnover, maybe what operational measures had been taken in the supply chain.'
Wang quotes Abraham Maslow's famous law of the instrument – 'If the only tool you have is a hammer, you tend to see every problem as a nail' – to encourage accounting professionals to think outside the box.
'Modern accounting standards are the product of the industrial age,' he says. 'They are suitable for the measurement of mature enterprises but not early-stage or developing ones, especially when it comes to the valuation of a company's most important assets: its people.'
Wang notes that there is still room for better alignment of accounting standards with business practices. 'In a digital era, accounting standards cannot measure the value of digital assets such as traffic and acquired customers, and they cannot predict the shift from linear growth to exponential growth,' he says.
'For innovative enterprises, the power of accounting standards is also limited,' says Wang. 'For example, they can hardly be applied to the accounting measurement and judgment of a pioneering biopharmaceutical firm's products before their market launch, and the value of different clinical stages cannot be differentiated.'
He adds that the development of accounting standards and systems always falls behind changes in commercial practice as well as the transformation of business and technological advancement, so it is necessary to pay close attention to the practices of large enterprises.
At the same time, Wang says, taking an ethical approach is crucial for investment firms.
'We manage a large amount of funds, and our number-one slogan is to change the world together with great entrepreneurs. The goal of our team is not just about making money: we want to make the world a better place.
'We realise that we are entrusted with other people's wealth, and that we have a fiduciary responsibility,' Wang adds. 'This responsibility is not only to expand that wealth, but also to create value for society with it.
'Every project requires us to refer to our professional ethics. Every choice we make reinforces our values and lets us examine whether or not we're doing the right thing.'
Cornelia Zou, journalist
"I believe that China will enter a new stage within the next 10 years where we are self-sufficient in certain key areas"