Finance professionals can play many roles within a single organisation, thus ensuring their adaptability to whatever the future brings, IFAC finds in its latest report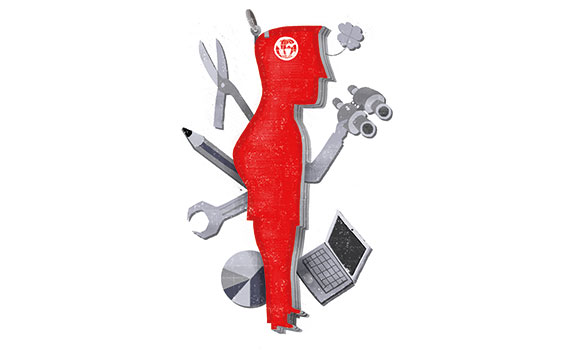 This article was first published in the November/December 2019 International edition of Accounting and Business magazine.
Having a clear sense of what lies ahead has never been more important for professional accountants in today's complex and uncertain business environment. But are these professionals taking steps to ensure they have the right mix of skills, experience and ability to anticipate tomorrow's unexpected demands? Are they future fit?
This is the question that is being posed in boardrooms around the world. EY has tackled this in a recent report, Setting the pace or keeping up – is your board future-fit? Here, the firm sets out what it believes are the actions that boardroom executives need to take to build their fitness levels so that they are not left behind. ACCA has also put forward its own findings from its 'Generation Next' research, which investigated the drivers of change and the skills that will be most needed in the future. Now the International Federation of Accountants (IFAC) has joined the debate.
Its research report, Future-fit accountants, probes the roles that CFOs and their finance functions will need to adopt over the next decade in order to remain integral to their organisations. It highlights seven identities that professional accountants will need to assume – some are familiar and lie at the core to what professional accountants do, but others may be less familiar to many. But it is these roles that will ensure they set the pace rather than follow the pack.

Co-pilot, navigator, protector
The first role is of co-pilot. Sitting alongside the CEO, the CFO will be actively involved in all significant business decisions and major initiatives to drive change and growth in the organisation. Ready to take over the controls at a moment's notice, the CFO will be required to inspire and lead others outside their own immediate finance teams. As Sanjay Rughani, CEO of Standard Chartered Bank in Tanzania and deputy president of IFAC, says: 'As a co-pilot, the CFO will have great chemistry with both the CEO and business heads. The CFO will not only contribute to strategy but will drive the strategy.'
The second role is one of navigator, someone who can steer an organisation toward value creation and sustained profitability by providing what IFAC describes as 'decision-relevant and actionable insights'. The navigator will identify trends and uncertainties, opportunities and risks, trade-offs and implications through scenarios, forecasting and the use of predictive analytics.
'I draw heavily on my accounting skills and understanding of the organisation's business model to offer a breadth of view and insight that others in the organisation find difficult to assemble,' explains Stuart Chaplin, Shell Trading & Supply's vice president of risk management. 'Finance professionals are effectively the spider in the web who can connect the organisation and steer outcomes to a higher level in terms of value delivery.'
Third on IFAC's future-fit list is the role of brand protector. This is not necessarily seen as a crucial part of the professional accountant's job description, but that will change in the future as they are called upon to protect the organisation and its reputation through the stewardship of tangible and intangible assets, and financial and non-financial performance. As IFAC says in its report, professional accountants will do so through effective governance and control, taking into accountant key stakeholder expectations and social licence to operate.
'Maintaining the reputation of an organisation is not just a marketing activity,' says Khalilullah Shaikh, CFO at Pakistan International Airlines. 'It requires strong governance processes and stewardship of a company's financial and non-financial data and assets, taking into account the expectations of all stakeholders, including the public.'

Storyteller, tech enabler, trusted professional
Next is the role of storyteller. A future-fit accountant will be able to enlighten internal and external stakeholders about the organisation's narrative, how it creates value, the opportunities and the challenges it faces. Such a role transcends any one position, but the professional accountant is well placed to deliver a company's narrative using data, insights and experiences to effectively convey meaning, and provide understanding and foresight as well as hindsight.
PVS Jagan Mohan Rao, a member of IFAC's Professional Accountants in Business Committee, picks up the story: 'This kind of storytelling will enhance the knowledge of the directors and the board members, which will help them do better and ultimately the company will do better.'
The fifth role that a future-fit accountant will need to develop is that of digital and technology enabler. IFAC says such an enabler allows a 'cognitive and data-driven business that utilises digitalisation, including automation, artificial intelligence and data, in ways that drive decisions and growth'. But it will require effective collaboration with information and technology experts to enhance existing systems and tools and seize new opportunities that can boost productivity and deliver value.
'The fourth industrial revolution is forcing rapid evolution of business models, and in order to remain competitive, companies must become digitally savvy,' says Daniel Monehin, a former vice president at Mastercard. 'I am able to combine the skillset of being an accountant with the skill of partnership with customers.'
Being a process and control expert is the sixth area. While digitalisation is disrupting existing processes, a future-fit accountant will be able to reconfigure processes within and beyond finance to drive efficiency and add greater value to customers. 'If you have an outstanding process, every employee in that process is above average from a customer perspective,' says Larry White, executive director of the Resource Consumption Accounting Institute.
Final, and arguably the most important aspect in today's environment, the future-fit professional accountant will be the trusted professional. As Wendy Yung, audit committee member of the Hospital Authority Hong Kong, says: 'From my experience, professionals build trust in three ways: they maintain high professional ethics, they keep a balanced view, and they are forward-looking.'
Not every professional accountant will need to take on each of these roles, nor are they mutually exclusive, but IFAC believes that each one will ensure the accountant remains relevant in the future.

Philip Smith, journalist

"Finance professionals are effectively the spider in the web who can connect the organisation and steer outcomes to a higher level"