In the parched confines of Australia's biggest city, Sydney Water CFO Kevin Jones FCCA has energised water sustainability by transforming procurement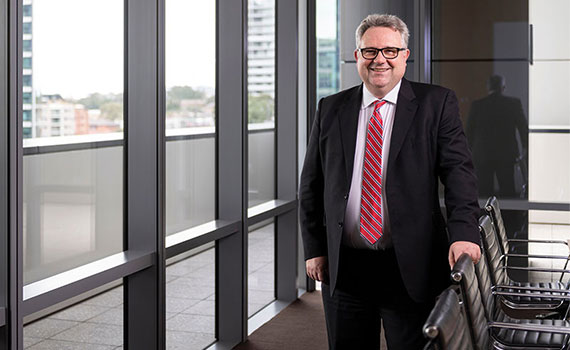 This article was first published in the November/December 2019 China edition of Accounting and Business magazine.
Kevin Jones is no stranger to courageous career choices, but accepting an executive role at Sydney Water two years ago may have been his boldest move yet. He and his colleagues have the job of supplying water services to Australia's largest urban area, with a growing population and an unpredictable climate.
After Antarctica, Australia is the driest continent on the planet, and it's getting drier. Record-breaking temperatures and low rainfall have turned up the heat on the institutions responsible for storing and supplying the nation's water. Every Sydneysider seems to have an opinion on how the city's water should be managed, and politicians frequently argue the matter in parliament.
What is clear to everyone is that the water authorities need to innovate and constantly seek new efficiencies. The challenge is to do more with less. 'How we service the water, how we manage stormwater, how we recycle water – it's all going to have to come together in a way that we haven't seen before,' explains Jones.
While acknowledging the severity of the current drought, Jones has confidence in the security of Sydney's water supply. 'Greater Sydney is fortunate to have a secure and affordable water supply system,' he says. 'But this drought is different to the ones we've had in the past; the most recent summer has been the warmest on record, with most areas in Australia having below average rainfall and warmer than average temperatures. That's why we're working closely with our customers – we all need to do our bit to save water.'
As well as managing the impacts of changing weather conditions, Sydney Water is responding to a growing population. The New South Wales government plans to develop Greater Sydney into a 'metropolis of three cities' – the Western Parkland City, the Central River City and the Eastern Harbour City – served by a brand-new international airport. Its current population of 4.7 million is expected by 2056 to hit eight million, half of them in the west of the metropolis.
According to Jones, this will require a whole new approach to the way the city deals with water supply and waste water. Broadly speaking, Sydney's water currently flows from west to east: water is drawn from the largest dam in the west, consumed by the population in the east, then treated before going out east to the ocean.
'The traditional way that we service water in Sydney is unlikely to match the ambitions for the west of the city,' says Jones. 'That area is routinely 10 degrees hotter than the coast in summer, receives about half the rainfall, and has about a third of the tree canopy cover.'
Finance has the answers
Jones, though, is not intimidated by the enormous challenges that Sydney Water faces. Far from it. He believes the organisation can act as 'the water master planner for the west' by collaborating with infrastructure authorities to help realise the vision of making the area productive, prosperous and sustainable.
Asked how his 160-strong finance services team can support Sydney Water's ambitious transformation programme, Jones's eyes light up. 'The key to the challenge is how we handle growth while maintaining the services we currently provide, which are world-class water and sewerage services at a price that is affordable,' he explains. 'I tend to think any idiot can deal with growth if they're prepared to spend any amount of money – that's not a challenge. The default path for Sydney Water would be just to build more sewerage tunnels that go from west to east, but the cost of those would make your eyes water. We know we need to do things differently.'
As the finance leader at Sydney Water, Jones is future-proofing the organisation by promoting financial prudence and commercial focus more broadly. 'Sydney Water is owned by the state, and we have a statutory obligation to run a successful business,' he says. 'We need to ensure the organisation is efficiently run to achieve better outcomes for our customers.'
Jones's finance services team is establishing a 'partnering for success' programme to ensure Sydney Water has the capacity and resources to deliver as demand surges in the years ahead. 'We've always had external parties working with us on planning, design and maintenance,' he explains. 'We are engaging with the market to form longer-term relationships where partners are equally bound to the performance of the assets in future. It will prevent procurement churn and reduce the huge number of suppliers we were working with previously.'
By consolidating the number of suppliers and introducing a pre-qualification framework, Jones's team is streamlining procurement processes across Sydney Water. This will free up resources to focus on service quality and affordability.
Traditionally, the CFO is seen as the defender of the status quo. But Jones is anything but a traditional CFO; he believes in driving transformation and enabling change. Adaptability has been the hallmark of his career, with his long and winding path to finance leadership beginning a world away from Sydney's harbour and beaches.
Jones grew up on a large social housing estate in Port Talbot, South Wales, during the 1980s. It was an area of high unemployment, and there were few job prospects locally when he left school at the age of 16. But he did have one ace up his sleeve: he could play the French horn. 'I packed my bags and joined the army,' he recalls. 'I describe my first job as being the youngest-ever principal horn of the Royal Artillery Band in London.'
For four years, Jones performed in illustrious London venues including the Royal Albert Hall and the Barbican. After leaving the army, he worked as a cocktail barman and an administrator in a tax office, and suffered heartache when financial constraints forced him to decline an offer to study law at the University of Oxford.
Not long after, he found himself working in the medical records department at Velindre University NHS Trust, an oncology hospital in Cardiff, South Wales. It taught him valuable career lessons about resilience and empathy, he says. 'Standing behind reception dealing with people at the worst time of their lives doesn't half prepare you for later in your career when there's bad news to give or tough conversations to have. I gained a lot of perspective from that experience.'
Passport to a new life
While working at the hospital, two things happened simultaneously that changed Jones's life. First, he studied part-time to secure a degree in humanities from the University of Glamorgan. Second, he was promoted to work in the hospital's finance department. Suitably inspired, he signed up to study for the ACCA Qualification.
'I have to give credit to ACCA here,' he says. 'Many accounting bodies only accept people who have studied accounting at university; in doing so, they miss out on so much talent. But instead of closing the door on me, ACCA made it possible for me to make the transition into accounting.'
Buoyed by his ACCA Qualification, Jones spent five years working his way up in finance roles in the Welsh civil service. But he retained his adventurous streak and one more major change lay ahead. By the mid-2000s, Australia's economy was racing ahead on the back of a mining boom, and a move there appealed to Jones. His ACCA Qualification and professional experience secured him a residency visa. He and his wife committed to the move completely, selling their home in Wales and moving 14,000km to Perth in Western Australia. Upon arrival, Jones secured a group finance manager role with Water Corporation in the Perth suburb of Leederville.
So began his enduring love affair (12 years and counting) with Australia's water sector. After Leederville, he moved another 3,500km to the other side of the continent to become CFO at Yarra Valley Water in Melbourne, in the south-east of the country, before securing the CFO role at Australia's largest water authority, Sydney Water, on the east coast.
While his career path may have been unconventional, Jones has no regrets. 'I think it's an act of cruelty to ask a 16-year-old to decide what they want to be for the rest of their lives,' he says. 'I couldn't have seen myself becoming a senior finance leader one day. But I'm glad I'm here now and I think I'm better for having had such a range of career experiences.'
Andy McLean, journalist
"Any idiot can deal with growth if they're prepared to spend any amount of money – that's not a challenge...we need to do things differently"