Technology is as much the innovation enabler as it is the productivity answer, says Sabby Gill, UK and Ireland MD of the country's biggest tech company Sage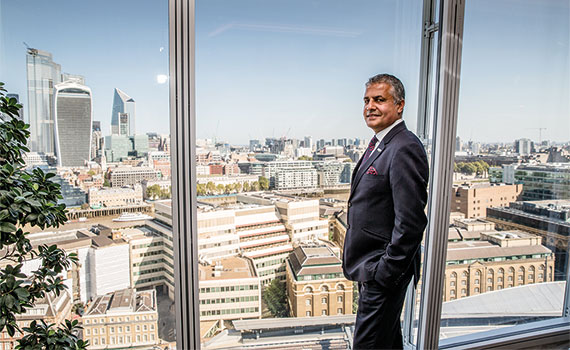 This article was first published in the November/December 2019 UK edition of Accounting and Business magazine.
The accounting software sector is a crowded place these days. The market has been flooded with new names, driven by digital innovation and characterised by slick promotion and streamlined business models.
In the sights of the startups and disrupters is Sage, the UK's largest technology company and the world's third biggest provider of enterprise resource planning (ERP) software – Oracle and SAP are the two giants of the integrated business process software sector. A flourishing startup itself not so very long ago (its shares were named the best-performing of the 1990s by the UK press), Sage has dominated the UK's accounting software market for the past 20 years.
Few would bet against Sage remaining the dominant force in UK accounting and finance software for a long time to come, but there is no denying that the past couple of years have seen a difficult transition. Sage faces a challenge that is not dissimilar to that of high street banks – developing a business model that is fit for the digital age, while fighting off new entrants (notably, in Sage's case, QuickBooks and Xero) that do not carry the heavy baggage of legacy products and processes.

Migration pain
Over the past three years, Sage has steadily refocused its business on cloud-based solutions, transitioning customers from a software licensing model – where most of the company's revenue arrived upfront and lucrative servicing income was ongoing – to a subscription-based service. Upfront cashflow has taken a big hit as a result, in advance of the more reliable subscription-based income streams building up a head of steam.
Part of the difficulty for Sage has been that its strategy is focused on the medium term in a stock market environment that is resolutely short term – myopic, even. Its latest trading update, for the nine months to 30 June 2019, reported revenue rising by 5.9% to £1.42bn; software and software-related services revenue fell by 15.5% (to £195m) during those nine months, while revenue from software subscriptions grew by 28.3% (to £752m). The Sage share price fell by more than 10% on the day the company released the figures, as traders reacted to a greater than expected fall in software and software-related revenues.

All you need is us
Sabby Gill, Sage's managing director for the UK and Ireland, was recruited from ERP software company Epicor in 2018, with the specific task of growing revenue across the Sage Business Cloud platform – described as 'the only business management solution that customers will ever need'.
Gill has spent all of his career in and around technology and finance software, so the role at Sage represents the best of both worlds. He says: 'I'd had the pleasure of competing against Sage throughout my career – as a company it has always been on the horizon. I've been here a year now and it's the most fulfilling job I've had.'
Small businesses are Sage's lifeblood, and Gill sees the role of accountants – the trusted advisers to these small and growing businesses – as the key to its success. 'Starting a new business from scratch is a lonely place. You need a close network of people around you that you can trust, and people tend to go to an accountant first,' he says. 'Once you've built that relationship, you stay. I've run a small business myself, and I never changed my accountant – in fact, he is still my accountant today. When you're running a business, you trust your accountant with your life – because that's what they have in their hands.'
Gill points out that accountants exert an increasingly strong influence over the decisions made by small businesses. 'The services that accountants provide to them go far beyond bookkeeping. Cashflow, legal services, Brexit advice – the chances are that the first person a business will go to for advice is their accountant. And when you look at all the change that's happening in recent years – tech transformation, Making Tax Digital, PSD2 [the EU payment services directive], self-assessment, and the corporation tax changes coming down the line – accountants have helped and are helping businesses through it all. Accountants provide a level of support that is difficult to find elsewhere.'
With around half of all UK accountants being Sage customers, they are a critical focus for the company. 'We use as many different forums as possible to consult the profession, including an advisory board. We couldn't do what we do without them,' says Gill. Often the products Sage develops are driven by regulation and legislation, but the company works hard to understand from its accountant customers what it can do to improve the delivery and effectiveness of its software, and what end users are looking for.
Sage recently published The Practice of Now 2019 – a report based on a survey of 3,000 accountants' views of how the profession is changing. It reported that 56% of respondents see greater productivity as the main benefit of technology, with a further 27% seeing the timesaving aspect as the most important value.
This is the essential point about innovation, argues Gill – that it needs to be used with intelligence and not just for the sake of it. 'Technology is developing rapidly everywhere, regardless of the space,' he says. 'We shouldn't offer our customers new technology just because it has become available, we should offer it because it's an enabler, because it helps them do their job more efficiently.'
The technology developed so far offers huge benefits by automating routine tasks and freeing up time for accountants to offer value-adding advice. Any future innovations – and Sage's research found that 58% of accountants expect to adopt artificial intelligence software as it becomes available – need to follow that same path, says Gill. 'Innovation is not just about the technology,' he explains. 'It's about best practice and innovating solutions and processes as well as technology. You don't increase your productivity by plugging something in and pressing a button – you increase productivity because the solution makes you more proficient. The intelligence around the tech plays a bigger part than the tech itself.'

Getting an education
Given that accountants are playing an increasingly significant role in advising their clients on technology, Sage sees education as critical. 'Tech can be scary for a lot of people,' says Gill. 'When you look at the SMEs that are slow to adopt the latest tech, it's not because they are afraid of the component, it's because of what they don't understand about it – security, for example. But the fact is that your data is safer in the cloud than it is on your computer because the security of cloud providers is the best that's available.'
With this in mind, Sage is working with a UK university to develop a training module for accountants where they can learn about the latest digital tools. 'It's about the art of the possible,' he says. 'If an accountant is advising SMEs on how tech can make their lives easier, their ability to do that is limited to what they know about the technology.'
Sage applies this same concept at home – its customer service professionals are trained so that they are able to answer any question that customers raise. 'We want customers to have interaction with as few people as possible – you want the first person who answers the phone to be able to address your issue. Customer service is very important to us.'
Doing that efficiently requires the company to prioritise attracting and keeping the right people. The war for talent is a major challenge for many tech companies in what is a highly competitive sector. Gill credits the Sage Foundation – a charitable initiative launched in 2015 – with helping to improve its staff attrition rates.
The foundation provides resources and technology to 1,000 local charities in the 23 countries the business operates in, with a strong focus on helping underrepresented communities access work opportunities. Its FutureMakers programme, for example, provides hands-on opportunities for young people between the ages of 13 and 17 to propose, design and implement innovative technology solutions to address serious social problems. It also helps to form the next generation of tech leaders by exposing them to artificial intelligence skills and preparing them 'for jobs that don't yet exist'.
As part of the initiative, Sage employees are encouraged to take five paid days a year to volunteer or fundraise for a charity of their choice. Gill himself spent three days this summer driving a support vehicle for a group of staff and customers taking part in the London to Paris charity bike ride. 'The foundation is an integral part of engagement for us; it also transforms lives and I've seen that for myself.' It is an important reminder of the impact that businesses can have on the world – and with Sage still to reach its 40th birthday, the company remains a model for newer tech companies to follow.

Liz Fisher, journalist

"When you're running a business, you trust your accountant with your life – because that's what they have in their hands"