Professor Dato' Dr Chua Hock Hoo, co-founder and managing partner of Malaysian accounting firm Cheng & Co, talks about why his ambition for growth will never stop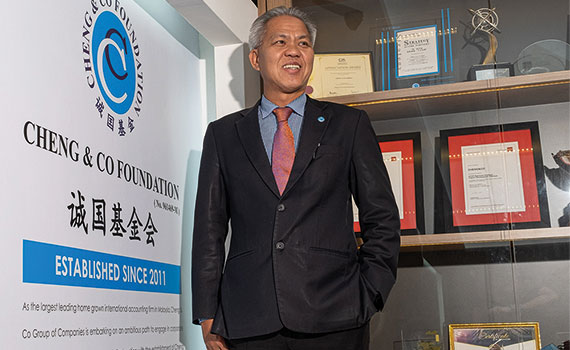 This article was first published in the January 2020 China edition of Accounting and Business magazine.

Farming or finance? At first glance the two professions are worlds apart. But for Professor Dato' Dr Chua Hock Hoo the former could have been the road easily taken, while the latter remained nothing but a youthful dream.
Growing up in a farming family in rural Malaysia, the easier path could have been to follow his father's footsteps into agriculture, but Dr Chua had other plans. 'I was very clear: I wanted to be an accountant and have my own practice,' he says.
The energetic and infectiously optimistic father of three – two sons and a daughter, all of whom are studying accountancy in Perth, Australia – is talking at the Kuala Lumpur headquarters of Cheng & Co, the realisation of a dream. But Dr Chua's career could have easily veered off into a very different direction.
After completing his A-levels, Dr Chua struggled to balance his accountancy studies with his door-to-door salesman job. He was close to giving up and abandoning his dream. However, one of his classmates had a sister studying with ACCA in London and the two ventured to the UK.
In London, the young men enrolled in classes and headed straight to Chinatown to look for work, without luck. They scoured the classifieds and found a familiar calling: an advert seeking experienced farm hands. The job was in Bedfordshire, two hours north of London on a farm that supplied Chinatown's restaurants.
The schedule was punishing. 'We started work at 2.30am, stopped at 5.30am, loaded the vegetables onto the truck and drove to Chinatown,' Dr Chua recalls. 'We delivered all the vegetables, box by box, to all the restaurants and shops. We then attended classes from 9.30am to 5.30pm, when we would catch the bus home. It's how life was.'
The gruelling schedule certainly made Dr Chua more disciplined. He passed stage two with all As, and stage three and four on the first attempts. And it wasn't just at school that he was excelling; the farm manager was so sorry to hear that he was heading home to Malaysia that he made an offer that would be hard to refuse – for some.
'I was going to work in an audit firm in Malaysia, where I'd earn around £100 (MYR500) per month,' Dr Chua recalls. 'The farm manager offered me 10 times more – £1,000 per month – with free accommodation and food. I said thanks, but I'd travelled so far to London with one dream: to become an accountant and to own my own practice. When I pass through London now I always try to catch up with him; he says that I made the right decision.'

Commitment pays off
The commitment to his career path and to Malaysia paid off – eventually. After resigning from one firm citing its lack of ambition, the classified ads once again cast fortune his way, when he read that an 'elderly practitioner' was looking for an auditor and manager, with the 'potential to become a partner'.
Bingo! But after a year Dr Chua felt the firm wasn't growing, so he resigned, turning down the offer of a pay rise. Two weeks later, the 73-year-old owner made a considerable counter-offer: Dr Chua and his colleague Paul Cheng could take over the firm.
As Cheng was Dr Chua's senior in age they named the firm Cheng & Co. Dr Chua set about quickly establishing a unique service offering and growth strategy. 'I'm an entrepreneur and Cheng & Co is a platform for entrepreneurs,' he says. 'I know what SMEs need and want: they're interested in value, not auditing. So I had the idea in the very early days that Cheng & Co would be a one-stop shop for entrepreneurs; it was a new type of practice in that sense.
'Secondly, the only way to move forward was to make the firm bigger and bigger, so in 1994 I had the dream to take Cheng & Co from two partners and three staff to 10 partners, 10 branches and MYR10m turnover in 10 years.'
Almost a decade on from throwing down that ambitious gauntlet, Dr Chua took stock: Cheng & Co had only six partners, six branches and MYR$6.1m turnover.
In order to achieve his ambitious target, Dr Chua decided to go back to the books and a slightly longer commute than that bus journey from Bedfordshire to London, enrolling for the doctorate of business administration (DBA) part-time course in Perth, Australia. 'I flew in for a weekend every month and got the last flight back to Kuala Lumpur on the Sunday,' he recalls.
As tough a schedule as this sounds, it was worth it. 'While our mission to be a one-stop professional centre didn't change, over three years to 2006 we came up with our vision to be the largest homegrown international accounting firm in Malaysia,' he says.
'We had to dream big. People laughed at us and we may have felt a bit embarrassed and uneasy at the time, but I know today that we did the right thing,' Dr Chua says. 'With our peers and connections we're number one in Malaysia. We have more than 20 partners, 20 branches – including in Singapore, Hong Kong, China and Australia – and a 300-plus workforce, more than 70% of which is made up of ACCA members and students.'

Technology drive
A driving force behind the firm's acceleration has been embracing technology, which stems from Dr Chua's DBA thesis, which surveyed Malaysia's 1,500 accounting and audit firms to see which practised knowledge management and how it affected them. He found that the vast majority did, but that there were huge untapped efficiency gaps left by a lack of technology.
'Knowledge itself is not a power, but sharing is,' Dr Chua says. 'Without IT, knowledge sharing is difficult.'
This realisation triggered Cheng & Co to identify the right technology to improve the effectiveness of the firm's operations, services and solutions. This included an enterprise resource planning solution that connects all branches internationally and enables the firm to quickly obtain detailed information on the performance of all its branches, work processes and workforce.
Significantly, Cheng & Co became the first accounting firm in Malaysia to obtain the MSC Malaysia status: a recognition by the government through the Malaysia Digital Economy Corporation (MDeC), for ICT-facilitated businesses that develop or use multimedia technologies to produce and enhance their products and services. This paved the way for the firm to launch Pro B Centre, a wholly owned subsidiary specialising in providing hi-tech global business services.
In addition, the firm is working with Xero as its only Gold Partner in Malaysia, with a target of becoming a Platinum Partner by the end of 2019. 'Our Vision 2020 is to have 100 member firms locally and internationally,' says Dr Chua. 'Without these essential technologies, we would be unable to extend full support to our members.'
It doesn't end there. In January, Cheng & Co became the first accounting firm in Malaysia to sign a memorandum of understanding with Universiti Kebangsaan Malaysia (UKM) to become a virtual accountant centre for the institution. UKM has allocated a 1,000 sq ft area for Cheng & Co's specialists to train lecturers, who in turn will teach students how to use accounting and tax software and payroll systems.
Through Pro B, the firm will also make jobs available in the cloud for students to work in the university and earn additional income, which will give them real-world accounting experience and help prepare them for the job market, as well as giving Cheng & Co access to the next generation of upcoming talent. 'I'd say that the impact technology has had on my career is immense and invaluable,' says Dr Chua.

The next step
'They say to determine how many days you work in a month, you look at your handicap, so I work 14 days a month,' jokes the keen golfer, but this shaded brag (14 is a strong handicap) is also a humble sleight of hand; the drive and determination that got him to where he is now shows no signs of fading.
Cheng & Co has established its own member firm network, pushing the brand into smaller towns to engage SMPs to join its network or seek a merger and extend its roster of branches. But Dr Chua also has his sights set beyond home. 'You might be the largest firm in Malaysia, but so what?' he says. 'It's such a small country; we're a small firm on the global stage.'
The firm has therefore joined TGS Global, a leading business network that will boost the firm's international visibility. Indeed, Netherlands-based firm TGS Lime Tree has already talked up how the relationship will help Dutch companies seeking to invest in Malaysia and Malaysian companies wishing to set up in Europe. 'TGS will help us plan and go to the world,' Dr Chua says.
Dr Chua has refined his 1994 '10+10+10' growth strategy: the aim now is that 10% of growth should come organically, 10% through cross-selling by divisions and branches, and 10% through trendsetting as the largest homegrown accounting firm – for example, through its growth with Xero.
Not surprisingly, Dr Chua has even more ambitious plans for the future. 'We also want to grow through mergers and acquisitions,' he says. 'We will grow bigger and bigger. Hopefully our non-audit division can be listed publicly – not just in Malaysia, but in London. Why not?'

Neil Johnson, journalist
"I know what SMEs need and want: they're interested in value, not auditing"