Afghanistan's auditor general Mohammad Naiem Haqmal FCCA is pulling out all the stops to build a cadre of qualified professionals in a country that sorely needs them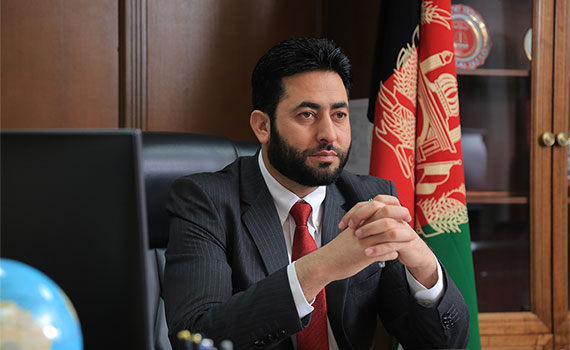 This article was first published in the January 2020 International edition of Accounting and Business magazine.
The numbers for Afghanistan are daunting. The World Bank puts the country's GDP per capita at US$521 (placing it 174th among 180 economies) and ranks it 167th out of 190 economies for ease of doing business, while its position on Transparency International's corruption perception index is 170th out of 180 countries. All the while, fighting continues between government forces and the Taliban, inflicting 3,800 civilian casualties between January and June 2019 alone.
Instability and economic uncertainty are the watchwords, but with the backing of international agencies, the Afghan government is moving to create a more sustainable, stable environment. Its initiatives include creating an accountancy profession within the country – the professional accountancy organisation CPA Afghanistan was set up two years ago – and the capacity to carry out audits of the financial activities of government bodies and organisations throughout the country.
A decade ago the Afghan capital Kabul, a city with a population of some four million inhabitants, had just a handful of qualified accountants. Mohammad Naiem Haqmal FCCA himself, who was appointed auditor general and head of the Supreme Audit Office (SAO) in March last year, only qualified as an ACCA in 2012 – one of just 30 or so currently in Kabul.
Continuous learning
Haqmal's journey from Sar-e-Pol province in the north of the country to the role of auditor general in the capital has taken in a wide swathe of sectors – aid and development agencies, government ministries, private enterprise, financial services – and a degree in applied accountancy from Oxford Brookes University in the UK. Since June 2017 he has also been a member of the Ministry of Finance's Professional Qualifications Committee which is working to establish strong foundations for a sustainable accountancy profession in Afghanistan.
Throughout, Haqmal has been guided by a desire to keep learning, whether through the ACCA Qualification or professional experience, and to give back by helping others gain an accountancy qualification.
Now, though, with the country awaiting the overdue result of the presidential election held in September, 39-year-old Haqmal is able to reflect on his career, the challenges he has faced, and his plans for the future as he looks to bolster the capacity of Afghanistan's SAO.
Rising to the challenge
In early 2018 he was appointed chairman of a special commission for Kabul Bank Receivership, seeking to recover nearly US$1bn that had been embezzled from Kabul Bank, which had collapsed in 2010. 'This was a real challenge,' Haqmal recalls. 'I had to deal with so many people at so many different levels, both inside and outside government. Trying to recover the money was a complex task.'
After chairing the commission from March to December 2018, he was offered the position of deputy defence minister, a civil appointment, where he had responsibility for acquisition, logistics and support. 'This was also quite a challenge, though of a different sort,' says.
These were challenges that Haqmal rose to so effectively that in March last year he was appointed the country's auditor general and head of the SAO, Afghanistan's public spending watchdog. The job of overseeing a body that conducts audits, strengthens internal controls, promotes accountability and transparency, and fights corruption could have been made for him. 'This is my area, my profession, my interest,' he says. 'I have achieved a major ambition.'
He is in charge of public financial management, with the SAO's audit work providing assurance for the country's fiscal strategy, budgeting and accountability. Afghanistan's supreme audit institution celebrates its centenary in 2020 (it was set up under the name of the Control and Audit Office soon after the country gained independence in 1919) and is grappling with significant internal and external challenges.
'Internally, there is a real shortage of professionally certified staff, both in our SAO and throughout the country,' Haqmal says. 'This in turn affects our ability to fully apply and comply with international public sector auditing standards. Having low professional capacity limits what we can do.
'At the same time, our work on performance audits also requires professional capacity, but we have insufficient manpower to cover the full scope of financial audits for state-owned enterprises and corporations. We also have to audit grants that have been made, mostly through the World Bank.'
Perhaps unsurprisingly, Haqmal says security can sometimes affect accessibility for his auditors. But there are also challenges in attracting and retaining qualified staff. The lack of qualified staff becomes apparent in the quality of financial statements, he says. Organisations that are subject to audit do not have the capacity to produce appropriate accounts, and when weaknesses and deficiencies are identified, there may not be the capacity to address these areas.
Fraud is always a risk too. Haqmal says: 'Auditors are always sceptical, and as a result a large number of suspected fraud cases are referred to the attorney general.'
Professionalisation initiative
To address these problems, he is pursuing a strategy of professionalisation. Internal training courses have been run and, with the help of the World Bank, there is now a 20-strong team of qualified and part-qualified staff in the SAO, including ACCA members, finalists and affiliates.
Putting his experience as an audit lecturer at the American University of Afghanistan to good use, Haqmal has also established a professional training centre, developing a curriculum that covers auditing, accounting, international standards, public sector finance and IT, as well as Afghan business and administration law.
Other plans include the development of legislation to give his office independent power to carry out audits, 'although this will depend on the outcome of the political situation', Haqmal cautions – a reference to the as yet unknown outcome of the presidential elections.
'The president is committed to the SAO and wants to see professional accountants working for the office,' he says.
Haqmal is addressing the internal governance of his own office to ensure an appropriate level of transparency, and is currently looking to appoint an external audit firm to audit the office. 'We will publish annual performance reports,' he says, pointing out that he is required to report to a number of stakeholders, such as the president, the national assembly, the public, the World Bank and other development partners.
Haqmal is optimistic about the future of the public sector audit profession in his country, and the wider accountancy profession. It may take time but the establishment of CPA Afghanistan – currently the country's sole professional accountancy organisation – will help to address the capacity issues his office faces. 'The setting up of CPA Afghanistan has helped to create a good working environment for accountancy professionals,' he says.
There is still a long way to go, but the accountancy profession in Afghanistan has made considerable ground towards the ultimate destination of creating a financial service capacity suitable for a modern economy. The hope must be that it will be as successful as Haqmal's own journey has been, from Sar-e-Pol to the heart of government in Kabul.
Philip Smith, journalist
"In charge of audit, transparency, accountability and anti-corruption – this is my area, my profession, my interest, and a major ambition achieved"