Firms that fail to differentiate will see sales leads default to the market leaders – often seen as the safest bet by prospects. Jason Ball urges a bolder approach to branding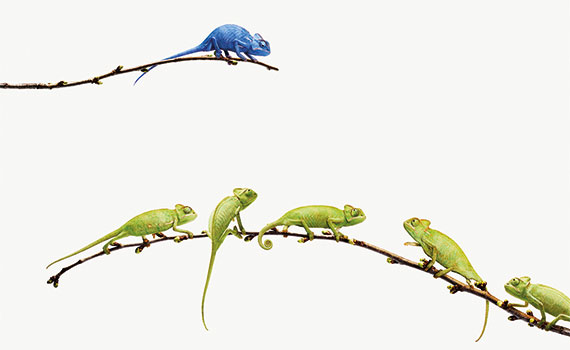 This article was first published in the January 2020 UK edition of Accounting and Business magazine.

Branding success has little to do with size. Just look at the Big Four, all of which have failed to define a standout market position despite colossal budgets. Their inability to cut a distinctive figure leaves a real opportunity for ambitious firms that dare to be different. To work out how to stand out in a sea of sameness, consider the business distribution pyramid shown opposite.

The what
At the base of the pyramid is what you do. Visit the websites of most firms and you'll find they focus on their services, partly because it seems sensible and partly because they're most comfortable talking about the stuff they do every day – corporate restructuring, tax planning, payroll, etc. However, as the pyramid suggests, it's also the place where there is most competition. In accountancy, many firms provide similar services, and are often constrained by regulatory factors.
But it is possible to reframe the 'what' from a passive list to a much more proactive stance such as 'we do your accounts' or 'we give you actionable visibility into your business' or 'we deliver foundational insights for growth'.
One firm that differentiates effectively at this level of the pyramid is Mercer & Hole. Its website declares: 'We aim to do things a little differently; to excel technically; to give our clients options they hadn't even thought of and to make complex issues easy to understand.'

The who
The next pyramid level focuses on who you do it for. Here can be found the firms that specialise in certain sectors – such as retail or manufacturing – or define their reach by geography.
At this level, differentiation hinges on getting as close as possible to the client and their sector. You limit your universe of potential clients but you get a credible point of difference. Go to the BW Medical Accountants website for an example of a firm that is obviously committed to its niche, reinforced with client testimonials and a blog that never veers from its specialism.
Not every practice is a specialist, but it's still possible to stand out. Look at the BKL website for a good example of a firm that works with 'virtually every business sector' but still manages to identify a niche of sorts: its clients tend to have an 'ambitious, entrepreneurial spirit in common'.

The how
Going up another level, we get to how you work. This level encompasses the technology you use, the accessibility of your people, the ways you can make the entire process smoother and more painless, and the ways you take cost out of the equation. Price Bailey's website, for example, labels the firm 'thought leaders in business' and 'committed to sharing knowledge through a series of insightful events, reports and articles'.
The big challenge is that the way firm's work is open to being copied by competitors. As a consequence, when you have pioneered something – perhaps you were the first to create a community of clients on Slack – it's important to cement that fact in the minds of clients and prospects before another firm pips you to the post.
The why
Finally, we get to why you do what you do. This is where the Big Four tend to try and sit, creating 'purpose-driven' brands. It is where, if you create a distinctive purpose of your own, you can create clear differentiation.
Be warned: too many brand purposes are simply not relevant enough for clients to get behind – they aim to make the world of business a better place, release potential or foster innovation. Smaller firms need to go to extremes here and convey their purpose with an edge that others shy away from. Fundamentally, they need to be more punk.
Here, we must look beyond accountancy to challenger brands for good examples. Nutmeg is driven by a clear purpose – 'to democratise wealth management' – while Revolut is committed to making the bank account experience 'radically better'.
Beyond financial services, take a look at DocuSign for a purpose that will resonate in the current climate with any business committed to improving its corporate responsibility: it wants to save trees. It goes beyond offering a service that saves paper, proving it's serious about the environment by partnering with Trees for Cities and pledging to donate US$1.5m in 2019 to organisations preserving the world's forests. It even frees up its own staff to volunteer at forest-preserving NGOs.
It comes down to this: potential clients need to understand you better, but first you have to understand yourself.

Jason Ball is founder of B2B marketing agency Considered Content.

"Smaller firms need to be more punk in conveying their purpose, doing it with an edge that others shy away from"