As the world's population grows and urbanises, the sustainability challenges for cities are mounting. Tech-based solutions are emerging, but reality lags behind the hype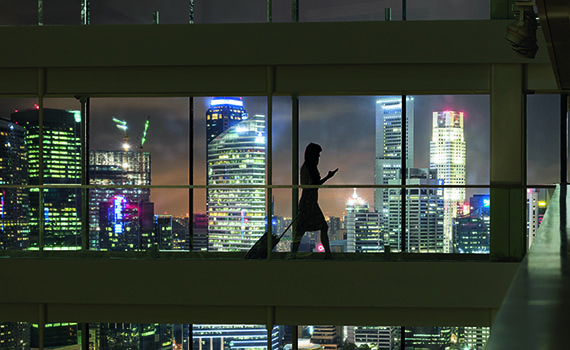 This article was first published in the February/March 2020 International edition of Accounting and Business magazine.
Carmaker Toyota chose the first week of the new decade to unveil its plan to build a smart city in Japan. Its Woven City project will span 700,000 square metres, ultimately house 2,000 people, and test all sorts of pioneering technologies – from robotics and intelligent devices in homes to driverless vehicles.
Impressive as the project sounds, Toyota's 'living laboratory' embodies one of the main criticisms of the smart city movement. 'Every week you can read about fascinating and innovative ways cities are using technology to become more efficient and liveable,' says Richard Ezike, senior policy associate at the Urban Institute. 'It's less common to read about these pilots being scaled at a widespread level across cities.' The application of tech to urban spaces is going to require far more investment over the coming decade, as well as steps to allay cybersecurity and privacy concerns.
The initial impetus for applying technology to urban spaces came from large tech companies around the time of the 2008 financial crisis. The timing was no coincidence, says Boyd Cohen, former dean of research at EADA Business School in Spain and chief executive of smart mobility startup IoMob. 'Big tech vendors like IBM and Cisco came up with the concept at a time when companies were cutting back on investment spending due to the recession and financial turmoil,' he explains. 'The pitch to mayors was that technology could boost efficiency, save money and make their cities better places to live.' The idea took off and enthusiasm spread to progressive city officials and more recently to citizens themselves.
The IMD 2019 Smart City Index ranks the world's 10 smartest cities as Singapore, Zurich, Oslo, Geneva, Copenhagen, Auckland, Taipei City, Helsinki, Bilbao and Dusseldorf. The index focuses on citizens' perception of the scope and impact of efforts to make their cities smart, balancing 'economic and technological aspects' with 'humane dimensions'.
The potential benefits of implementing smart technologies are wide ranging, and are summarised in six main areas in Cohen's 'smart city wheel' framework:
Smart mobility can encompass technologies that make travel more efficient, often by using city data to integrate ride-sharing apps with public transport or monitoring traffic flows to reduce wait-times for motorists at red lights.
Smart government can harness technology to ensure more public services are accessible online and municipal information is available to businesses that can make cities better places to live. The technology can also feed back into better public policies, by providing officials with more data.
Smart environmental initiatives could improve the energy efficiency of buildings and waste disposal.
Smart people technology can improve education opportunities and create a more inclusive society.
Smart living focuses on improvements to public health and safety. Wearable devices, for example, could spot health problems earlier to ensure better treatment at lower cost.
Smart economy aims to improve productivity and increase job opportunities.
In each of these areas, the gains to citizens and taxpayers can be significant. A recent report by McKinsey Global Institute found that they could improve some city quality-of-life indicators by 10%–30%. Most notably McKinsey calculated that smart tools could accelerate emergency response times by 20%–35%, shave the average commute by 15%–20%, lower the disease burden by 8%–15%, and cut greenhouse gas emissions by 10%–15%. 'These tools can save lives, prevent crime and reduce the disease burden,' the McKinsey team concluded. 'They can save time, reduce waste and even help boost social connectedness. When cities function more efficiently, they also become more productive places to do business.'
Harnessing such benefits is becoming more important as city populations swell. At present 55% of the world's population lives in urban areas. This is expected to rise to 68% by 2050 – an extra 2.5 billion people. 'That magnifies the challenges of transport, air quality, healthcare and other issues,' says Hisham Elkadi, dean of architecture and the built environment at the University of Salford in the UK, who has been closely involved in developing smart city projects. 'The ecological challenges are particularly pressing and mean that successful cities need to be flexible in adapting.'

Who foots the bill?
The most obvious challenge is funding. 'Implementing smart city technologies can be very costly,' says the Urban Institute's Ezike. 'It can be a challenge for cities to get the resources to roll out big tech projects.'
One financial solution is to shift the implementation cost to the technology providers. For example, providers of smart building systems – which save energy and money by controlling the heating, lighting and ventilation – could bear the expense of installing their technology in return for a percentage of the resulting cost savings. 'That way, the city doesn't face a major upfront cost for technology and starts making cost savings right away,' says Cohen. 'Meanwhile the energy services companies get a reliable stream of revenue for years ahead.'
A similar model has been tried in some cities with smart parking meters, which let drivers book city parking spots in advance, with the price varying according to demand. In exchange for free installation, city governments can offer the providers a share of the revenue.
Beyond funding, smart city projects raise three main concerns: cybersecurity, inequality and privacy.
First, as cities become more reliant on smart devices, the potential of hackers to cause chaos and even loss of life also increases. 'Clearly, cybersecurity must be a priority at the inception of all projects,' says Ezike. 'Cities can't risk having hackers snarl city traffic or harness self-driving vehicles as weapons.'
Second, cities will need to strike a balance between collecting information for the public benefit and infringing the privacy of citizens. 'Big Brother concerns have been raised, especially where cities are deploying cameras, artificial intelligence and predictive policing to avert crime,' says Cohen. It's a worry that dates back to early smart city projects, such as Rio de Janeiro's IBM-developed operations centre, which can monitor everything from weather, traffic, waste collection, electricity, water and gas to disease outbreaks and emergency situations. The use of facial recognition technology has also provoked criticism for its role in the surveillance of civil populations.
Third, Urban Institute scholars and others have expressed concern that the benefits of smart cities could be unequally distributed. Citizens with low incomes may struggle to afford the devices and data coverage that would enable them to take advantage of smart city services. The Argentine town of Tigre, just north of Buenos Aires, sought to address this issue by subsidising smartphones and giving them away free to citizens who couldn't otherwise afford them.
Such challenges highlight the need for technology to be intelligently and prudently deployed, says Cohen. 'If these drawbacks can be managed, smart city initiatives have the potential to significantly improve the quality of life in cities around the world,' he argues. 'Being a smart city, for me, involves a mindset of constant improvement, a journey that never ends. Cities can't just rest on their previous achievements but need to keep evolving. They need to be constantly innovating.'

Dijana Suljovic, journalist
"Smart tools can save time and reduce waste. When cities function more efficiently, they also become more productive places to do business"