Cook Medical's EMEA ethics and compliance director Angela Moloney FCCA brings two decades of make-it-happen finance leadership to her can-do approach to the role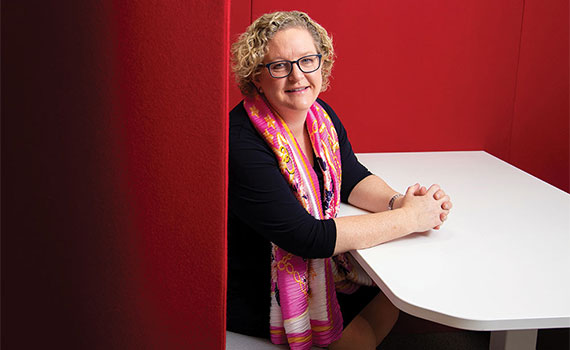 This article was first published in the February/March 2020 Ireland edition of Accounting and Business magazine.
Ireland's development into a global hub for the medical device industry has been an enduring success story. Today, it is Europe's second largest exporter of medical devices (surpassed only by Germany), with the industry employing some 38,000 people in Ireland and putting a welcome emphasis on the regions – the west and mid-west in particular.
Since it set up in Limerick in 1996, Cook Medical has been part of this story. The Limerick site has grown from a staff of 25 to become an integral part of the world's largest privately owned medical device company, with 850 employees engaged in manufacturing, innovation and shared services. It's an achievement that would have amazed no one more than the original management team assembled in Limerick in the late 1990s, says Angela Moloney FCCA. Today the company's EMEA director of ethics and compliance, Moloney was a part of that original group, joining in 1998 to head up the finance function.
'For the first two years, I was the finance function,' she says with a laugh, adding that the transformation of the Limerick site came in incremental steps, and as a result of increasing confidence in what could be achieved there. 'When there were 50 people here, we thought it would be impressive if we got to 150. At one stage we felt that if we reached a headcount of 500, we would have done exceptionally well. Yet we hit all those marks very quickly. We were seen as a leadership team with a can-do attitude, and the Limerick site quickly got a reputation for having a culture that could deliver results.'

Service centralisation
In the late 1990s Cook Medical's European operations consisted of 14 direct sales companies, each with their own management structure. By the early 2000s, following the centralisation of distribution services, it was clear a similar approach was needed in the finance function.
'By 2003, we had brought some manufacturing roles into Limerick and we knew centralised services were on the way, so we created a business plan to base them in Limerick,' Moloney explains. 'We were delighted when the good news came through that Limerick had been chosen. Our attitude was, this is what we have to do, so let's get it done. It was teamwork and everyone worked tirelessly to make it happen.'
Subsequently promoted to global FD for shared services, Moloney celebrated 20 years with the company in 2018, little guessing the year would also bring about a significant career shift. 'In 2018, a new role in ethics and compliance was established in Europe. Cook Medical has always had a strong ethics and compliance programme. Our founder, Bill Cook, wrote the first code of conduct many years ago when most companies didn't even consider it as necessary. However, there is a whole new emphasis on transparency in the industry globally, which meant a truly independent ethics and compliance officer was needed in each region.'
Moving from finance after two decades was a big decision; however, Moloney has always believed that your career thrives when you are willing to leave your comfort zone. While the new role is certainly about regulations, codes of conduct and best practice, she sees it primarily as about connecting with people and enabling business success.
'Ethics is your moral compass,' she says, 'knowing right from wrong, which is something we all have engrained in us from an early age, and compliance is about following rules and regulation. My role is to be an adviser to the business, making sure we do the right thing, and interpret and follow regulations correctly.
'But above all else, the role is about collaborative communication and having the attitude of listening. When I meet with people, the first thing I do is listen to their challenges and pain points. For the most part, people already have the solution; what they need is to document it and manage the risk elements. We play a key role in facilitating that.'
She echoes thought leader Roy Snell in declaring ethics and compliance to be the department of know, not the department of no. She explains: 'There is a perception within many organisations that you don't get ethics and compliance involved, because their response will always be negative. My approach is very much about dispelling that concept. We are here to help and advise, and we are solution-focused. That's certainly something I bring from my ACCA and finance background.'

Business bug
Born and raised in Kilmallock, Co Limerick, Moloney completed her leaving certificate in 1988 and took a business studies degree at what is now the University of Limerick. Work placements convinced her to follow the accountancy route, and she joined a small company in Shannon, Co Clare, studying for the ACCA Qualification at night. 'I will always tell anyone with an interest in finance that ACCA is a global passport. Every business needs an accountant, whether it's family-run or a corporation, so the opportunities are vast.'
A pivotal moment in her early career confirmed its value when a graduate position with AIB brought her to Dublin. 'I quickly realised that city life wasn't for me and that I wanted to live and work in the country,' she says. 'Having the ACCA Qualification under my belt gave me the confidence to do that. I knew I could wait for the right role to come along.'
Some 21 years working and growing with a company whose ethos continues to inspire her has reinforced that thinking, although she admits it didn't look quite so rosy when she was presented with a two-foot-high stack of papers on her first day and told 'welcome to Cook'.
She adds: 'However, soon after that, I also remember being told I had been hired to set up the finance department, and it was up to me how to do that. That's very much the company approach. There is opportunity here and, if you want it, you go with it.'
That belief in creating opportunity along with the high regard she holds for ACCA are reflected in a new education initiative she has been instrumental in developing, along with fellow Limerick-based ACCA members, Stephen O'Flaherty and Heather Hamilton. The pilot programme saw their organisations (Cook Medical, BDO and Northern Trust, respectively) partner with mid-west schools to build awareness around the opportunities that a career in accountancy can offer and to give students a sense of the skillsets involved.
'The idea came from some brainstorming we did about what we could do in accounting that would match the great work being done with the STEM [science, technology, engineering and mathematics] subjects. We came up with an idea that would be effective but also easy to implement by both companies and schools.' The central message of the initiative, now being rolled out nationally, is that people, and their high-level skills, will continue to be central to the accountancy profession – a message of particular importance to secondary-level students making decisions for the future.
Moloney adds: 'Will the accountancy role change in the future? Absolutely, and it should. What we are increasingly seeing is people marrying accountancy with data analysis and IT. What I've been telling secondary students I've met is that the future won't just be about looking at profit and loss and balance sheets; technology is being woven into the role all the time. That's something that ACCA has been very strong on – how the profession will look in the future – and it's a message I'm very proud to help get out there.'

Donal Nugent, journalist
"The perception in many organisations is not to get ethics and compliance involved because they will say no. My approach is to dispel that concept"