There's plenty of overlap between accountancy work and writing creative fiction, says UN internal auditor and prizewinning author Stanley Kenani FCCA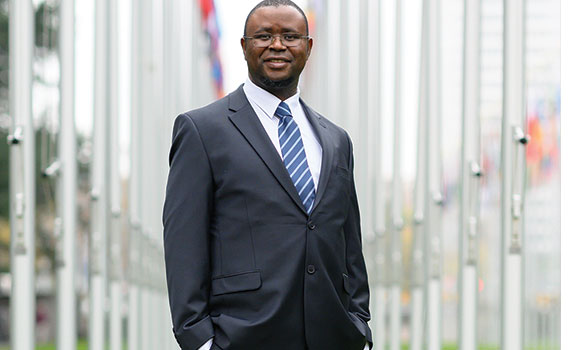 This article was first published in the February/March 2020 Africa edition of Accounting and Business magazine.
An accountant who is a writer or a writer who is an accountant? Either way, it is a fair description of Stanley Kenani FCCA. Every day he wakes at 3am, writes until 5.30am, then commutes from the small French town of Ferney-Voltaire via the gym to his office in Geneva, Switzerland. 'From then onwards I forget all about writing,' he says, 'and focus on my work.'
For the past decade, Kenani has been an internal auditor in the UN's Office of Internal Oversight Services (OIOS), part of a team of more than 160 auditors whose job is to ensure the UN uses its resources efficiently and effectively.
Kenani's varied career has seen him work across Europe and Africa, in the private sector and with multilateral agencies. After graduating in accounting and finance at the University of Malawi in 2001, he had a stint as an accountant for the Malawi government before working as an auditor and finance manager in the food processing, hotel and utility sectors. In 2009 he made the leap into multilateral agencies, becoming a team leader in the finance department of the African Union Commission's office in Nairobi, Kenya.
The pace of decision-making is, not surprisingly, far slower at multilateral institutions than in the private sector. 'There is quite a contrast,' he says. 'When I worked for the hotel industry, for example, I could, at any time, make decisions swiftly for the benefit of customers and the company.'
Working for the African Union woke Kenani up to the continent's diversity. A decidedly multicultural environment, it brought him into contact with people from all corners of the continent, which he found stimulating. His role at the African Union became a stepping stone to to his current role, which he took up in 2010. Over the past decade, his job has taken him to 30 countries.
With such a demanding role and so much travel, fitting in his passion for writing hasn't been easy. 'When I am in the middle of an audit or away on official missions, I stop writing altogether to focus on work,' he says. 'I need maximum concentration.'
That makes it difficult to focus on writing a longer work, such as a novel, but short fiction is different, he says. 'You can write it in two or three days, then spend the rest of the time polishing it.'
Kenani draws a parallel here with other writers. 'Franz Kafka,' he points out, 'was a compensation assessor at the Prague Workers' Accident Insurance Institute and wrote at night. And Anton Chekhov was a medical doctor.'
Kenani's own literary work has been well received. In 2007, his short story, For Honour, won third prize in the annual HSBC/SA Pen competition for young writers in Southern Africa, judged by Nobel laureate JM Coetzee, and was also shortlisted in 2008 for the Caine Prize, often referred to as the 'African Booker'. He was shortlisted for the Caine again in 2012, and in 2014 was named one of Africa39's most promising African writers under the age of 40.

Best fit
Kenani says he developed a passion for literature at the age of 13 and has been writing ever since. So how did he come to study accounting? 'I did initially want to study humanities,' he explains, 'but my secondary school teachers thought engineering or accounting was my best fit and I went along with that.'
After graduating from the University of Malawi's Blantyre campus, he started studying for the ACCA Qualification, which he acquired in 2007.
So does his accounting and writing ever intersect? 'Of course,' he says. 'Auditing involves writing reports, and there's a lot of communication with clients and within our office. Writing skills are useful at all times.'
Of his ACCA training, he says: 'Aside from the obvious technical side to accounting, the ACCA Qualification made me think more deeply about a range of business concepts – everything from why companies exist and how they grow, to basics such as the difference between cashflow and profit.'
This broader enthusiasm for finance and markets developed into an addiction to his favourite publication, The Economist, which he reads cover to cover every week.
Kenani believes the accountancy profession has a significant role to play in the development of his home country of Malawi, and Africa more broadly.
'The continent has vast potential and there is a lot working in its favour,' he says. 'However, there is still room for improvement, especially with regard to the need to strengthen internal controls in both private and public institutions.'
Integrity, he says, is a concept that is stressed repeatedly in the ACCA Qualification modules. 'The best guarantee against fraud – which sometimes robs both the private and public sectors of resources – is strong institutions, and accountants are a key part of this,' he adds.

Dijana Suljovic, journalist

Disclaimer: The views and opinions expressed in this article are those of the author alone and do not necessarily reflect the views of the OIOS or the UN.