The hefty EU development funds received by Wales are about to cease. WEFO head Peter Ryland FCCA explains how projects are funded – and what happens next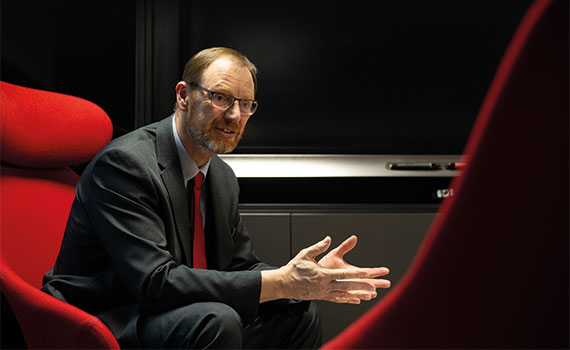 This article was first published in the April 2020 UK edition of Accounting and Business magazine.
The uncertainty around Brexit has plagued UK businesses for nearly four years. For the Welsh European Funding Office (WEFO), the authority responsible for distributing EU structural funding in Wales, the problem has been more immediate, not to say existential.
'One of the things I'm most proud of is the way in which my team here has held up, given the level of uncertainty we have faced,' says Peter Ryland FCCA, WEFO's chief executive. 'We have been carrying on business as usual, but there was a scenario where that could have all come to a crashing end.'
In fact, the timing has worked out rather well. The EU withdrawal agreement sets out what happens to structural and investment funds received by regions of the UK, which takes us to the end of the current seven-year block of the EU's multi-annual financial framework at the end of 2020. This means that all the funds earmarked by the Commission for the current funding round will be used.
'Tying our departure to the end of the European budgeting round in 2020 means that the current programmes can be completed as planned, and we can make full use of the funding earmarked,' says Ryland. 'That agreement stands, regardless of any trade deal that's reached by the end of this year. One of our challenges for this year is to get that message across.'
In the latest funding round for 2014 to 2020, Wales was allocated a total of £1.89bn from the EU's structural and investment funds, which are designed to boost economic development in areas that most need it. The money comes predominantly from three funds: the European Regional Development Fund (ERDF), which provides grants for research and innovation, SME competitiveness, renewable energy and energy efficiency, connectivity and urban development; the European Agricultural Fund for Rural Development; and the European Social Fund (ESF), which focuses on jobs and skills.
ERDF money for projects in Wales since 2007 includes £40m towards a new campus for Swansea University, £79m towards the major upgrade of the A465 (the heavily used route linking the English Midlands to the M4 at Neath), and £16.2m for a new brain research and imaging centre at Cardiff University.
ESF grants for Welsh projects in the latest funding round include £11.5m for the Wales Council for Voluntary Action's Active Inclusion Fund (to help improve the employability of the economically inactive and long-term unemployed), and £70m for the Welsh Government's apprenticeship programme.

Project choice
The role of WEFO, based in Merthyr Tydfil and employing around 150 people, is to assess projects eligible for funding, and monitor and measure the progress of funded projects. Each region has its own delivery authority and while there are hundreds across the continent, no two look the same. 'All sorts of structures can be and are used,' Ryland says. 'Cornwall's, for example, looks very different from ours.'
WEFO's remit requires a wide range of skills. 'The people we need reflect the lifecycle of a funding round,' Ryland says. 'We need social researchers who can understand the structural challenges facing the Welsh economy and the communities across the country, and what interventions might work. We have people who work with beneficiaries to identify projects that will achieve the outputs we are aiming for. We have people who receive and verify claims – the checks associated with that are very audit-heavy. We have people who can compile and analyse data on project delivery, people who negotiate with the EU, people who develop alternative projects in case we suddenly have less or more money available because of sterling-euro exchange rate movement – the list goes on.'
EU funding for Wales is directed through local and national government but also through universities and private companies. WEFO's allocations are closely aligned to the policies set out by the Welsh Government, and anyone applying for funding has to build a business case based on the Treasury Green Book guidance – which, Ryland points out, was developed within the Welsh NHS.
Return on investment (ROI) is a sensitive figure that WEFO works hard to measure, but which is often a target for critics. 'ROI is a major question in any policy development,' Ryland says. 'You can take a gross value-added approach, or a view based on where the bang for the buck happens. It's an interesting question for an accountant, but difficult territory because it takes you away from profit. The understanding of what a good result is when it comes to EU funding is much broader.'
Generally speaking, the argument about EU funding isn't difficult to align, Ryland believes. 'What government doesn't want growth? But there have been examples where budget spending has not been what it should be. And people will always find things that they think are a waste of money. We have to be selective, which leads inevitably to a degree of dissatisfaction. It goes with the territory.'
Ryland is very clear that there are both good and frustrating things about working with the EU. 'A long-term funding framework tied to a seven-year programme is very valuable, and the EU's framework for outputs reporting is second to none,' he says. 'It's also very helpful that every authority has a common definition of terms, so there's no argument over whether, for example, "in work" includes voluntary, unpaid work.'
One of the main constraints is that spending must match the areas eligible for funding. Wales is divided into two regions for EU development purposes: West Wales and the Valleys, and East Wales. The former is designated as less developed by the EU (because GDP is less than 75% of the EU average) and so qualifies for ERDF funding, but the latter (which includes Cardiff, Monmouthshire, Powys and Wrexham) is classified as more developed (its GDP is 90% of the EU average) and so does not.
The problem is that this funding map does not necessarily match the way people live their lives. 'Even if the best thing for Wales was to build a four-lane motorway connecting Merthyr and Cardiff, it would have to end at the outskirts of Cardiff because the city isn't in the West Wales region,' Ryland points out. 'It would be nice to say goodbye to that, and to the multiple tiers of auditing and checking that we have to do. So it's swings and roundabouts.'

Filling the void
The big question, of course, is what will replace EU funds after 2020. The Conservative manifesto promised to establish a UK shared prosperity fund 'to reduce inequalities between communities', but so far the details – including how much money will be allocated, the measures for determining allocation to each region, and the fund's objectives – have not been forthcoming.
That must be frustrating for someone in Ryland's position, but as a senior civil servant he wouldn't say much about it. 'The Welsh government has said that it expects funding levels to be maintained and the principles of devolution respected,' he says. 'Discussions so far have been cordial, but not well developed. We expect we will hear more in due course.'
Even so, planning for the uncertain future has not stalled and much of it, such as assessing social need, is still carried out by WEFO. For the past 18 months the regional investment for Wales steering group (which includes representatives from government, trade unions, academia, business, charities and Natural Resources Wales) has been consulting with stakeholders across Wales, gathering views on how any new funding should be delivered and what the money should be used for. This has led to a public consultation (see the details on the Welsh government's website, at bit.ly/Inv-Wales-Consult).

Blank piece of paper
For Ryland, the process has been an exciting one that he hopes will help to build consensus on regional economic funding at a later stage. 'We wanted to involve people who weren't the usual people we would talk to about EU money, and it's been a very positive experience,' he says. 'This is the first time we have been able to approach the question of the structural framework with a blank piece of paper. What is it for? How should we measure return on funding? It's great to be able to ask these questions.'
Whether a renamed WEFO, or a successor to it, will be responsible for allocating the funds in Wales has yet to be decided, but assuming that each region will be allowed to administer its own allocation, it would surely be ludicrous not to make use of the considerable skills and experience of existing authorities.
'I think we will still be here, but our future role is under development,' Ryland says. 'Some things are best done nationally, such as elements of procurement, so there is still a role for a body within the Welsh government to oversee funding and to tell the story of what has been achieved nationally. Oversight will still be needed. But for the moment, work on the current round of funding is still ongoing, so we'll be keeping busy.'

Liz Fisher, journalist
"We will make full use of all the EU funding allocated to Wales and complete our programmes, regardless of any trade deal reached"