It's been quite a journey for Ken Allen FCCA, whose turnaround success at multiple DHL Express divisions got him the ultimate job of reviving the organisation globally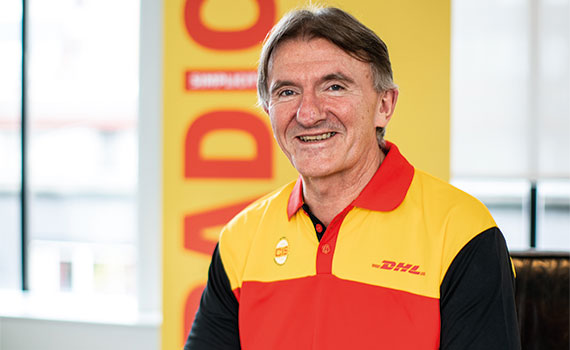 This article was first published in the April 2020 International edition of Accounting and Business magazine.
The son of a miner in the UK's once thriving Yorkshire coalfield, Ken Allen FCCA used the springboard of his accountancy qualification to travel the world and ultimately rise through the managerial ranks at DHL Express. Having spent 10 years as global CEO of what he calls 'the most international company in the world', he's still actively shaping the company's future.
Known as 'the singing CEO' for his habit of launching into inspirational songs during management meetings, Allen has an unconventional leadership style. In 2009 he was appointed global CEO of DHL Express and a member of the board of management of its parent company Deutsche Post, which acquired DHL in 2002.
When Allen took the top job, DHL Express was a loss-making subsidiary: its 2008 losses totalled €2.2bn (over US$3bn). By 2010, the business had been turned around, and was generating a profit of more than US$500m. Last year, when Allen stepped down from his global leadership role, DHL Express was on track to deliver EBIT (earnings before interest and taxes) of more than €2bn.
Allen describes his experience as global CEO as a 'magical journey', during which he applied everything he had learnt about the business – from correct pricing to people motivation. He believes in simplicity. 'If you don't take simplicity seriously, complexity comes in,' he says. 'People who have got a good strategy keep it very simple.'
Allen's strategy emphasises the importance of customer service and making more sales only if that will generate profits. 'There's no point doing things if you're not making money,' he says. He also believes in constantly looking for ways to do things better. 'If you keep looking at what you're good at, you can tweak it forever,' he says. 'We recently bought 14 Boeing 777 aircraft. Before, we'd always leased them or had them through partners. But then you think, how much is the bank and everybody else making out of that? There's always something more you can find to improve.'
People power
The importance of people is another key element in Allen's management philosophy. 'Motivated people deliver great service quality, which keeps all our customers loyal,' he says. 'Loyal customers are your best advertising, and your best route to profitability.' The idea may not be new, but it works. Market share, EBIT, customer and employee satisfaction metrics all consistently rose under Allen's leadership.
One of his proudest achievements is the development of the Certified International Specialist programme – a foundation course that introduces every DHL Express employee to the fundamentals of international shipping and company strategy. To date, more than 100,000 employees across the world have taken part – including Allen himself. Employees who complete the course get a DHL Express 'passport', with a stamp for every training module they complete.
'We started the passport so everyone could have a record of what they were doing, but it's morphed into something else,' Allen says. The passport gives employees a sense of community and shared experience. Everyone can succeed, regardless of nationality, race, gender or sexual orientation. 'As people, what binds us together is far more than what separates us,' he adds. 'We want DHL to be the best in the world at what it does, but we also want DHL to be an example of the world at its best.'
Global tracking
Allen's achievement in turning around DHL Express's global performance was built on the back of previous successes. His first big turnaround role was as DHL Express country manager for Canada from 2004 to 2006. After an unwise acquisition, the Canadian business had gone from profit to loss in around 18 months. Allen set about prioritising customer service and strengthening financial discipline. He emphasised the importance of EBIT and cashflow over revenue. 'I'm amazed at how people get addicted to the drug of revenue growth,' he says, referring to the concept of the 'razor's edge' – selling at the finest margin possible to get more volume. Allen's approach worked, with the Canada operation returning to profitability within two years.
Following this success, Allen was promoted to CEO of DHL Express for Eastern Europe, Middle East and Africa (EEMEA). 'The region had good growth and profits,' he explains, but had suffered from inappropriate cost cutting. In EEMEA he discovered the real power of motivated people.
'All you had to do was go and see them, get them together, ask about what was going on in their markets and what we could do better,' he says. 'The reaction was magic. Everywhere I went people had great ideas. We almost doubled revenue growth and margin within two years. So I showed I wasn't just a good turnaround guy, I was also a good grower of business.'
His success led to another internal promotion – to CEO of DHL Express USA, where he was in charge of the day-to-day implementation of the US Express restructuring programme – the business had been haemorrhaging money. 'We lost about US$113m in one month alone – over a billion a year,' he recalls.
The business was trying to compete domestically, on price, against the local leaders FedEx and UPS. 'The underlying systems weren't great and nobody really understood what was going on,' Allen says. After the tough decision was taken to close down the domestic US business and focus purely on international business, 12,000 US jobs had to go. 'We were very honest,' Allen says. 'We went to the Teamsters Union and we didn't lose a day to strikes.'
He spent a year running the US operation before receiving an unexpected invitation to take on the global CEO role in 2009.
The position was far removed from anything the young Allen could have imagined in 1972 when he left school aged 16 and, at random, took a purchase ledger job at the local Slazenger factory in Yorkshire, around 150 miles north of London.
After switching employer he gained his ACCA Qualification, but the early 1980s were difficult times for UK manufacturers. So Allen opted for a life overseas, joining an international hotel chain run by Lebanese entrepreneur Albert Abela, becoming financial controller for a hotel in Sudan. During his three years there he worked in various locations, including the Canaries and Jamaica, often called in to turn around a troubled operation.
In 1985 he heard that DHL was recruiting finance people in the Middle East and decided to apply. 'I kept hearing that DHL was very entrepreneurial, going places, rapidly expanding,' he says. 'That was the start of my love affair with DHL. I never thought I'd still be here 35 years later.'
In 2019, after a decade as global CEO, he decided it was time to give someone else a go at running the business. He also found time to publish his experiences in a book, Radical Simplicity, which includes advice for aspiring CFOs and CEOs.
He's still helping shape DHL's future, though, as CEO of its e-commerce division. 'Today, anybody in the world can become an entrepreneur and have a global marketplace,' he says. 'If I'm in southern Nigeria and start designing a product, I can put it online; if someone in America wants to buy it, DHL can tell me, through its algorithms, what pick-up, customs and delivery are all going to cost. I can have a global audience.'
Even the B2B arena is moving more towards e-commerce, Allen says. 'It's all about looking at where we can make money with this. Where does our skill – in linking entrepreneurs, in doing great pick-up, delivery, customs clearance and everything else – fit? Where do we add the most value? Where should we focus our attention? As more people come online, it's going to get bigger and bigger.'
Sarah Perrin, journalist