After spending most of his working life at Walsall FC, its CEO and local boy made good Stefan Gamble FCCA has made a success of boosting revenues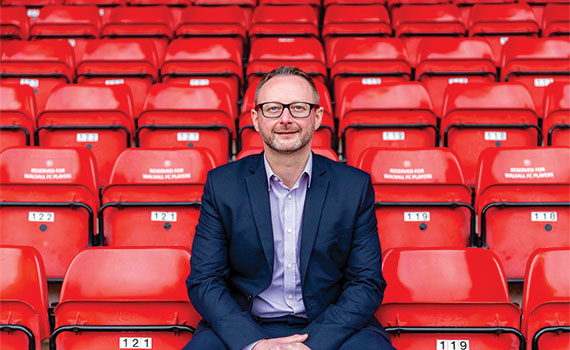 This article was first published in the April 2020 UK edition of Accounting and Business magazine.
Football's a funny old game. Nothing can stir the passions as much as a good run in the World Cup or the European championships or, closer to home, lifting the FA Cup at Wembley. Just an appearance at Wembley will do.
It is this last example that sticks in the memory of Stefan Gamble FCCA, chief executive of Walsall Football Club. One of his personal highlights of nearly 20 years at the club was taking his team to Wembley in March 2015 for the final of the English Football League Trophy. And it was not just the team that made the trip; some 29,000 supporters joined the cavalcade. Walsall was shut that Sunday.
Despite losing the final 2-0 to Bristol City, it is a game that will stick in Gamble's memory. 'It was the first time in the club's 130-year history that we had been to Wembley,' he recalls. 'Sadly, we lost the match, but it was still a great day out.'
Fight for survival
It is moments like these that football fans live for but, for the CEO of a League Two club, it is as much the fight for financial survival off the pitch as the team's performance on it that counts. Walsall's regular home gate is around 4,500 – not enough to sustain any professional football club, and Gamble has to bring his financial skills to bear in the search for alternative revenue, all of which is ploughed back into the team.
Off-pitch money spinners have included Europe's biggest freestanding digital advertising screen; it's in the club's car park and will be a familiar sight to anyone who has been stuck in traffic just before the M6 meets the M5. And then there was Elton John, who played his greatest hits show to some 14,000 fans who packed out the club's stadium just three months after its visit to Wembley in 2015. Heady days.
Gamble signed for the club back in 2002, joining its finance department, although he had previously been the club's senior auditor when he was at BDO Stoy Hayward, the firm he had joined as a trainee five years earlier and where he achieved his ACCA Qualification after graduating from Liverpool University.
'I've always had a passion for football, and during my time at BDO I got to know Walsall's then-chairman Jeff Bonser, who was looking for someone to help on the financial side. It was an opportunity that really appealed to me. It meant I could take my professional qualification and use it in an environment that I was my passion.' With Gamble having grown up five miles away, it was the perfect fit.
His first role at the club was management accountant. The finance function was a relatively small team, and Gamble worked with the FD, a purchase ledger clerk and a payroll clerk. 'It is a £7m turnover business,' he says, 'but one whose profile far outweighs such a small size.'
Gamble took on more of the FD's roles and set about professionalising the function. 'At the time we were in what is now known as the Championship, so the club was getting bigger. It had other business interests as well as the football team, so it needed someone to come in and cover those other areas as well. We brought in better financial controls over the accounts and cashflow side of the business.'
And it has paid off. The club has turned a profit in 23 of the past 26 years, and was only in the red as a result of the collapse of the broadcaster ITV Digital, which went into administration in 2002 owing £178m in TV rights to the lower league clubs.
Gamble's talents were recognised when he was asked to join the club's board as FD in 2007. 'I was only 32 at the time, and it was a great honour,' he says.
He then won a further promotion in 2010 when his predecessor as chief executive, Roy Whalley, decided to stand down, and the chairman once again turned to Gamble to fill the vacancy. That was 10 years ago, and it has been a decade that Gamble describes simply as 'brilliant'.
Diversification imperative
The role of chief executive has brought diverse benefits, Gamble says. 'I've grown as a person and as a businessman; it has been another fantastic opportunity. The football has inevitably been mixed, and you only have so much control over that – once they cross the white line, it's over to the players. But the business has grown and we have diversified, as you don't make money out of the football as you have to give it to the players to compete.
'On day one as chief executive, I went from having responsibility for the finances to taking charge over the commercial, events and retail sides of the business. My inbox was pretty full, but by that time I had had eight years in the business at a senior level, so nothing was a shock, just more responsibility on my plate.'
Off the pitch, in 2016 he sealed a renewed stadium naming-rights deal with local beer brand Banks's that lasts until 2022, and the following year struck a five-year sponsorship deal extension with insurer Homeserve for the team's shirts. And, of course, there is that huge digital display in the car park – Gamble went to China to source the screen, which stands opposite the busiest stretch of motorway in the country. With 3.8 million cars passing it every week, it offers 450 square metres of 'fantastic' advertising. 'The business model is that everything we generate in other parts of the business goes straight into the football pot and is at the manager's disposal to be successful on the pitch.'
Unfortunately, the Saddlers, as Walsall are affectionately known, were relegated from League One last year after 12 consecutive seasons in the third tier of English football. This meant that Gamble had to relinquish his position on the board of the English Football League, which he had held since October 2016 as a League One delegate – another fantastic opportunity. 'It was all about how 72 clubs are run, and it was great to be so closely involved, as I also sat on the audit, remuneration and commercial committees,' he says.
Of course, the club's footballing goal is promotion and a return to the more lucrative environment of League One. Football finances are notoriously varied. There are the super-rich clubs at the top of the Premiership top tier, those that are just about surviving, and those that have fallen into administration. But all reflect an undying passion for the game.
'That gets to the core of it and that is the biggest challenge,' says Gamble. 'Clubs get into trouble when their hearts rule their heads. It is a business at the end of the day. We employ over 400 staff, full-time and part-time, and they all need to be paid at the end of the week, so you need to run the business properly and responsibly. The reality is that we support a large number of families in the local area and a number of local businesses as well.'
Know your limits
One of the biggest challenges is that a League Two club like Walsall is competing with 23 other clubs in its division for the best talent, which pushes up player prices. 'One of the hardest things to do in football – but one of the best ways to ensure stability – is to be able to say no,' Gamble says. 'That is not always a popular decision, because the supporters want to see their team be successful and to have the best players, but sometimes there are players you can't afford and you have to let them go. But at the same time, you have to have ambition, because that is what we all do it for.'
Off the pitch, Gamble is trustee of a community programme that is currently operating in around 40 schools in the local area, helping to deliver activities such as sports for disadvantaged children, as well as working with the local authority and NHS to encourage healthy eating. Some children come into the club for help with their maths by learning through the medium of football.
'The list is endless,' Gamble says. 'We do walking football for the over-60s. Clubs do a huge amount in the community. We have a high profile, and so are able to work with and help many people.'
The current stadium was built some 30 years ago, but even back then, it was designed so that its facilities didn't lie unused until Saturday afternoon came around. Conferences, exhibitions, sporting dinners and the occasional pop concert all figure in helping to make the football club a viable business as well as a thriving element in the community.
But perhaps most importantly of all, it is a home for those who have a real passion for their team. Come Saturday, Gamble is there with them.
Philip Smith, journalist
"Everything we generate in other parts of the business goes straight into the football pot for success on the pitch"