In order to ensure the effective audit of public finance, auditor generals require a bird's eye view, as Kayode Yusuf FCCA discovers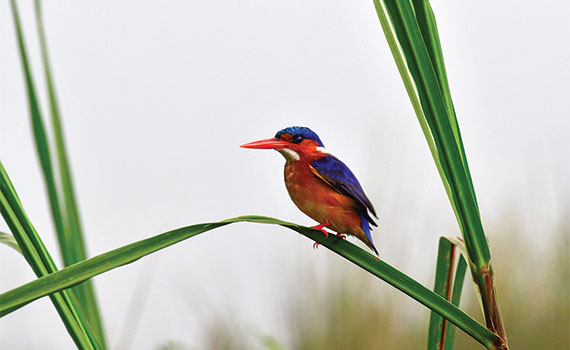 This article was first published in the May 2020 Africa edition of Accounting and Business magazine.
In the next in our series focusing on the purpose of the profession, AB spoke to auditor generals across Africa before the outbreak of Covid-19 about their views on the value of public sector audit, its purpose and how its role can be extended.
African countries often have less room to manoeuvre than their more developed counterparts, so these unlooked-for demands will put particular pressure on public finances across the continent.
Mildred Chiri ACCA became Zimbabwe's auditor general in 2004. Like her peers elsewhere, her work revolves around tracking government finances and making sure departments and agencies are following rules and regulations. She sees her role as vital to the stewardship and accountability of the government in managing public funds and resources.
'The auditor general role is very important,' she says. 'You have a bird's eye view of the operations of government and the majority of the population look up to you for confirmation on how their taxes are being put to use by various arms of government.'
Chiri has responsibility for the audits of Zimbabwe's public sector, including government ministries, public sector enterprises and parastatal agencies. 'The sheer size of the audit portfolio and the number of stakeholders make the auditor general's role pivotal,' she says. 'Politicians, legislators and citizens are all stakeholders and you need good communication skills to get your thoughts across to each group.'

Support is key
Chiri, who has overseen extensive reforms and a revamping of public sector audit in Zimbabwe, cites government support as a critical success factor for her role. 'There is a need for government to provide the office of the auditor general with the resources necessary to carry out its duties fully without any shortcut,' she says.
As auditor general of Malawi from 2013-18, Stephenson Kamphasa FCCA made a significant contribution to the quality of his country's public financial accountability, implementing reform programmes and dealing with irregularities and significant issues of fraud. He underlines the importance of accountability:
'The role is crucial to the management of public finances and requires the government to put in place a conducive environment to ensure the auditor general's office is free from interference.' This, he says, means that the auditor general must be 'objective, independent and autonomous'.
Obadiah Biraro, auditor general of Rwanda, observes that the role is particularly important in developing countries where resources can be scarce. 'Whatever takes government money from the treasury must be audited,' he says.
He notes that public audits play a key part in strengthening public sector institutions by identifying waste and suggesting ways the government can do better. 'The role of auditor general is fundamental to good governance, as we check the spending of government budget by looking at whether funds were used for the intended purposes with regard to the three principles of economy, efficiency and effectiveness,' he says.
Biraro's focus is to ensure that public funds are used for their intended purpose and that they provide value for money. 'The auditor general can achieve this goal by designing an audit programme appropriate in each situation,' he adds.

Skills gap
Many challenges come with the role, not least the shortage of skills and resources, as well as the issue of political interference. Part of the problem is that many of Africa's supreme audit institutions are relatively young; Biraro points out that Rwanda's is around 20 years old, compared with longstanding institutions in countries such as the UK, which have built up a skilled workforce. 'We need to bolster our team with qualified accountants with the knowledge to understand the principles of value-for-money audits,' he says.
Chiri echoes Biraro's concerns. 'The government appreciates the importance of audits in general; however, it needs to provide funding to increase capacity, so that we can employ professional accountants to reduce recurring errors and issues,' she says.
On the issue of accountability, Kamphasa stresses the importance of identifying ways to ensure that auditor generals' findings are acted on by the executive. 'To ensure that governance of public finance is achieved, there must be follow-up mechanisms for our recommendations,' he says.
Chiri believes a monitoring unit should be set up to enforce recommendations. 'The problem that we face in Zimbabwe is that issues raised in audit reports reappear in subsequent years because government officials will not implement our recommendations,' she says.
Leading a supreme audit institution in a developing country is not without its challenges, but with commitment and adequate resources governments can be held to account.

Kayode Yusuf FCCA is a finance professional and journalist.