Starting her year as ACCA Ireland chair as the Covid-19 crisis took hold, Tara Clements FCCA explains her role in giving financial services staff the new skills they now need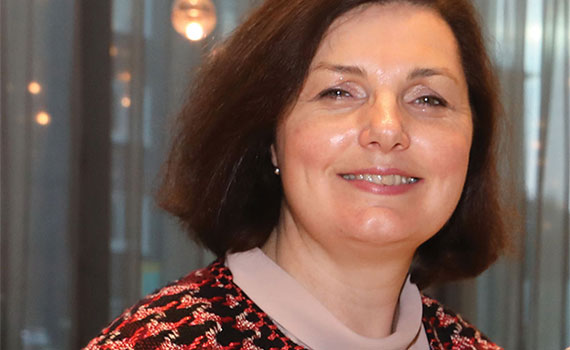 This article was first published in the May 2020 Ireland edition of Accounting and Business magazine.
As most of the world grapples with what will hopefully be a once in a century event, as the Covid-19 pandemic shuts down our way of life along with whole sectors of the economy, the early experience for many working in financial services has centred on the requirement to rapidly skill up in technology and adapt to full-time working from home.
It is a business continuity issue unlike any other encountered in most people's lifetimes. The training and learning divisions of businesses have joined their colleagues in IT departments at the coalface of the challenge. They have to ensure there are the systems, tools and ways of working in place – along with the skills to use them – to allow their organisations to continue to function safety and productively.
Having worked in financial services throughout her career – including 14 years providing skills and training services to the sector through a consultancy she co-founded – Tara Clements FCCA, the new chair of ACCA Ireland, seems eminently well prepared for what is quite a challenge. She is associate director for service and technical training with RBC Investor & Treasury Services, a division of the Royal Bank of Canada that provides asset services, custody, payments, treasury and market services to financial and other institutional investors. The company has more than 4,500 employees across 17 countries including 180 in its offices in Dublin.

Rapid adaptation
Clements says: 'Across the financial services industry, staff have helped their clients adapt and implement new ways of processing in a matter of days; in the past those new procedures might have taken weeks or months to roll out. In these changing times, a key focus must remain on controls and fraud prevention, which is where ACCA members will be adding value to their organisations in the weeks and months ahead.
'We've seen leaders across the global industry communicating more frequently and directly with their staff in what is a welcome development. Businesses that put their staff welfare and client relationships above everything else will emerge from this crisis all the stronger.'
What helps is Clements' deep immersion in the sector. She has an insider's knowledge of virtually all the roles she will assisting with. Her experience began in the late 1980s when she began working with Irish Life soon after leaving school, and from where she began to study ACCA at night. From the insurance company's city centre offices, she had a bird's eye view of the transformation taking place in Dublin's docklands.
It was an exciting time in the industry, she recalls. 'As the IFSC emerged, international banks were setting up here, Irish people were coming home from abroad, people were moving from all over the world to live in Dublin, and a whole new approach to working was being rolled out.'
In 1993, she joined AIG, followed by a move in 1996 to a UK-based asset manager (subsequently sold to BNP Fund Services) at a senior management position, an experience that gave her insight into a key resource challenge then emerging. 'Between 1995 and 1998 there was exponential growth in international financial services here, and huge pressure to find staff,' she says. 'The war for talent was emerging and it was intense.' Seeing an opportunity to meet the skills gap, she co-founded Abacus Consulting with Fiona Delamere FCCA in 1999, designing and delivering training programmes that reflected the more stringent regulatory regime coming into place.
While both the regulatory environment and talent recruitment have become more sophisticated over the past 20 years, Clements says there are still some lessons from those early days that remain pertinent. 'While we didn't label it as diversity at the time, there was greater openness to recruiting people from more generalist backgrounds back then,' she explains. 'That got streamlined over the years as third-level education was tailored more specifically to financial services, which in turn led to a certain amount of groupthink. To have diversity now recognised and valued is certainly a good thing.'

New reality
As chair of ACCA Ireland at this extraordinary time – her tenure began in April – Clements is also experiencing the new reality that is heavily impacting working life everywhere. 'We've had two virtual meetings to date with ACCA Ireland, using the On24 platform, and they have worked out really well. We held our AGM virtually for the first time and, given it had a record attendance, that might well be a blueprint for the future.' The move to online CPD, already under way, is also set to accelerate further. 'We have the tools. It's just about getting everyone comfortable with using them.'
She intends support for life-long learning to be a particular focus of her time as chair, with an emphasis on 'returners' – people who have taken an extended period out of work, typically to raise families, and who may now be interested in resuming full-time employment. Clements herself was self-employed for some years before rejoining corporate life. 'I understand the challenges, the fear and reticence people can have about making that move. We currently don't have any formal structures to address this in Ireland right now, so it's an area I want to highlight over the year.'
Continuing the good work that previous ACCA Ireland chairs have done in support of practices that principally service small and medium businesses is another goal. 'It is often about highlighting issues they face that don't impact on the larger corporates,' she explains. The ACCA Schools initiative and the role ACCA is playing in strengthening corporate governance among Ireland's credit unions and the not-for-profit sector are further areas she intends to be a strong advocate for.

Future direction
Despite the current deep uncertainty that prevails, she is still prepared to consider the future. 'We will definitely see people embrace technology a lot more in the post-coronavirus environment. I've seen people adapt in a day or two to what I've tried to roll out over months. I believe we will also see people feel a new-found appreciation for their resilience and for what they value in their personal lives.'
At the global economic level, as a recovery takes shape she expects some serious questions to be raised about the future direction of the airline and cruise industries, among others. 'I believe we're going to see a whole new focus on investing in healthcare, and we have to find ways to support some industries that have a pivotal role to play in our society. The beef industry, for example, is facing another crisis but Ireland as a country needs this industry to support rural life.'
Among the positives, she points to a resurgence of 'meitheal' – the old Irish tradition of people in rural communities gathering together on a neighbour's farm to help save the hay or some other crop – each person would help their neighbour, who would in turn reciprocate.
'First and foremost, we are a society and put our citizens first,' Clements says. 'Getting the economy back on track is next. I welcome the approach from Ibec, Revenue, and the departments of finance and social welfare. Encouraging employers to keep staff on and promoting employers who do so is the way we should go. Overall, our approach as a nation will hopefully be shown to have been the right one.'

Donal Nugent, journalist
"I believe people will feel a new-found appreciation for their resilience and for what they value in their personal lives"